It's often been said that golf is not a game of perfect. In his popular book of the same name, Dr. Bob Rotella talks about his work with players like Brad Faxon, one of the world's best putters on how to improve their approach towards playing better golf.
One area where great players like Faxon won't accept anything less than perfect is within their equipment. If you read our previous articles "Fix Your Putting By Fitting Your Putter" and "How A Properly Fit Putter Can Lower Your Handicap By 4 Strokes", you probably have a good idea how important having the right putter can be for success.
To that end, I was quite interested in reviewing the new RX Series of adjustable putters from Cure Putters. The company and the RX1 & RX2 putters were officially launched at the 2014 PGA Merchandise show in Orlando, FL.
The goal of Cure Putters was to create a more reliable, more forgiving putter that would reduce or eliminate issues that often lead to putting problems. Focus areas include adjustable weight and adjustable lie angle & interchangeable shafts to produce better roll.
A big component of the RX Series is the Triangulation Alignment system, a concept developed by former PGA Tour Commissioner Deane Beman to help make aiming easier and more accurate by reducing the negative effects of dominant eye. Beman wanted Cure putters to implement his aiming aid and after some further collaboration, the RX2 was born with Beman's Triangulation Alignment aid.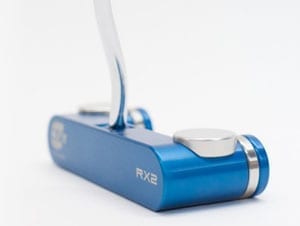 The alignment component on the RX2 putter that I tried is quite prominent. It features two discs at the heel and toe of the putter that form a visual triangle or arrow with the ball at address. There's also three alignment lines that provide an excellent target at address and through impact.
The adjustable lie angle allows you to custom fit your lie angle in about 2 minutes. The adjustable weight system gives you up to 200+ grams grams of additional weight that you can add in small increments. The result of these options is a tremendously flexibile putter that can fit and perform to your highest levels.
With an ideal lie angle, the large 5.5″ club head handles with ease. The RX2 comes with a small tool bag containing multiple weights as well as mutliple Allen wrenches to adjust the lie angle and add/remove the weights. The adjustments are a breeze and allow for easy changes and testing.
I would definitely recommend getting adjusted to this putter's size and weight. I stuck with the initial putter weights, since it was already much heavier than I was used to. However, this additional weight did help provide a smoother, more consistent stroke.
The craftsmanship and flexibility of the RX2 from Cure Putters make it a great investment for all players. Golf may not be a game of perfect, but this adjustable club can certainly improve your chances.