With over 200 public courses in the area, it's hard to beat golf season in Chicago. The only problem is golf season is typically much shorter than most of us would prefer.
That's why true Chicago golfers realize the importance of having the right clothing to help extend the season. When the temperature starts to dip, you've got to be dressed properly.
I'm always on the lookout for a performance jacket that keeps me warm and works well on the golf course. With the new Players Performance ladies full zip jacket from Carnoustie Sportswear, I think I've found what I'm looking for.
I'll admit, I let my fashion dictate my golf purchases – probably too much. But it's hard not to fall in love with the cute design and sporty details of this soft and comfortable jacket.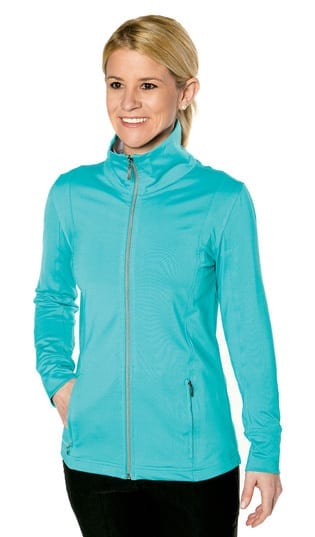 The micro-poly performance fabric and brushed interior provide the stretch I need to make a good pass at the ball. The fabric also makes this piece great for working out at the gym. It's really well made, which I definitely appreciate!
Unfortunately, my internal temperature gauge often reads cold, especially during the winter months. That's why I really appreciate the warmth of this Carnoustie Sportswear jacket.
In addition to the sporty details, I really like the high collar. It does a great job of protecting against mother nature while enhancing the design of the jacket.
The Players Performance full zip performance jacket is definitely a premium quality product. That quality doesn't come cheap, as this piece retails for $128. However, the design, materials and overall value of this jacket far exceed the cost. In fact, if you want protection from the elements and a premium design, you'll be hard pressed to eclipse Carnoustie Sportswear.
Our season may be short, but there's no reason not to enjoy Chicago golf as long as possible. Which is why I've got the Players Performance from Carnoustie Sportswear on my side.