Ask any golf instructor and they'll tell you that too many of their students head straight to the first tee without being properly warmed up. Without proper preparation, it often takes a few holes and too many strokes before most amateurs finally feel their body is flexible and performing at a peak state.
Stretching, practice swings and getting mentally prepared will always be essential pre-round tools, but a new product could also become an important ally in the war against a slow start.
swingOIL is a golf supplement drink that is available in a 3 ounce pounch and was made to help loosen your body from the inside out. It comes in three flavors: Lemon-Lime, Orange, and Strawberry-Banana and contains seven key ingredients formulated for strength, focus, and flexibility.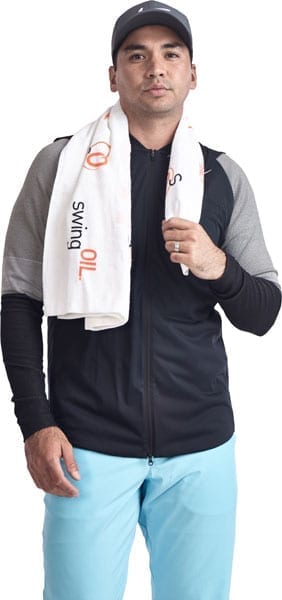 According to the manufacturer, more PGA Tour Champion players drank swingOIL at the US Senior Open than played the #1 Ball in Golf. Even former world number one Jason Day has made swingOIL a part of his daily routine.
For those of us who are looking for any edge possible when trying to avoid a bad start, swingOIL is an intriguing option. The product itself actually tastes pretty good, which is quite important. The pouch is only 3 ounces and it can easily fit in your pocket or bag, so it doesn't take much to gulp down a shot of swingOIL before or even on your way to the first tee.
There's a reason why most of us don't warm up properly – we're usually in a hurry to make to our tee time. Whether that's bad planning on our part is a moot point. The reality is, this happens quite often and probably will always be the case.
That's why a product like swingOIl could actually be of assistance. It couldn't be easier to use and it's also a healthy alternative to anti-inflammatory drugs.
The key ingredients in swingOIL include: 
GLUCOSAMINE (100 mg.) 
Glucosamine is one of the most common non-vitamin, non-mineral, dietary supplements used by adults.
CHONDROITIN (50mg.)
Chondroitin sulfate is an important structural component of cartilage and provides much of its resistance to compression.
TURMERIC (40 mg.)
Turmeric has been studied in numerous clinical trials for various human diseases and conditions including inflammation.
TAURINE (100 mg.)
Taurine is an ingredient in energy drinks. It's a low-calorie, sugar-free pick-me-up for when you're on the back 9.
CITRULLINE MALATE (100 mg.)
Circulating citrulline concentration is a biomarker of intestinal functionality.
GINSENG EXTRACT (100 mg.)
Over centuries, ginseng has been used in Chinese traditional medicine. Potential effects are improved memory, reduced fatigue
RHODIOLA ROSEA EXTRACT (50 mg.)
Rhodiola Rosea Extract has long been used in traditional medicine for several disorders, notably including treatment of anxiety and depression.
With these natural ingredients, it's important to note that the product contains a "drink by" date. This isn't a drink that you can add to your golf bag and leave it there for the summer, so be sure to consume your swingOIL by the date on the pouch.
If you're adding up the benefits, swingOIL is fast, easy, efficient, tastes great and contains a lot of natural ingredients that are used in many other health improvement products. Each box of swingOIL comes with 12 pouches, 4 of each of the three flavors, Orange, Lemon-Lime and Strawberry Banana and can be purchased on the swingOIL website.
Will swingOIL help eliminate your aches and pains, allowing you to play better golf faster? From what I've seen, it's certainly a healthier alternative to drinks loaded with sugar and caffeine that often lead to poor performance on the golf course.
So the next time you're racing to the first tee, worrying about how you're going to hit the ball without any type of warm up, consider downing 3 ounces of swingOIL. You'll be happy and your golf instructor will be as well.