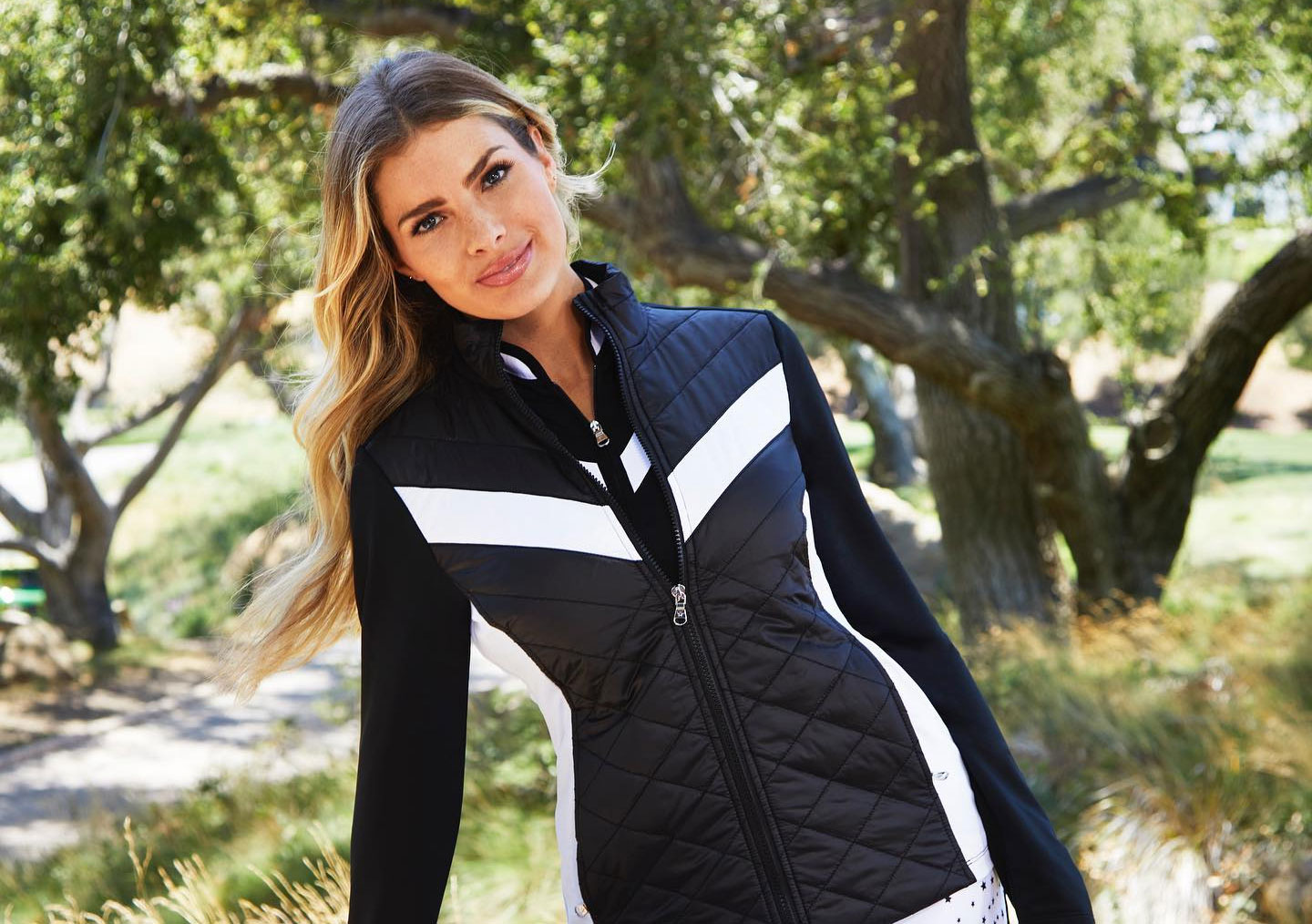 Imagining what's possible on the golf course is part of the reason why the game of golf is a game for life. The next challenge and the next accomplishment are what drives us to keep seeking to improve our games, while enjoying the experience.
LOHLA SPORT is a ladies fashion brand that has brought premium European-designed tops, pants, skorts and outwear to the United States. While reimagining what's possible, LOHLA SPORT founder Lisa O'Hurley has followed the notion that if you want something new, stop doing the old.
O'Hurley began LOHLA SPORT in June 2020 following a 10-year career at GOLF CHANNEL and a subsequent stop with golf clothing company GOLFINO. Lisa's husband is the actor John O'Hurley, who became famous playing the fictional J. Peterman character on Seinfeld, hosting Family Feud and starring in Chicago on Broadway.
I recently tested three different products from LOHLA SPORT – The Very Pant, Mia Short Sleeve Polo and The Player Jacket. All three products are colorful, stylish and playful with European, sporty flair.
The LOHLA SPORT Very Pant
The LOHLA SPORT Very Pant is a versatile and fashionable activewear pant designed for sports and fitness activities. These pants boast a perfect blend of style, comfort, and performance, making them suitable for everything from golf, to yoga to outdoor adventures.
The Very Pant is designed with ease of movement and flexibility in mind, emphasizing the need for activewear that can adapt to various activities and environments with ease. The design team at LOHLA SPORT has focused on creating pants that are not only stylish and on-trend but also provide exceptional performance, comfort, and functionality.
Overall, The Very Pant offers an unparalleled range of motion, making it a top choice for individuals seeking comfortable and functional activewear. The Very Pant that I tested offers several unique features and details that elevate the overall design and functionality of the pants. Some of these features include:
High-performance fabrics that offer moisture-wicking, quick-drying, and odor-resistant properties
An innovative waistband design that provides enhanced support and a secure fit without digging in or causing discomfort
Sustainability and eco-friendliness
"The Very Pant" was inspired by O'Hurley's J. Peterman Seinfeld character. The famous line "The Very Pant I'd been searching for all my life" is part of sitcom lore.
The Very Pant is priced competitively within the premium activewear market. Prices for the pants in this collection range from $150. While the price point may be higher than some budget activewear brands, the quality, design, and performance of The Very Pant justifies the investment.
The Very Pant holds its own in terms of quality, design, and performance. While some popular brands like Nike, Adidas, and Lululemon offer similar products, the Very Pant from LOHLA SPORT is a worthy investment for golfers and fitness enthusiasts seeking stylish, versatile, and high-performance activewear.
The LOHLA SPORT Mia Short Sleeve Polo
The LOHLA SPORT Mia Short Sleeve Polo is a versatile and stylish activewear garment that is perfect for the golf course. Combining comfort, performance, and style, the polo is perfect for a range of sports and activities. It features moisture-wicking and quick-drying capabilities, ensuring you stay cool and dry during your workout.
For me, the fabric blend is the standout feature of The LOHLA SPORT Mia Short Sleeve Polo. The combination of materials provides a lightweight, breathable, and stretchy fabric that ensures maximum comfort and flexibility during golf or just about any physical activity. The fabric is also designed to be durable and maintain its shape and color, even after multiple washes.
At $130, the LOHLA SPORT Mia Short Sleeve Polo is competitively priced compared to other activewear garments in the market. While it may be slightly more expensive than some other options, the quality, durability, and performance features justify the price. Golfers can be confident they are investing in a high-quality product that will last through many rounds and seasons.
Key Features of The LOHLA SPORT Mia Short Sleeve Polo
A blend of polyester and elastane fabric for comfort, flexibility, and durability
Silver snaps at placket
Moisture-wicking and quick-drying capabilities
Suitable for a wide range of activities and sports
A stylish and modern design
The LOHLA SPORT Player Jacket
The LOHLA SPORT Player Jacket is a versatile and high-performance activewear piece designed to provide maximum comfort, breathability, and durability on or off the golf course. This stylish jacket offers a sleek and modern design, making it the perfect companion for just about any environment.
As with the other two products, I was most impressed with the blend of high-quality, advanced fabrics. The primary fabric is a lightweight polyester-spandex blend, which offers excellent stretch, breathability, and durability. In addition, strategically placed mesh panels provide increased ventilation.
The LOHLA SPORT Player Jacket is great for golf and just about any other sport including:
Running
Cycling
Hiking
CrossFit
Gym workouts
Yoga
Like The Very Pant and The Mia Short Sleeve Polo, The LOHLA SPORT Player Jacket features moisture-wicking and quick-drying capabilities, helping keep you dry and comfortable during your round. The advanced polyester-spandex blend used in the jacket actively wicks sweat away from the skin, while the quick-drying properties of the fabric ensure that the jacket dries rapidly after washing or exposure to moisture.
The LOHLA SPORT Player Jacket offers an excellent balance between cost and quality. The $230 investment is justified by the jacket's superior materials, construction, and performance capabilities. Users can expect a long-lasting and reliable activewear companion, making the LOHLA SPORT Player Jacket a smart choice for those seeking both quality and value.
The LOHLA SPORT Player Jacket is an excellent choice for golfers, athletes and fitness enthusiasts seeking a versatile, high-performance jacket that can handle the demands of various activities and sports.