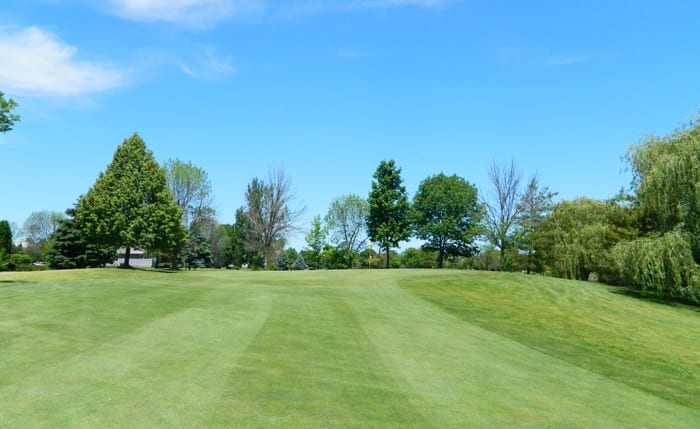 In late 1920, a small group of local golfers met to discuss the idea of establishing a golf course in Naperville. The group placed an ad in the Naperville Clarion inviting all interested golfers to attend a meeting at City Hall to gauge support. The meeting was a success and several committees were formed to create plans for acquiring grounds, financing and club memberships.
In January of 1921, Naperville Country Club was created and is currently one of three private golf facilities in Naperville. The city also offers three popular public golf facilities that attract over 100,000 golfers annually to Naperville. Here's a list of the top places to play golf in Naperville.
22204 W 111th St
Plainfield
(630) 378-4215
Naperbrook Golf Course is an 18-hole public golf facility that opened in 1990 and was designed by noted golf course architect Roger Packard. Although it's located in northwest unincorporated Plainfield, Naperbrook is owned and managed by the Naperville Park District. A "links-style" course, the course features rolling hills, native prairie grasses and can play at more than 6,700 yards from the back tees and 5,200 yards from the forward tees. Over a dozen water hazards come into play on 10 holes. Additional amenities include a ten-acre driving range, separate lesson tee and 10,000 and 3,000 square foot practice putting greens.
2220 West 83rd St
Naperville
(630) 848-5060
Located in west central Naperville and adjacent to the DuPage County Forest Preserve's Dragon Lake, Springbrook golf course opened in 1974 and was created by the golf design firm Packard, Inc. The facility features an 18-hole championship golf course, a 28-bay grass driving range, two practice putting greens and a short game practice green with bunkers.
Springbrook golf course is protected by 9 water hazards and 21 sand traps around the greens, which are fast and undulating. Springbrook Golf Course has been recognized by Golf Digest as one of the "Top Places to Play" and hole #10 made West Suburban Living Magazine's "Dream 19."
24032 Royal Worlington Drive
Naperville
(630) 904-4000
A par 70, 18-hole course that plays 6,900 yards from the back tees, Tamarack Golf Club is a public facility that features five sets of tees to challenge golfers of all skill levels. The course was built in 1989 on a former cornfield by course architect David Gill.
Tamarack features large, heavily contoured greens and over 16 acres of water. In addition to the water, there are 76 sand bunkers that dot the fairways and surround the greens. Although the fairways are wide, Tamarack can provide a formidable test for elite players, especially from the back tees.
Naperville Country Club
25W570 Chicago Ave
Naperville, IL 60540
630.355.6015
Naperville Country Club is a members only facility that originally opened in 1921 as a 9-hole golf course with sand greens. The current 18-hole course was designed by legendary golf course architect Tom Bendelow, whose layout remained mostly intact until the club's most recent major golf course renovation, which was completed in 2007.
The renovated championship golf course provides a tremendous challenge for its members and their guests. Regardless of skill level, five sets of tees provide a great test for the avid as well as novice golfer. A highlight is the par 3, 200-yard 17th hole which is a treacherous downhill shot to a green that is guarded on three sides by water. A bunker on the right is strategically placed to catch those who steer away from the pond, leaving a delicate recovery shot.
3400 Club Drive
Naperville IL 60564-4606
630.983.0012
White Eagle Golf Club is a private, 27-hole facility designed by Arnold Palmer that is part of a 750-acre development. This challenging course features rolling mounds, ample bunkers, several water hazards and treacherous rough.
The club hosted an LPGA event in 1992-1994 and also the Celebrity Golf Association in 1996-1997. White Eagle has hosted numerous CDGA events including the Illinois State Mid-Amateur. Tiger Woods holds the White Eagle Golf Club course record of 64.
1215 Royal Saint George Drive
Naperville, IL 60563
630.355.7300
Founded in 1963, Cress Creek Country Club is a private facility with a championship 18-hole golf course that plays 6,838 yards from the back tees. The course was renovated in 1988 with the redesign of several holes, the construction of additional sets of tees, and the reconfiguration of many bunker complexes.
The signature hole at Cress Creek is the par 3 156-yard 14th hole that demands a precise shot over water to a well-protected green with a significant slope on the front edge. The green is protected on both sides by two large, strategically placed bunkers. Even with its shorter length, a three here is a solid score.
1466 E. Chicago St.
Naperville, IL 60540
630-848-7200
Play the ProTee Golf Simulators at Score 18 Indoor Golf, which offer over 85 golf courses, including Pebble Beach, Pinehurst and St. Andrews. A typical 18 hole round takes about an hour for each golfer.
Hours
Monday – Thursday 9AM – 11PM
Friday – Sunday 9AM – Midnight
Standard Rates
Monday – Thursday 18 holes – $29
Friday – Sunday 18 holes – $36