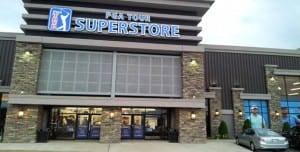 A second Chicago area PGA TOUR Superstore recently opened in Downers Grove, just in time for Father's Day. The new massive golf retail store is located at the intersection of Highland Avenue and Butterfield Road, minutes from the Highland exit of Interstate 88.
The new Downers Grove PGA TOUR Superstore is within walking distance of two other golf retail giants – Golf Galaxy and Golfsmith. Whether all three golf meccas can exist is anyone's guess at this point, but it's hard to argue with the incredible selection of golf equipment and golf apparel that PGA TOUR Superstore offers.
Nearly everything at the new PGA TOUR Superstore in Downers Grove is on a grand scale. The shoe department offers extended lines of virtually every golf shoe manufacturer – both men's and women's. At most sporting goods retailers, you'll see a few models from a few shoe manufacturers. At the PGA TOUR Superstore, they have an extended inventory of nearly every style from nearly every brand name.
The same is true for golf apparel, golf clubs and other golf equipment. The PGA TOUR Superstore was designed to be a one stop shop for everything golf under a single roof. This mission was accomplished in a big way.
In addition to all the retail opportunities, the PGA TOUR Superstore in Downers Grove features an array of practice and teaching facilities, including performance practice bays, lesson swing simulators and a 1,600 square-foot putting green. If you're looking to test equipment, get fit for new clubs or even take a lesson, the PGA TOUR Superstore in Downers Grove has all the state-of-the-art technology that you could ever need.
PGA TOUR Superstore Downers Grove
1017 Butterfield Road
Downers Grove, IL 60515
(630) 824-2080