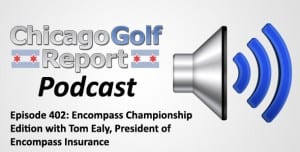 The Champions Tour finally returns to Chicago with the Encompass Championship, which takes place June 17-23 at North Shore Country Club in Glenview. The host of this event is Tom Ealy, who has been President of Encompass Insurance at The Allstate Corporation and Allstate Insurance Company since September, 2011. Tom was instrumental in the creation and management of this event and bringing the Champions Tour event to historic North Shore Country Club, which has hosted the U.S. Open, Western Open and the U.S. Amateur Championship.
Interviewer: Walter Lis. Running Time: 18:30
Click here to download an MP3 file.
WL: Our guest this week is Tom Ealy, President of Encompass Insurance who is the presenting sponsor of The Encompass Championship presented by CareerBuilder, which is coming to North Shore Country Club on June 17-23. So I guess let's start off by kind of a defining why Encompass and why Chicago and why the Champions Tour? How did this all kind of come together? Where did the spark come from?
TE: The spark came from me and another executive here. And when I joined the company, which was about 21 months ago now, this is a company whose brand is not well known in the first place but had really just lost its way a little bit as a company. And so when I tell you about our business I think you'll understand why golf and why the Champions Tour.
But Encompass is a company that provides personal insurance protection to people who have a lot of things that they care a lot about. They want to make sure they're protected. So Encompass appeals to consumers who are much more interested in buying a product that protects them rather than cheap insurance. And when you look at the demographic of that type of consumer you see that golf is a pursuit that they're passion about. So, number one, I knew that as we were building this brand that golf would be a fantastic way for us to build the brand.
The second thing about our product is that we distribute it exclusively thorough a group of folks called independent insurance agents. So, independent insurance agents are golf mad. They love golf. It's one of favorite pursuits of independent insurance agents. A lot of their business actually gets conducted on a golf course. So that was the second reason we knew that gold would be a terrific way to, in addition to building our brand, build our distribution, really engage and galvanize our sales force, these independent insurance agents.
And thirdly, golf is all about philanthropy. Every PGA tournament, as you know, is a 501-C3 organization, a non-profit organization, whose principal purpose is to give back to the community. So this was also a way for Encompass to improve its corporate citizenship, to focus on philanthropy in a pretty big way.
And when you put those three things together it made the Champions Tour, if you're going to look at professional golf, for us personally or Encompass that is, the Champions Tour was absolutely the best fit because, again, our customers tend to be older, more established. They remember these golfers. They're the golfers they grew up watching. And so that's number one.
Number two, the Champions Tour, as you know, is a highly engaging tour where the players very much engage with the fans, the sponsors, the spectators, the amateurs who play and the pro-ams. They are just the most gracious, most hospitable bunch of guys you're ever going to meet. So, we also knew from that prospective it would really amp up the fun factor and make it a very attractive event.
WL: So this isn't the first time that Encompass has been involved with golf. Can you talk a little bit about your previous experience?
TE: Yeah, we wanted to get in as quickly as we could. So we agreed to host a tournament the previous sponsor had backed out. They had been acquired so the new parent company of this previous sponsor said that's not how we're going to invest anymore. So we stepped in, in Tampa in 2012 and sponsored what was called The Encompass Pro-Am of Tampa Bay. But my agreement with the tour specifically was that we would then be able to create a new tournament in Chicago in 2013 and beyond.
So we had a fantastic experience in Tampa. The celebrity Pro-Am format, which is unique to our tournament on the Champions tour was unique to that tournament at that time. We wanted to preserve that because we found that to be just an extra level of excitement for the amateurs and the fans and the spectating public on TV.
WL: So before we get into the particulars about the tournament can you talk a little bit about how North Shore Country Club became involved? How did you find this particular course and how did you make it happen? Because I know that there haven't been that many events recently held at North Shore not because that it doesn't deserve it but it seems like quite a coup.
TE: Well, first of all it wouldn't have happened if the membership didn't come out with an overwhelming vote in favor of it. So I have to give a lot of credit to the leadership of North Shore Country Club. They've had a vision. They want to get their club—obviously they have hosted a lot—but in terms of big tournaments nothing in the recent vintage. So it started there.
But we also had a leg up because the tour had already vetted a lot of the courses in Chicago when they were scoping out the BMW Championship. So North Shore Country Club was already on a short list of clubs that were considered for the BMW Championship. So when the tour brought that to our attention we quickly came to the conclusion that North Shore would be perfect not only because it was already well considered but also because it's right near our headquarters. We're in Northbrook, IL. Clearly Glenview's just south of us. So it's going to be a way for our employees in a very convenient way to get very engaged with the tournament.
But the other reason, of course, is it does have a rich tradition. Even the Champions Tour pros who haven't played North Shore know of North Shore because of the majors it has hosted earlier in its history. It's also a perfect setup for the pros. It's a very tight course, classic lay out, easy walking course because of its tightness, which clearly is important to these guys. So North Shore for a lot of reasons checked a lot of boxes.
WL: So we saw when you had the press conference a couple weeks ago, you saw the response that the players there, Jeff Slumam and Rocco Mediate gave and their rave reviews about the course itself. Have you seen that impact so far in terms of the field, in terms of players? It sounds like that there's pretty much it's a who's who of the Championship players will be there for the Encompass Championship.
TE: Yeah. I think of the top 30 money winners from 2012 I think we'll have 29 of them. And we'll have obviously a bevy of hall of famers. We are waiting for a formal commitment from Fred Couples. But we're pretty confident at this point that he's going to play. And the condition of the course is a big reason.
The course superintendent at North Shore, Dan Dinelli, if you talk to the tour guys they'll tell you that he is one of the very best. And this course already is in tournament shape and you could host a tournament on that course today without changing a lot. So the pros know that it's going to be a stern test but a fair one. And the condition of the course is going to be terrific.
WL: So you mentioned a little earlier about the Pro-Am format. Can you talk a little bit about the Pro-Am format, kind of what it entails and how it will affect the fans of the tournament?
TE: Yeah, great question. The one thing that we did want to change form the tournament that we hosted last year is that the Pro-Am format, Celebrity Pro-Am format, was for all three days of the tournament; Friday, Saturday, Sunday. We determined that while we wanted celebrities and amateurs to play during the live competition we wanted to leave Sunday for the pros. So our Pro-Am is going to be a Friday, Saturday Pro-Am. So, again, Sunday will be just for the pros in the competitive round.
We'll have approximately 10 celebrities. Of course the rest will be amateurs. There are 81 players in the field. And, again, celebrities will amp up the fun factor but we're going to have a lot of great golfers among the amateurs as well. So we expect a fierce competition among the celebrities and the amateurs for that cup.