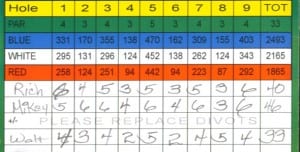 Earlier this May, 18-year-old Ryo Ishikawa shot an amazing 58 in a Japanese Golf Tour event. Today I shot an even par round of 33 at 9-hole Flagg Creek Golf Course in Countryside for my first round ever at par or better at that course.
How much time and money have I spent over the past 16 years since it opened in my quest to shoot par at this course? I'm almost too embarrassed to admit, but here's a conservative estimate.
| | |
| --- | --- |
| Personal Golf Lessons | $2,400 |
| Golf Seminars & Workshops | $720 |
| Books | $450 |
| Magazines | $240 |
| Ebooks | $125 |
| Total | $4,125 |
This number doesn't even include the thousands of balls that I hit on the range and the countless hours of understanding support and sympathy that I received from friends and family after each frustrating round.
The only real similarity between Ryo and myself is that we both reached a milestone. What took young Ryo 18 years on earth to accomplish took me 16 full years of taking lessons, hitting balls on the practice range and digesting everything that is basically published on the game of golf. At Flagg Creek alone I've played over 300 rounds of golf before today's breakthrough round.
Depending on your perspective, this comparison is either mildly amusing or downright depressing. I'm not sure how long Ryo has been playing golf, but his talent level was probably above me shortly after graduating kindergarten. He shot 12-under par in a single round and it took me his entire lifetime to even reach par on any course.
According to the USGA, the average handicap of the American golfer is 16.1 for men and 29.2 for women. These numbers have remained largely the same over the last 15 years despite significant technology advances with equipment.
However, the great thing about golf is that although we all want to play our best, it's about much more than shooting well. Golf is truly about the journey and less about the result. The journey for most of us will be completely different, and a lot more frustrating than that of a golf prodigy like Ryo Ishikawa, but it's certainly worth the trip.