"East Side, West Side, all around the town" are the opening lyrics to the song 'Sidewalks of New York', but if lyricists James W. Blake and Charles E. Lawlor had been commissioned to compose a song about our city's two-year hosting of the KPMG Women's PGA Championship, the song would have begun "South side, North side, all around the town."
The KPMG Women's PGA Championship visit to Chicago initially began on the south side when Danielle Kang edged out Brooke Henderson by a single stroke at Olympia Fields CC to capture the 2017 title. Twelve months later the championship has moved to the north side with Kemper Lakes Golf Club in Kildeer hosting the 2018 event.
Very entertaining, special promotions hyping the 2018 KPMG Women's PGA Championship have been staged recently all around the town. On Monday, May 14, defending champion Danielle Kang and former Chicago Bull Toni Kukoc took aim at the Chicago River, where a small green floated 86 yards out from River Point Park in downtown Chicago. Exhibiting the skills of a champion, Kang hit the green in her first attempt.
Another special promotion at Soldier Field kicked off tournament week on Monday afternoon when pro golf stars Phil Mickelson and Mariah Stackhouse were joined by Chris Dunn of the Chicago Bulls, Chase Daniel and Cody Parkey of the Chicago Bears, Chicago soccer pros Dax McCarty and Alyssa Naeher, and Allie Quigley of the Chicago Sky, for the Windy City Skills Challenge.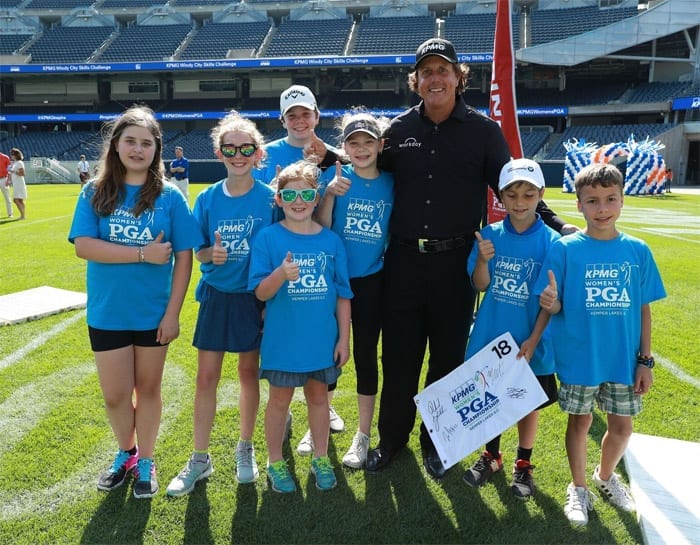 On-site spectator experience at Kemper Lakes Golf Club began on Tuesday, June 26. Tuesday was a practice round and Pro-Am day with morning and afternoon sessions teeing on both hole #1 and hole #10. Heavy downpours of rain affected the tee times for the pro-am, but a break in the rain permitted Blair O'Neal and Martin Hall to tape their instructional show for the GolfChannel.
Wednesday, June 27 is a practice round day and also includes a Women's Leadership Summit, featuring an assembly of accomplished leaders in sports, business, politics and media with participants Condoleezza Rice, 66th Secretary of State, Olympians Nancy Kerrigan, Hilary Knight and Maia Shibutani, plus NBC Sunday Night Football sideline reporter Michele Tafoya.
The championship rounds with a field of 156 players will begin on Thursday and continue on Friday with contestants teeing in groups of three in morning and afternoon sessions from tee #1 and tee #10. After 36 holes, the cut will be made and on the weekend play will continue in groups of two teeing from hole #1 only. Gates open each day at 7:00AM; complimentary shuttles will run from free public parking at the Lake County Fairgrounds in Grayslake to the Championship at Kemper Lakes GC beginning at 6:30AM each day.
In addition to watching the world's best players compete for the Championship title, fans can enjoy a host of on-site opportunities and attractions at Kemper Lakes Golf Club. "We are committed to creating engaging experiences that showcase the excitement and growth of women's golf and highlight the rich golf history in Chicago," said Jackie Endsley, KPMG Championship Director. Four special attractions of interest for fans are:
KPMG Inspire Greatness Timeline: The KPMG Inspire Greatness Timeline, located at the Main Entrance adjacent to the Driving Range, chronicles major breakthroughs for women in golf and business. This 100-foot wall will lead spectators through key dates in history, when inspiring women have paved the way for future women golfers and women in business through their groundbreaking accomplishments. The KPMG Women's PGA Championship and KPMG Women's Leadership Summit will once again "break glass ceilings" and serve as catalysts to empower women on and off the golf course.
KPMG Social Zone: The KPMG Social Zone, located in the Fan Zone to the right side of Hole No. 18, will give fans the opportunity to experience key happenings at Kemper Lakes, including Championship coverage and social media updates. The PGA of America encourages fans to post the best photos from the day with #InspireGreatness or #KPMGWomensPGA and watch tweets and Instagram posts featured on the big screen.
National "Go Like a Pro" Lesson Zone: The National "Go Like a Pro" Lesson Zone is a fan favorite for players of all ages. Located between the Fan Zone and Practice Range, the Lesson Zone provides a unique opportunity to demo equipment and receive complimentary instruction from local PGA and LPGA Teaching Professionals. National Car Rental allows spectators to take control and choose the instruction that's right for them, whether it be driving, chipping and/or putting.
Discover The New Kia: Fans can enter for a chance to win a new Kia Sorento throughout Championship week. Kia will be on-site throughout the golf course, encouraging fans to engage with the brand through trivia questions and the Sorento Swing Challenge simulator.
A variety of merchandise, including men's and women's apparel, outerwear, headwear, gifts, and memorabilia, are available for purchase at the Championship Shop merchandise pavilion. The Championship Shop is open to all Championship ticket-holders during gate hours. And, as is always the LPGA tradition, selfie photo-ops and player autographs are granted after the round.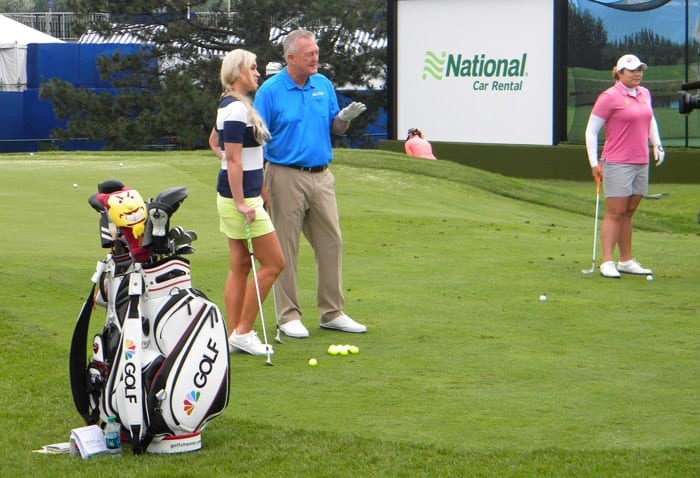 If you are unable to attend in person, the Golf Channel and NBC will televise the four competitive rounds live — early portion of rounds on Thursday and Friday (Golf Channel), and final hours of rounds on Saturday and Sunday (NBC).
For more information about the 2018 KPMG Women's PGA Championship, or to buy tickets, visit KPMGWomensPGAChampionship.com. A photo gallery of this year's highlights is shown below.
[schema type="event" evtype="SportsEvent" url="http://www.kpmgwomenspgachampionship.com/" name="KPMG Women's PGA Championship" description="Danielle Kang will be the defending champion at the 2018 KPMG Women's PGA Championship at Kemper Lakes Golf Club." sdate="2018-06-28″ edate="2018-07-01″ street="24000 N Old McHenry Road" city="Kildeer" state="IL" postalcode="60047″ country="US" ]