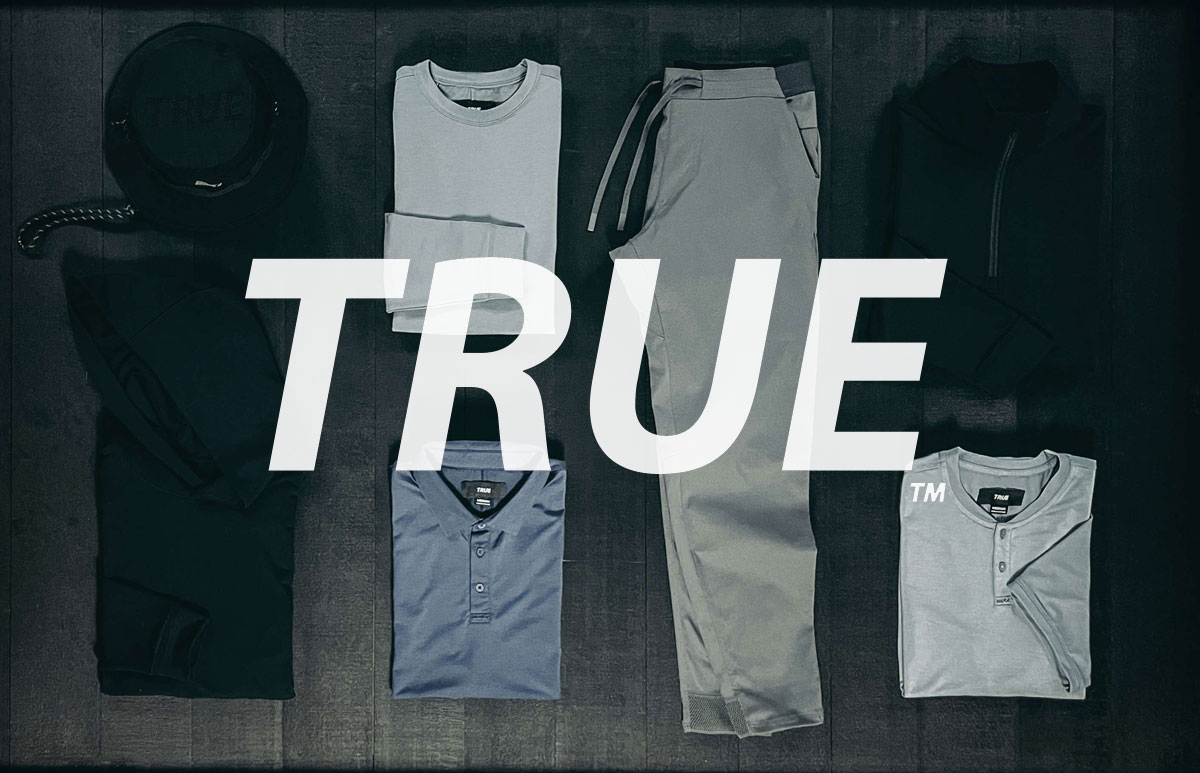 Dichotomies exist everywhere throughout the universe, expanding and contracting; on planet earth, east and west; in human nature, stable and capricious; and even in golf, hooking and slicing. Dichotomies also extend into the world of fashion, so if you are 'not into flamboyant', and prefer 'the basics' there is good news for you.
Initially known as company producing modern golf footwear that can also meet the rigors of walking, with the comfort of around-the-clock use, TRUE Linkswear (TRUE), has launched its highly anticipated TRUE Apparel Collection.
The men's TRUE Apparel Collection includes shirts, layers, and bottoms, along with hats and socks. And, as the photos suggest, the designs are basic, not flamboyant.
There are three unique shirt styles to choose from: Lux Polos, Mock Polos, and Tees. All three feature minimalist design with maximum comfort. TRUE Apparel shirts are breathable, anti-wrinkle, and moisture wicking, with UPF sun protection and 4-way stretch.
The Lux Polo could be the softest shirt you will ever wear. Built using super natural materials that offer unrivaled performance and a modern aesthetic, athletic cut, the shirt looks great on or off the links with its casual, yet tailored looking fit. The ultra premium Lux Polo blend features a sustainable mix of industry leading Tencel® (45%), Repreve® Recycled Polyester (50%) and Spandex (5%) for maximum comfort and movement. Minimalist tonal high density logo imprint locations are at the wearer's back left shoulder and right sleeve.
For cool-to-moderate climates, TRUE Apparel offers a trio of layering options: the TRUE Crewneck sweatshirt, the TRUE All Day Quarter Zip, and the TRUE All Day Hoodie. All three styles are breathable and lightweight, while providing necessary warm with ample mobility and function.
Not to neglect the anatomy's bottom half, TRUE Apparel now offers four full-length leg coverings: 5-Pocket Pants, All Day Chinos, Joggers and Hybrid Joggers, plus performance socks.
TRUE Linkswear Apparel is now appearing on the professional golf tours worn by PGA Tour players Joel Dahmen, Ryan Moore, Chris Kirk, Dylan Wu, and Mark Hubbard, while Christina Kim dazzles the LPGA Tour.
For golfers who leave their costumes and pretentiousness at the door, the coverings of the TRUE Apparel collection are coverings that are right for you.
More information can be found at their website.