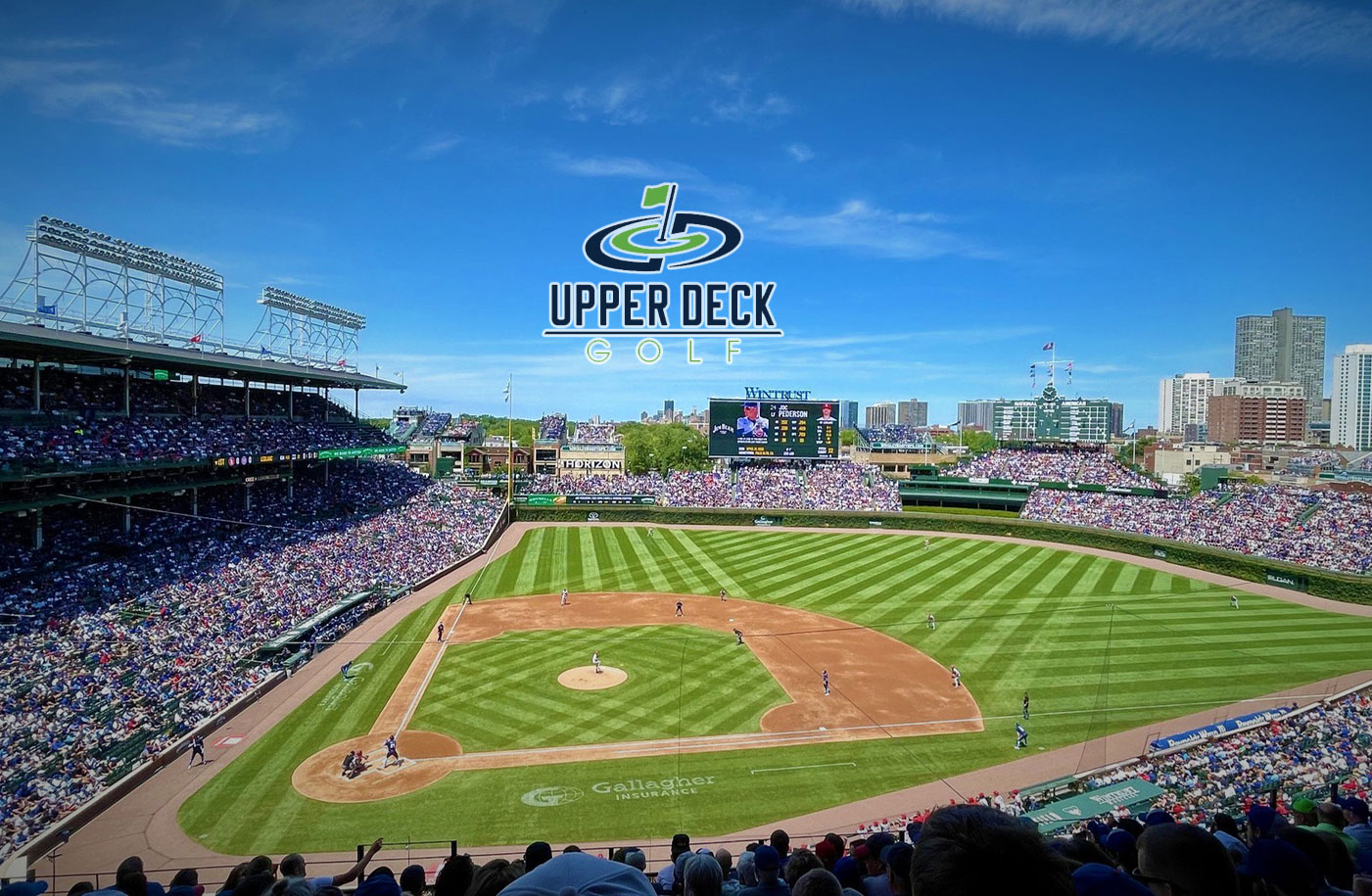 Experience the thrill of golf like never before at Wrigley Field from the 6th to the 9th of July! Upper Deck Golf presents a unique golf experience within The Friendly Confines of one of the most iconic stadiums in sports.
You'll hit golf shots from the upper deck to custom greens on the field below. Upper Deck Golf also includes a clubhouse festival inside the stadium, with its lively music, food and beverages along with assorted golfing challenges.
The company offers experiences at many stadiums throughout the country including Citizens Bank Park (Philadelphia Phillies), Target Field (Minnesota Twins), and Busch Stadium (St. Louis Cardinals). Upper Deck Golf is proud to support Stand Up To Cancer, a groundbreaking initiative created to accelerate innovative cancer research, as their official charity. 
In 2019, a similar event called Topgolf Crush took place at Soldier Field. Golfers hit balls from the upper deck of the South end zone to one of 6 targets ranging from 40 to 150 yards away. Every section of every target had a point value and Toptracer Range technology computed your score based on the accuracy and distance of the shot.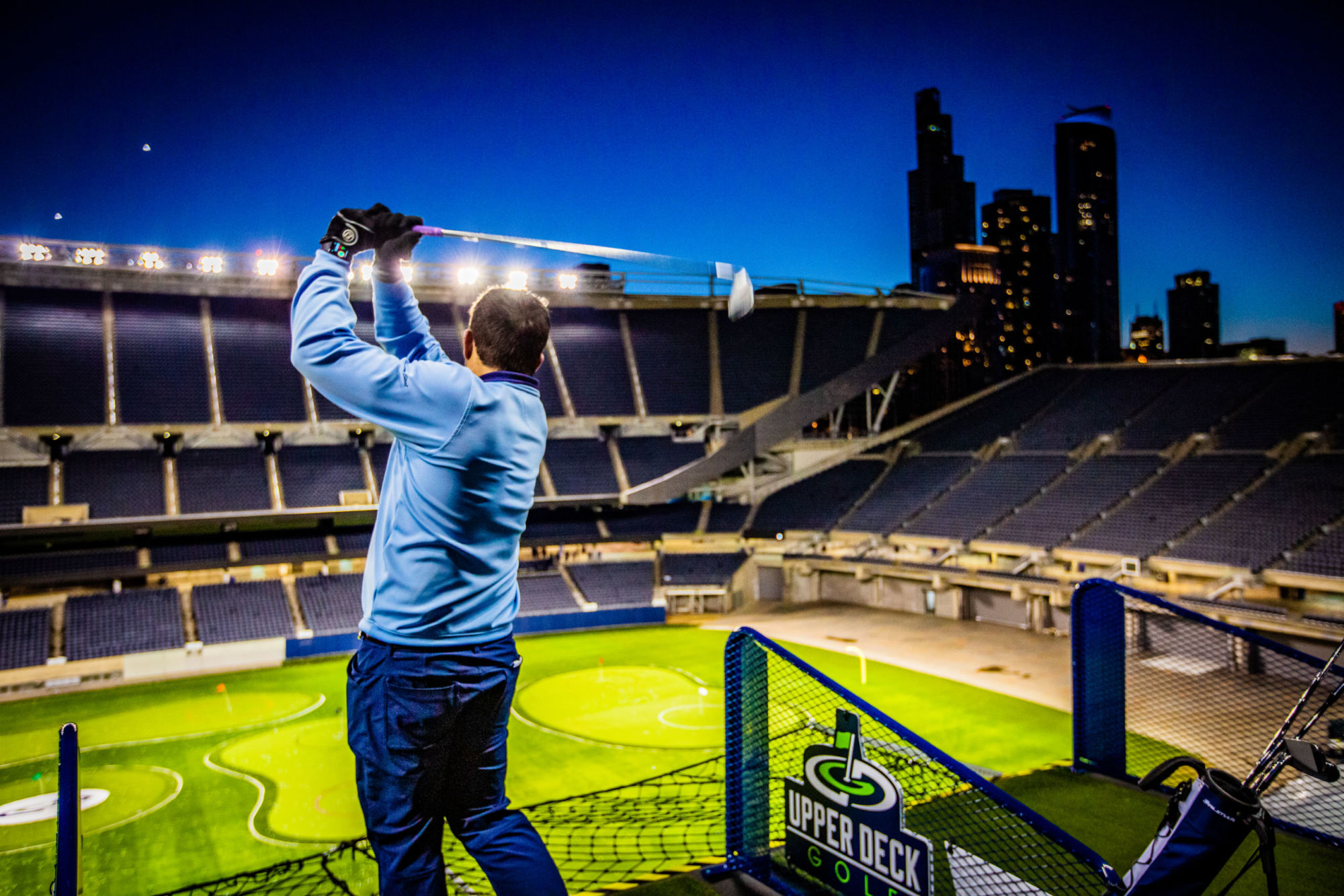 Upper Deck Golf has also visited Soldier Field.
The cost has not yet been posted on their website, but Standard Registration tee times start at $79.99 per person. Prices can vary depending on the location you are inquiring about and time of your tee time.
Upper Deck Golf – Wrigley Field
1060 W Addison St.
Chicago, IL 60613
Tee Time Options:
Standard Tee Time: (Minimum sign-up of 2 players required)
Includes a round of golf inside Wrigley Field, a complimentary set of golf balls, access to the clubhouse bar with golfing challenges, and special stadium access.
Premium Tee Time:
Includes everything in the Standard package, plus extra golf balls (Mulligans), complimentary entry to the Putting and Chipping Challenges, and a complimentary meal and two beverages of your choice (Beer, Wine, or Well Drink for ages 21+).
Golf Balls:
Each player will receive a set of 18 golf balls for use on the course.
Golf Clubs:
Feel free to bring your own clubs (only sand wedge through 8 Iron), or use the complimentary clubs provided at each hole (sand wedge through 8 Iron).
Hole Distances:
Each hole spans 75 to 150 yards. Adjusted slope distances will be provided at each hole.
Scoring Competition:
Engage in friendly competition with your playing partners for unique prizes and boasting rights. Score cards with instructions will be provided.
Golfing Challenges:
Test your skills with Driving, Chipping, and Putting Challenges at the Clubhouse. Winners can score game tickets and exclusive prizes.
Time of Arrival:
It's recommended to arrive at least 30 minutes before your tee time for check-in at the Clubhouse. You're invited to arrive early and stay after to make the most of our clubhouse area.
Clubhouse Sports Bar and Festival Area:
Immerse yourself in the vibrant atmosphere of the clubhouse sports bar and festival area before and after your round. Enjoy the music, watch games, and partake in golfing challenges on custom simulators, all while enjoying cool drinks and appetizing food.
The FAQ page answers frequently asked questions about Upper Deck Golf, such as how much does it cost, what are the age restrictions, and what should I bring with me?
Here are some of the most frequently asked questions:
The cost of a round of Upper Deck Golf varies depending on the stadium or ballpark. Prices start at $49 per person.
What are the age restrictions?
There are no age restrictions for Upper Deck Golf. However, children under the age of 12 must be accompanied by an adult.
What should I bring with me?
You should bring comfortable shoes, sunscreen, and a hat. You may also want to bring a camera to capture your memories.
You can expect to play 9 holes of golf inside an iconic stadium or ballpark. You will be provided with golf clubs, balls, and a scorecard. There will also be a clubhouse bar and festival with fun putting and chipping challenges where winners are eligible for special prizes!
There is no dress code for Upper Deck Golf. However, you may want to dress in comfortable clothing that is appropriate for the weather.
If it rains, your round of golf may be rescheduled. You will be notified of any changes in your tee time.
Can I bring my own clubs?
Yes, you can bring your own clubs to Upper Deck Golf. However, there is a $10 fee for club storage.
Is there a handicap system?
Yes, there is a handicap system in place for Upper Deck Golf. You will be assigned a handicap based on your skill level.
Yes, you can play with friends at Upper Deck Golf. You can book a tee time for up to four people.