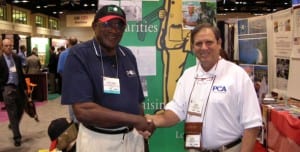 In September 2011, during the week of the BMW Championship, Dennis Cone, founder of the Professional Caddies Association was inducted into the Caddie Hall of Fame.  This ceremony took place at the media tent at Cog Hill Golf & Country Club in Lemont.  Hosting the ceremony were officers of the Western Golf Association.  The September ceremony was a three month prelude to the December 2011, announcement that the Western Golf Association / Evans Scholars Foundation in Golf, IL, would become the new permanent home of the Caddie Hall of Fame.
The Caddie Hall of Fame was an effort begun in 1999 by the Professional Caddies Association founded by Dennis and Laura Cone of Palm Coast, FL.  Beginning in 2012, all Caddie HoF exhibit pieces and ephemera will be housed at the WGA headquarters in Golf, IL.  This exhibit highlights the rich tradition and importance of caddying by recognizing the achievements of notable junior caddies, career caddies, and caddie administrators.  "The Western Golf Association is committed to continuing this important venture," says Mike Maher, WGA's caddie and scholarship development manager. "The organization will help raise awareness of the Caddie Hall of Fame, ultimately ensuring its long-term success."  Cone joined in by stating "the transfer of the Caddie Hall of Fame marks an end of twenty years of hard work by Laura (wife) and myself, but just as well might be a beginning; I'm extremely pleased to have the WGA join the mission."
Cone was the sole inductee (and #105) of the Class of 2011 into the Caddie Hall of Fame that covers the entire spectrum of caddie activities and benefactors.  Already inducted into the HoF are some of tour history's famous caddies: Angelo Argea (Jack Nicklaus), Herman Mitchell (Lee Trevino), Jeff "Squeaky" Medlin (Nick Price), Alfred "Rabbit" Dyer (Gary Player), Adolphos "Golf Ball" Hull (Raymond Floyd), Mike "Fluff" Cowen (Peter Jacobsen / Tiger Woods / Jim Furyk), Bruce Edwards (Tom Watson), Jerry "Dee" Darden (Nancy Lopez), and Fanny Sunesson (Nick Faldo).
"Caddies" with ties to Chicago are already well represented in the Caddie Hall of Fame.  Here are our area's six inductees (inductee #): Tony Battistello (#2), Caddie Manager Sunset Ridge CC.- 41 years, awarded numerous Evans Scholarships to qualified caddies at the club; Charles "Chick" Evans Jr. (#16) started his experiences in golf as a caddie, achieved a distinguished career as an amateur golfer and founded the Evans Scholarship Fund which awards over one million dollars in caddie scholarships per year; William J. Survilla (#63), Caddie Manager for 30 years at Oak Park CC, – estimated to have mentored 10,000 kids during his tenure as caddie manager at the club; Tom Gorman (#86), Caddie Manager at Beverly Country Club since 1987, a stalwart in the Caddie Manager classification, through his work, he has been associated with teenagers for 47 years; Tom Dreesen (#97), comedian, benefactor, and recognized as 'Golf's Global Caddie Ambassador', caddied at Ravisloe Country Club in Homewood, IL, and credits learning his life skills from looping; and, Sonny Meike (#100), caddie manager/master at Butterfield CC, noted for always assigning the right caddie for the job that the member needed to be done, became known as "the great match-maker".
For future Caddie HoF selections, a committee comprised of WGA Directors and staff, along with Dennis Cone, will review nominations and make the final decisions on inductees. Individuals may qualify in one of the following categories:
Junior caddies – prominent individuals who have used their caddie experiences as a stepping stone for future success.
Caddie administrators – individuals whose involvement with caddies and caddie programs bettered the lives of many.
Career caddies – individuals who became prominent caddies and used caddying to better others.
The Western Golf Association, Evans Scholars Foundation, and now Caddie Hall of Fame is located at
One Briar Road
Golf, Illinois 60029-0301
Phone: 847-724-4600