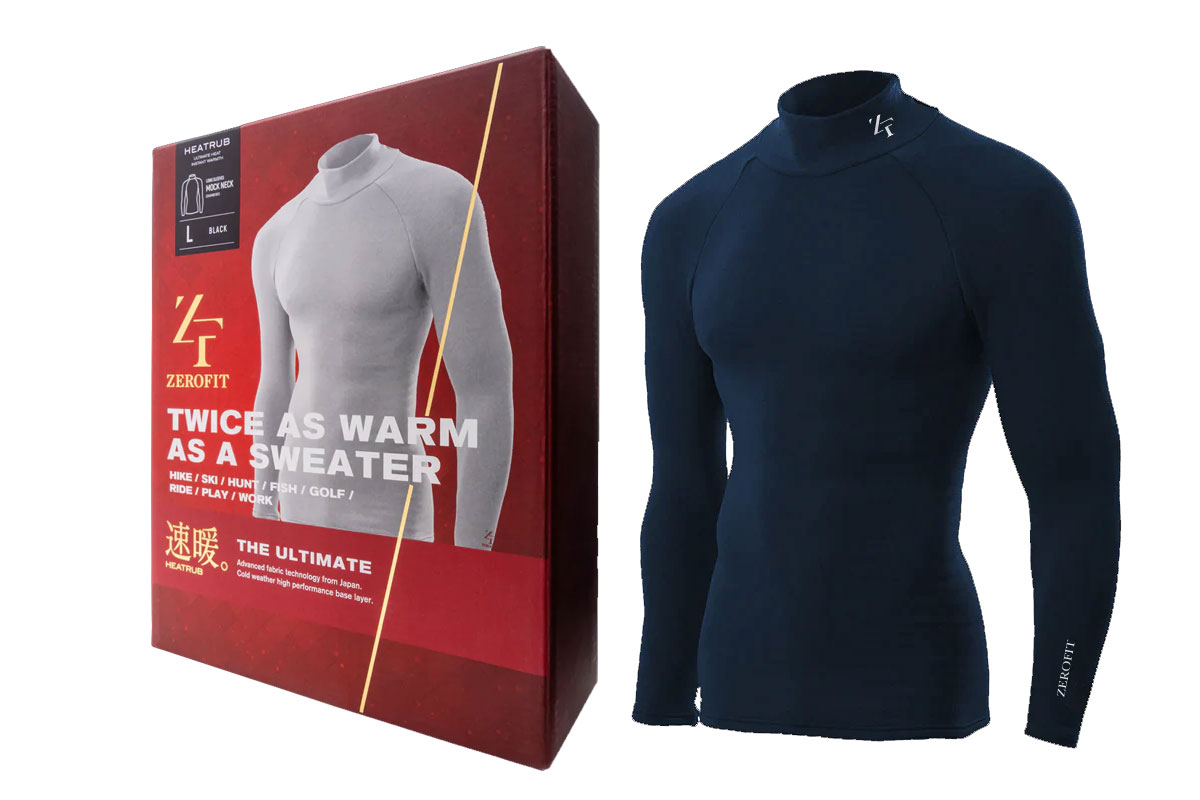 A base layer is an essential part of a golfer's attire, particularly in the cool weather conditions that we often see here in the Midwest during the cold weather months. As an avid Chicago golfer who has tried numerous base layers over the years, the Zerofit Heatrub Ultimate Base Layer and the Heatrub Move – The zero sweat golf base layer truly stand out with their exceptional functionality and comfort.
Both products are part of a range offered by Zerofit, a Japanese sports performance brand dedicated to innovative base layer products. The founder, Koji Higashi, is an avid golfer who created these base layers to satisfy his own needs on the course in cold seasons.
What is a base layer?
It's typically a shirt that can be helpful for golfers playing in cooler, windier, or more variable weather conditions with benefits like these:
Thermal Regulation: A base layer helps to keep the golfer warm in cold or windy conditions by providing an additional layer of insulation. High-quality base layers are made with materials that can trap body heat while also allowing for breathability to avoid overheating.
Moisture Wicking: Many base layers are made from moisture-wicking fabrics that draw sweat away from the body. This helps to keep the golfer dry and comfortable, even during physically demanding parts of the game.
Comfort and Flexibility: Base layers are typically designed to be tight-fitting yet flexible, allowing for a full range of motion. This is crucial in golf, where the swing involves complex, whole-body movements.
Protection: A base layer can also provide a degree of protection against sun exposure and minor skin abrasions.
Muscle Support: Some base layers are designed to provide compression, which can reduce muscle fatigue and speed up recovery time.
Performance Enhancement: By keeping the golfer warm, dry, and comfortable, a base layer can help to enhance performance on the course. When we're physically comfortable, we can better focus on our game.
Upon first wearing, the Heatrub material provides instant warmth, something not all base layers can claim. The comfort level is noteworthy, maintaining optimal warmth without making you feel overheated.
This feature is particularly beneficial when engaged in physical activities as it manages body temperature super effectively. Moreover, its optimal temperature range is -10° to 10° Celsius, which makes it suitable for various winter conditions.
Zerofit Heatrub Ultimate Base Layer
The Heatrub Ultimate Base Layer is very comfortable and provides instant warmth, thanks to its unique Heatrub material. The fibers inside the garment are activated through movement, gently brushing against the skin to generate a heat that's not just instant, but also comfortable.

The material is described as having the feeling of a natural material but with the performance of a man-made fabric. It manages temperature super effectively, which is a rare trait among base layers.

The fit and feel of the Heatrub Ultimate Base Layer are impressive. The garment is stretchy, promoting excellent freedom of movement, making it suitable for cold weather golf in Chicago as well as many outdoor activities.

While it offers a snug fit, akin to most base layers, some might find it a bit tight. In my experience, it ran a bit small, and I had to size up from a medium to a large. But fear not, Zerofit's range offers various fits and sizing options, including looser alternatives if you prefer a less tight fit.

The product is available in five color options and comes in a classy cardboard box. It maintains its shape well even after multiple washes and doesn't require ironing. It can be worn off the course as well, especially for those who enjoy spending time outdoors in colder months.
Zerofit Heatrub Move
The Heatrub Move, on the other hand, is a versatile base layer best suited for crisp autumn or winter weather. It is designed to help avoid a "cold sweat" situation where your shirt holds onto moisture in cold weather, making you feel colder.
It wicks moisture from the skin instantly and allows it to evaporate quickly thanks to a combination of polypropylene and polyurethane on the underside of the base layer and a polyester outer layer. The Heatrub Move is very comfortable and soft on your skin with good breathability.
It has a good amount of stretch, so it doesn't feel too tight but fits snugly to your body. This allows you to make all the movements you need for golf or other activities, without feeling like your clothes won't "stay with you" during your swing.
On-course performance is excellent, with the technology genuinely working as described. It provides a great range of motion that allows you to feel totally natural, without the need to make any swing compensations. This base layer is perfect for a wide range of temperatures and can be used for various outdoor activities beyond golf, such as watching soccer games in the cold, doing yard work, and shoveling snow.
At $76.00, this base layer may seem a bit pricey for some, but considering the quality, comfort, and functionality it offers, it's an investment worth making. The performance it delivers in keeping you warm and dry in cold weather is unparalleled, making it an essential addition to any golfer's wardrobe.
Conclusion
In conclusion, the Heatrub Move Base Layer and The Zerofit Heatrub Ultimate Base Layer are game changers for any golfer or outdoor enthusiast who values comfort, warmth, and performance. They are products that live up to their promises, making them well worth the investment.