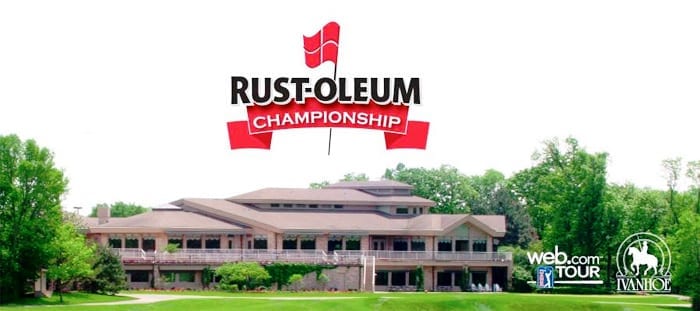 The 2016 Rust-Oleum Championship will be played months ahead of Halloween, but the tournament's catch phase might well be 'trick and treat at Ivanhoe Club' as the hottest player on this year's web.com tour, Wesley Bryan, is expected to participate and will attempt to win his third tournament championship of the season. Within the past couple years, Wesley Bryan along with his brother George, have become famous YouTube celebrities by means of their postings of amazing golf trick shots videos. One of their clips has been viewed more than 3,900,000 times. In 2015, the Bryan Brothers were even joined by Rory McIlroy at Whistling Straits for a trick shot video.
However, trick shot videos permit the use of re-takes, call them 'mulligans', and professional golf does not; nonetheless, for Wesley Bryan there is as much skill as a golfer on the links as there is as an entertainer in front of the camera. As a high school golfer, Wesley finished first in the South Carolina Class AAAA Boys State Championship in 2007 and 2008 and then helped his team to a state title in 2008; also in 2008, he then entered match play at the U.S. Amateur Championship as the second seed.
Wesley followed the footsteps of his father and older brother to play on the South Carolina Gamecocks men's college golf team. For Wesley, mini-tour events and trick shot videos were the correct path to step up to the next level of golf competition.
Bryan had never played a web.com Tour event before this season; he advanced through all three stages of last fall's Qualifying Tournament to earn his status on the 2016 tour and in just seven starts has made six cuts, four top-10 finishes, and two titles moving him into the No. 1 spot on the money list and securing a place in the 'Top 25' at season's end, which will give him a PGA TOUR card for the first time next season. If he manages another web.com victory in 2016, he'll earn an automatic promotion to the PGA TOUR and finish this season on the 'big stage'.
How does the Columbia, South Carolina native explain his quick transition to life on Tour? "I think the Bryan Bros thing helped as far as getting used to a pretty rigorous travel schedule last year, so that wasn't as big of a shock coming into this year," Bryan said. "But I mean, honestly, it's just getting out here and getting my feet wet."
For Bryan and the other 155 golfers in the 2016 Rust-Oleum Championship (field of 156 will be cut after 36 holes to low 65 and ties) the monetary rewards will be a financial treat; a purse of $600,000 is up for grabs and $108,000 will be awarded to the tournament champion.
Additional treats, these for the golf fans of Chicago, will be found in the admission price for spectators and enjoyment of the spectacular scenery of the Ivanhoe Club.
Admission to the grounds for all four days is just $20; a $10 ticket upgrade (total $30) will allow fans a seat at the 18th hole pavilion area, good for all four days. Juniors, ages 17 and under will be admitted free with a paid adult admission. Tickets are available online or at the gate. Competition rounds are Thursday, June 9 through Sunday, June 12. The tournament week opens with a celebrity pro-am on Monday, June 6; there is a Drive, Chip, & Putt competition for juniors on Tuesday, June 7; practice round is Wednesday, June 8.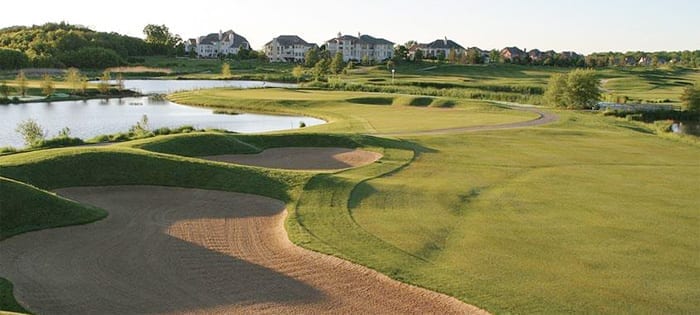 The beautiful, secluded grounds of Ivanhoe Club will be making their public debut with this first of three Rust-Oleum Championships. A prominent part of the Ivanhoe golf experience are its water features; fifteen lakes and ponds, a manmade waterfall and countless bridges enhance the 27 holes. Ivanhoe is one of a few select clubs to earn the Certified Signature Audubon Cooperative Sanctuary status in America. In addition, 4,000 trees frame the fairways and scores of ornamental flowerbeds feature horticulture themes which complement each particular Nine. The Marsh Nine embraces wetland wildlife; herons, red-winged blackbirds, terns and turtles can be seen at close distance; the closing hole is a spectacular par-4 hole that features an elevated tee shot over Lake Ivanhoe, with an additional long approach shot over water to a heavily guarded green. Golf Magazine has named this, and Ivanhoe Club's Forest Hole number 9, two of the prettiest finishing holes in golf.
"Going on 20 years as a member of the Ivanhoe Club, I am so proud and honored that the PGA TOUR has selected our club to host the 2016 Rust-Oleum Championship," said Rust-Oleum Championship co-chairman Denny Belcastro. "Now everyone can experience the outstanding facilities and golf course design and challenge we as members have enjoyed for years. The Web.com Tour players will be challenged by our best-in-class course and be treated to a world-class experience during the event. The membership is excited and has already taken steps to make sure that this event will be a hallmark tournament on the Web.com Tour."
If you are unable to attend in person, the Golf Channel will televise all four competitive rounds (June 9-12).
Additional information, including ticket purchase and volunteer opportunities are available at the website: www.rustoleumchampionship.com.
[schema type="event" evtype="Event" url="2016 Rust-Oleum Championship" name="2016 Rust-Oleum Championship" description="Wesley Bryan is expected to participate in the 2016 Rust-Oleum Championship on the web.com Tour." sdate="2016-06-09″ edate="2016-06-12″ street="28846 Thorngate Drive" city="Ivanhoe" state="IL" postalcode="60060″ country="US" ]