The mayor and residents of Gurnee along with the members and staff of the Merit Club will soon welcome a world audience to their hosting of the LPGA's 2016 UL International Crown tournament. Should the mayor wish to say 'hello and greetings' to the 32 women competitors, she would have to verbally express herself in five different languages as there are participants from three English-speaking countries, two that speak Mandarin Chinese, and three other countries with non-English native languages.
While the format for the tournament was set months in advance, the determination of the eight countries was finalized on April 4, 2016, immediately following the ANA Inspiration major championship in Rancho Mirage, CA. Based upon official Rolex Standings issued on that date, the eight countries whose best four golfers collectively total the best rankings (lowest sum), became eligible to compete in the second International Crown Tournament. The Republic of Korea captured the #1 seed scoring (21), followed by the United States (39). Rounding out the remaining field are Japan (181), Chinese Taipei (203), Thailand (342), England (344), China (386), and Australia (390).
The next step in the process of determining the individuals that represent the eight countries was finalized last month on June 12; after a dramatic finish of the 2016 KPMG Women's PGA Championship, Team Australia passed Team Chinese Taipei as the number four seed on the final day of qualifying and Team Korea's Amy Yang and Team Thailand's Porani Chutichai were able to secure the final spot on their respective rosters.
2016 UL International Crown Seeds and Team Rosters
Republic of Korea: Sei Young Kim, In Gee Chun, Amy Yang, So Yeon Ryu
United States: Lexi Thompson, Stacy Lewis, Gerina Piller, Cristie Kerr
Japan: Haru Nomura, Mika Miyazato, Ayaka Watanabe, Ai Suzuki
Australia: Minjee Lee, Su Oh, Karrie Webb, Rebecca Artis
Chinese Taipei: Teresa Lu, Candie Kung, Yani Tseng, Ssu-Chia Cheng
Thailand: Ariya Jutanugarn, Pornanong Phatlum, Moriya Jutanugarn, Porani Chutichai
England: Charley Hull, Holly Clyburn, Melissa Reid, Jodi Ewart Shadoff
China: Shanshan Feng, Xi Yu Lin, Jing Yan, Simin Feng
The eight countries have been divided into two pools, each pool containing teams from four different countries. Pool "A" contains #1Republic of Korea , #4 Australia, #5 Chinese Taipei, and #8 China. Pool "B" contains #2 United States, #3 Japan, #6 Thailand, and #7 England. Each country will play two four-ball matches against each of the other three countries in their bracket.
At the conclusion of the three days of four-ball competition, the two teams with the most points from each pool and one wild-card team will advance to Sunday Singles. In the event of a tie between teams tied for first or tied for second in each pool, a pre-determined formula will be used to break all ties. Countries in third place or tied for third place from each pool will compete in a sudden-death, wild-card playoff. Teams will determine two players to represent their country in the playoff prior to teeing off on the extra holes at the conclusion of the Saturday's four-ball matches.
After the wild-card playoff, countries will be re-seeded #1 through 5 based on total points earned in the four-ball matches. In the event of a tie during the re-seed, a pre-determined formula will be used to break all ties. Each country will play one singles match against every other country. At the conclusion of the 10 Sunday singles matches, the country with the highest point total from the four days of competition will be "Crowned" the best golf nation in the world.
The grounds of the Merit Club will be open to UL Crown spectators for six days. Here is the schedule:
2016 UL International Crown
Tuesday, July 19
Gates Open 7:30am – 4:00pm
Team Practice Rounds 8:30am – 9:15am
Wednesday, July 20
Gates Open 7:00am – 6:30pm
Official Pro Am Morning Wave 7:30am – 8:40am 1st & 10th Tees
Official Pro Am Afternoon Wave 11:45am – 12:55pm 1st & 10th Tees
Thursday, July 21
Gates Open 7:00am – 3:30pm
Day 1 – Eight(8) Four-Ball Matches 8:00am – 9:45am 1st Tee
LPGA Lesson Zone 9:00am – 12:00pm Driving Range
Friday, July 22
Gates Open 7:00am – 3:30pm
Day 2 – Eight(8) Four-Ball Matches 8:00am – 9:45am 1st Tee
LPGA Lesson Zone 9:00am – 12:00pm Driving Range
Saturday, July 23
Gates Open 9:00am – 6:00pm
Day 3 – Eight(8) Four-Ball Matches 10:30am – 12:15pm 1st Tee
Junior Day 12:00pm – 4:00pm Driving Range
Wild-Card Playoff Immediately Following Play
Sunday, July 24
Gates Open 9:30am – 6:00pm
Ten(10) Singles Matches 11:02am – 12:30pm 1st Tee
Sudden Death Playoff (If Necessary) Immediately Following Play
Trophy Ceremony Immediately Following Play
The competitors are not only playing for pride and country, but for important prize money as well.
The total prize purse is $1.6 million:
1st Place Team: $100,000 per player
2nd Place Team: $60,000 per player
3rd Place Team: $52,500 per player
4th Place Team: $47,500 per player
5th Place Team: $42,500 per player
6th Place Team: $35,000 per player
7th Place Team: $32,500 per player
8th Place Team: $30,000 per player
Television coverage of the UL International Crown from Thursday through Sunday will be on Golf Channel, with NBC additionally televising 2 hours on Sunday. Golf Channel will also have a one hour preview airing on late afternoon Wednesday.
A significant note to LPGA fans in the United States — the UL International Crown event is the last chance to attend an LPGA tournament in person for four months; the LPGA heads to England, Canada, France, the Far East, and Mexico before returning to the USA in November for the CME Group Tour Championship, Nov 17-20 in Naples, FL. An encouraging note to Chicago-area LPGA fans — the 2017 KPMG Women's PGA Championship will be held at Olympia Fields CC, June 27-July 2, 2017; and the 2018 KPMG Women's PGA Championship will be held at Kemper Lakes GC in Kildeer.
Additional information about the UL International Crown, including tickets, parking, and spectator regulations can be found at the website www.ulcrown.com.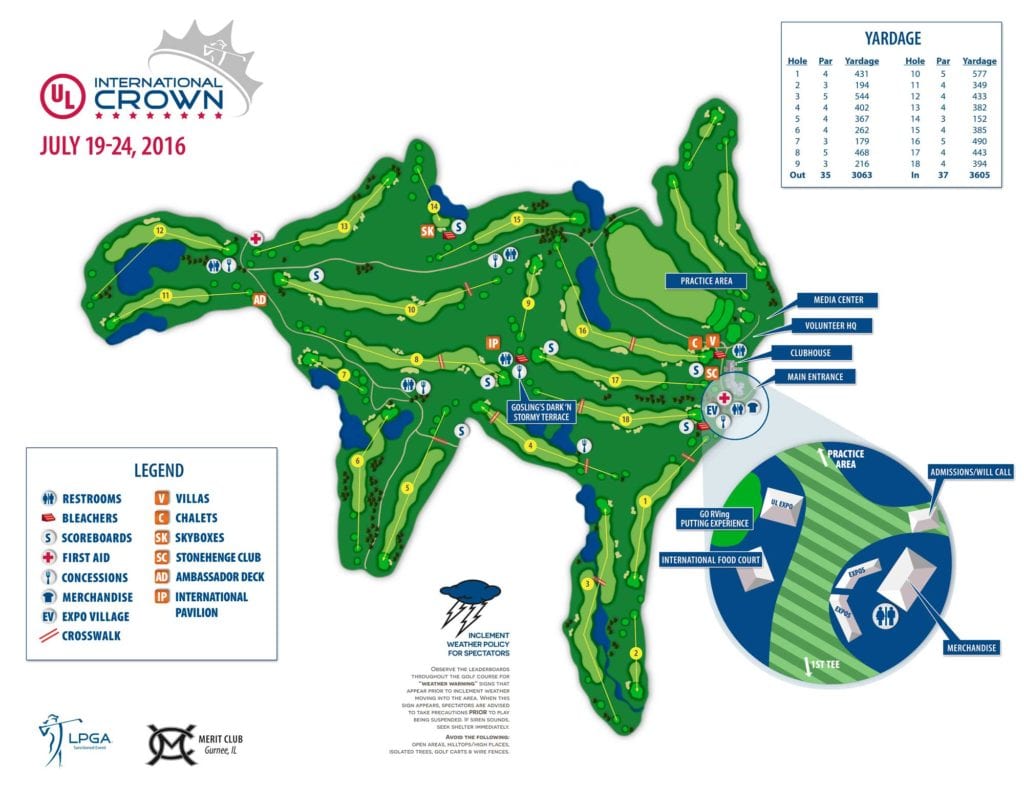 [schema type="event" evtype="SportsEvent" url="http://www.ulcrown.com/" name="2016 UL International Crown" description="The LPGA's 2016 UL International Crown tournament featuring the world's top female golfers will take place at The Merit Club." sdate="2016-07-19″ stime="07:30 am" edate="2016-07-24″ street="1500 Merit Club Lane" city="Libertyville" state="IL" postalcode="60048″ country="US" ]