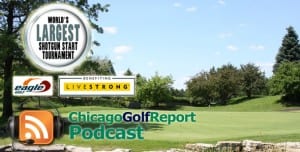 This episode features an interview with Joe Munsch, CEO of Dallas-based Eagle Golf, which operates 75 daily fee and private golf courses.
On June 22nd Eagle Golf is hosting the "Shot Heard Around the World" 2-person team event at 61 golf courses across the country and five local Chicago golf courses. They will be attempting to set the Guinness World Record for the World's Largest Shotgun Start Tournament. The event benefits LIVESTRONG, the Lance Armstrong Foundation and helps raise awareness and funds for the global fight against Cancer.
This year Eagle Golf is looking to double the amount raised in 2009 and to create history. Sixty-One golf courses, including five in the Chicagoland area, as well as 6,000 players will all tee off at the same time across the country. It will truly be the "Shot Heard Around the World" to benefit LIVESTRONG.
Shot Heard Around the World
Tuesday, June 22nd
10AM Shotgun Start
Participating Chicago golf courses:
Ruffled Feathers Golf Club
Lemont, IL
Fresh Meadow Golf Club
Hillside, IL
Mill Creek Golf Club
Geneva, IL
Whitetail Ridge Golf Course
Yorkville, IL
Mission Hills Country Club
Northbrook, IL
Interviewer: Walter Lis. Running Time: 14:43
Click here to download an MP3 file.
Click here to download a PDF file.
WL: Our guest this episode is Joe Munsch, CEO of Dallas-based Eagle Golf, which operates 75 daily-fee and private golf courses. On June 22, Eagle Golf is hosting the Shot Heard Around the World two-person team event at 61 golf courses across the country and 5 local Chicago golf courses. They will be attempting to set the Guinness World Record for the World's Largest Shotgun Start Tournament. The event benefits LIVESTRONG, which is the Lance Armstrong Foundation and helps awareness and funds for the global fight against cancer. For more information on this event, you can visit eaglegolf.com.
Before we get into the big event on the 22nd, can you talk a little bit about who Eagle Golf is and how your company looks to serve golfers in the Chicagoland area?
JM: Eagle Golf has been around for about 20 years. It's gone through several owners, but currently today, we operate 70 golf courses in more than 15 states. Stretching, really, from California through Arizona, Las Vegas, Denver; it comes through Texas, Kansas City, and on up to your area in Chicago. Our northernmost course is in Minneapolis. We cut through going from the Southwest up through the Midwest.
We operate in some clusters, which is where we want to stay. Chicago is a very good cluster for us. Obviously, we have the largest number of courses, I think, in Texas, with about 20 courses that we manage here. We're a company that is committed to hopefully being a little different. One of the things about golf, it's a great game; it's gotten a little stale, participation is not growing. All of us in the golf management business today are almost in the mode of having to steal customers from other people and you don't do that by doing the same old thing. That's how some of the ideas for something like this tournament came together; just trying to be a little different, have a little more fun, and that sort of thing.
WL: One of the things that I've read about that is a little bit different that you've put together is something called the Radical Retail Program. Can you talk a little about that?
JM: Yes, Radical Retail is a value creation program. It's a little bit of a loyalty program. Golf courses have always, traditionally, taken the approach that we've got to capture customers there so we can charge a little more for balls and clubs and all that. We say, "Well, that's kind of crazy." We want our customers to think about Eagle when they want to buy anything related to golf, so why should we charge them more than the BJ Superstore or the Discount House down the road? So what we said is that for all hard good type of purchases; balls, clubs, gloves, shoes, and that sort of thing; that we will match the best retail prices out there. In other words, when you step up to an Eagle counter if you're playing golf that day, you're going to get the same price that you could get at Edwin Watts or Superstore or wherever you might go. We think that just gives people another reason to come to our courses, and also, we want them to get good value in every aspect when they come to one of our courses. So there is no reason that we should try and get a higher price for retail just because we've got a captured customer there. We want them to think about our courses and, again, we just want to give them every reason to come to an Eagle property.
WL: In the Chicagoland area, I believe you have 5 courses and it seems to be that you have a pretty nice mix. You have Fresh Meadow, Mill Creek, Mission Hills; you have Ruffled Feathers, and then Whitetail Ridge. And they all are in different areas, obviously, and maybe even a different demographic on some of them. Is the Eagle Golf brand, does it kind of go across? I mean, are you working with all different types of demographics or are you trying to focus on one specific, like a higher end? What is the focus there?
JM: We are more focused on the mid-level. Eagle Brook is a very nice course, but you're not going to say it's a…it's a really nice course, I don't want to downplay that area but that's probably about the high end for us at Eagle Brook. We don't operate any courses with $100,000 initiation fees or anything like that.
Ruffled Feathers also as nice a daily fee property as you will find almost anywhere. We would put it up against anything, but that's the high end for us. We operate more at the mid-level; Fresh Meadow, Mill Creek; property like that is more our bread and butter.
We operate, by far, the highest rated daily fee golf course in Dallas at Cowboys Golf Club; what we charge there is more than anybody else and the reviews that it gets are more than anybody else. So we do operate a little bit at the high level, but mostly we're mid-level golf courses; more mainstream-type golf courses.
WL: I think I guess this all ties in pretty well together then with the event you have coming up on June 22, since it's kind of taking into account all demographics, all people. Can you talk a little bit about the Shot Heard Around the World event?
JN: I sure can. We started last year in association with the Lance Armstrong foundation, or LIVESTRONG. We contributed a sizable amount of money to them last year. We kind of got involved late in the year; we had about a month where we put some fundraisers together, but we managed to contribute $211,000 to that cause. We've renewed our commitment to make some contributions to LIVESTRONG for a couple of reasons. It's a good cause and we want to be tied with good causes. We want to be known as a company that does the right thing.
It's just looking at what we could we really do? We sent out…We had a national conference earlier this year in February, and we told everybody to give us the great idea that they had that we could do something; raise some money; add customers; have fun; whatever. One of the guys wrote in and said we need to have a national tournament. So we just kind of built off of that and we said, "Gosh, what can we do that will be really fun that nobody else has ever done?" I mean, there are big tournaments; you've Oldsmobile Scrambles, and that's a tournament but it's not one time, one day, every player at every course competing for the same prize, and playing in one tournament.
We grew from there and what we came up with is, we are basically setting up every course to play to the same rating; and we know that's not exact. But the USGA is helping us with that. They have given us a little scale of how we set every course up. So every player…it's a 2-man scramble…and every team will compete against every other player at the 61 courses that are participating in this. We will have local prizes at the club level; very good prizes. Our great partner Nike has helped us out with prizes at the course levels and we've got some great national prizes. There will actually be a national winner.
And, Walter, I'm going to say up front that we know this isn't perfect when you're dealing with handicaps and 61 different courses and all of that, but we hope that everybody is looking at it the same way we are: Let's just have some fun; let's do this. The world record that we can see, for Guinness, for the most participants in a tournament of this type is like 1,050. We hope to just blow that totally out of the water, with the 60 courses. It's intended to be a fun day. A lot of our courses are doing really festive things at the course that day.
There will be a contribution from every player; a part of the entry fee from every player goes to LIVESTRONG. That's going to range from $25.00 to $50.00, depending on the course; what they think they can charge to get people in. There will be a huge contribution to LIVESTRONG out of this tournament. And, again, great prizes at both the course level and the national level. We will have 5 national winners and that be based on handicap and who shoots the best score from these, I hope, 6,000 players that participate that day. Everyone will tee off at exactly the same time, that's 10:00 a.m. Central, on June 22.
To my knowledge, nothing has ever been done like that. And, again, it's kind of fun to be involved in a world record; its fun to be in a tournament with 6,000 other people; and its fun to get a chance to win some prizes. That's really what it's about. I mean golf just needs to be a little more fun. That's how we are going to get more people to participate and enjoy the game and all that. It has to be fun, or nobody is going to do it.
WL: So just to double back a little, what initially attracted you towards the LIVESTRONG brand and to partner up Eagle Golf with LIVESTRONG?
JM: It's just one of those kinds of coincidences. We were talking about we really wanted to do something with a great charity. We started talking to Susan G. Komen, and that's obviously a great charity. I got a little solicitation from LIVESTRONG here in the Dallas area. They were going to participate in a tournament here and I started talking to them and we participated in that tournament. That really was the beginning of raising the $211,000 last year.
Lance Armstrong is a Texan; we're based here in Texas; so there were some actual ties here. Lance's mother lives here in Dallas. She is a very energetic lady that obviously supports all of this and is really involved in that. It just kind of evolved from participation in a small, well it wasn't small, I think they raised $150,000 at the tournament; and then we raised another $211,000 to go with that. So it turned out to be a really big deal. But the relationship just evolved and the fight against cancer; I don't know how you can support a better cause than that. And with the Texas ties, and the Dallas ties and all of that; it just turned into a natural fit for us. And, again, we renewed our pledge to them. We hope to raise $400,000 to $500,000 this year for LIVESTRONG, which I know that they will appreciate and that would be a great contribution.
WL: So I'm assuming that it is open at all of your courses then? All 61?
JM: We actually have 70 courses, and the way we picked June 22 is we tried to find a day where the largest number of courses could participate. We have events booked at courses; obviously June is a big time of year for outings and that sort of thing. So we don't want to disrupt that. We still do have try and make money through all of this. June 22 turned out to be the day when the most courses could participate, that's turned out to be 61. We have, as you can see, nine that just couldn't shake free; couldn't move the event that day, or whatever. That's how we picked the day. It is open at all 61 courses.
WL: In Chicagoland area, we have Fresh Meadow; we have Mill Creek, Mission Hills, Ruffled Feathers, and Whitetail Ridge will all be participating. I'll have a link on chicagogolfreport.com for everybody to go to. Before that, I'm assuming it's open to the public in any kind of handicap, any kind of level of player?
JM: You know, it is open to the public and we are really trying to broaden this out. It is going to be handicap, so we're hoping that we can get a handicap on every player. We really need to do that to make it fair. We are going to limit the handicap to 27, I believe. So we don't get carried away with that. Of course, we'll adjust that according to the USGA formula on how you adjust handicaps for a 2-man scramble. We're trying to make it as fair as we can and give everyone a chance. I hate to keep saying it, but we just hope everybody comes out and has a good time, and realizes that they are contributing to a great cause.
WL: Yes. I think that everything that you hear about; everything we're talking about with this event, kind of dictates that it sounds like a great time. It sounds like a great connection to it. And obviously, you play golf and you are able to contribute in this way. It's really a great connection that I think should happen on the 22nd all across the country.
JM: We think so and we sure appreciate any help you can give us. We are still looking for players. We're about 2 weeks away, and still have some openings. So anybody that sees your blog and would like to participate, we'd love to have them.
WL: Okay, well great Joe. Thanks a lot. I'll have a link on the web site about all this information and I look forward to hearing more about it as we get a little bit closer.
JM: So are you going to play?
WL: Yes I am. I received my invite just the other day and I will be at Ruffled Feathers on the 22nd. I just have to narrow down my partner at this point.
JM: All right! Well that will be great. We look forward to seeing you there.
WL: I appreciate it. Thanks, Joe.
JM: Okay, take care.
This has been the Chicago Golf Report podcast. Visit chicagogolfreport.com right now for exclusive discount offers, Chicago golf news, and in-depth event listings.
Podcast: Play in new window | Download
Subscribe: RSS