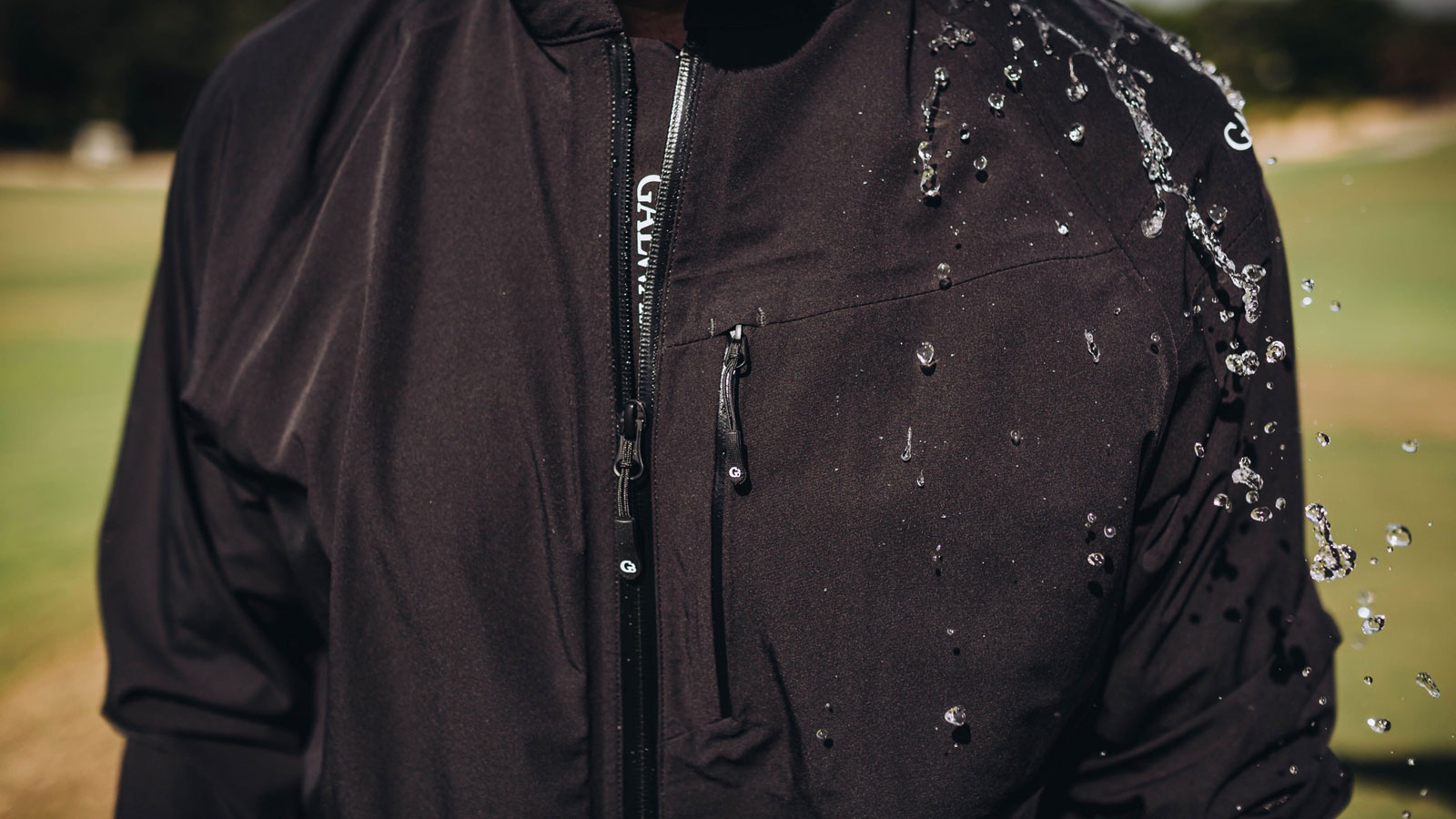 Anyone who has played a round of golf knows that overcoming adversity is a central theme anytime we hit the course. Challenges and obstacles such as deep bunkers, thick rough and water hazards are built into the game. Since we play outside, golf is also susceptible to the challenges brought on by weather.
Bike enthusiasts have a saying "If you don't ride in the rain, you don't ride!" The saying is also true for golf. It's not a matter of if, but when you'll encounter rain on the golf course, which is why it's essential to prepare for that eventuality. Having the right rain gear can make a huge difference in your performance when precipitation comes.
With that goal in mind, I recently tested Galway Bay's All-Weather Jacket that uses their proprietary Hydro-Flex 32 fabric. Being located in Chicago, I play in poor weather at least a few times a year, so I'm always on the lookout for a rain jacket that limits restrictions.
I'm happy to say that I've yet to find anything that accomplishes that objective like the All-Weather Jacket from Galway Bay. The Hydro-Flex 32 fabric is waterproof and breathable, while still being strong and durable without the additional bulk because the material is lightweight stretchable.
This jacket rises above the competition because of the extreme attention to details. Galway Bay's jacket has a high collar in the back but tapers down and is rounded in the front. This subtle design improvement prevents the collar from poking your chin as you look down to line up your shot.
In addition to being lightweight and stretchable, the Hydro-Flex 32 fabric is soft and quiet. The fabric also "breathes" allowing the release of excess body heat and sweat.
No detail was too small for Galway Bay, as even the zippers and seams are waterproof. The All-Weather Jacket comes with two front pockets and a handy chest pocket, all of which stay dry.
Galway Bay's Hydro-Flex 32 fabric is a proprietary, 100% waterproof fabric that is constructed with a hydrophilic interior to pull moisture away from the skin and transfer it to the outer layer. This breakthrough material is a three-layer fabric with double durable water repellent coating including Teflon that's designed to not only keep water from getting in, but to allow sweat to get out. Hydro-Flex 32 helps regulate temperature in both hot and cold conditions while dispersing and releasing moisture.
"Our proprietary Hydro-Flex 32 fabric is the most breathable waterproof technology in the industry." said Galway Bay Director of Operations Michael Brown. "It's the subtle touches in the All-Weather Jacket, like a quieter, stretchy fabric and design elements that help you play undistracted and unrestricted, that our customers appreciate."
If I'm in a competitive match, I enjoy playing in foul weather as this often eliminates many of my competitors. You can expect to lose at least a few shots a round if you can't keep yourself and your equipment dry, so having the right rain gear is key to performance.
As Muhammad Ali once said "It isn't the mountains ahead to climb that wear you out, it's the pebble in your shoe." Galway Bay's All-Weather Jacket is a great advantage to have when overcoming the challenges Mother Nature can bring to the golf course.
The All-Weather Jacket that we tested is available for $229 on the Galway Bay website. In addition to jackets, Galway Bay offers pants, baselayers and accessories such as thermal water resistant sleeves and backpacks.