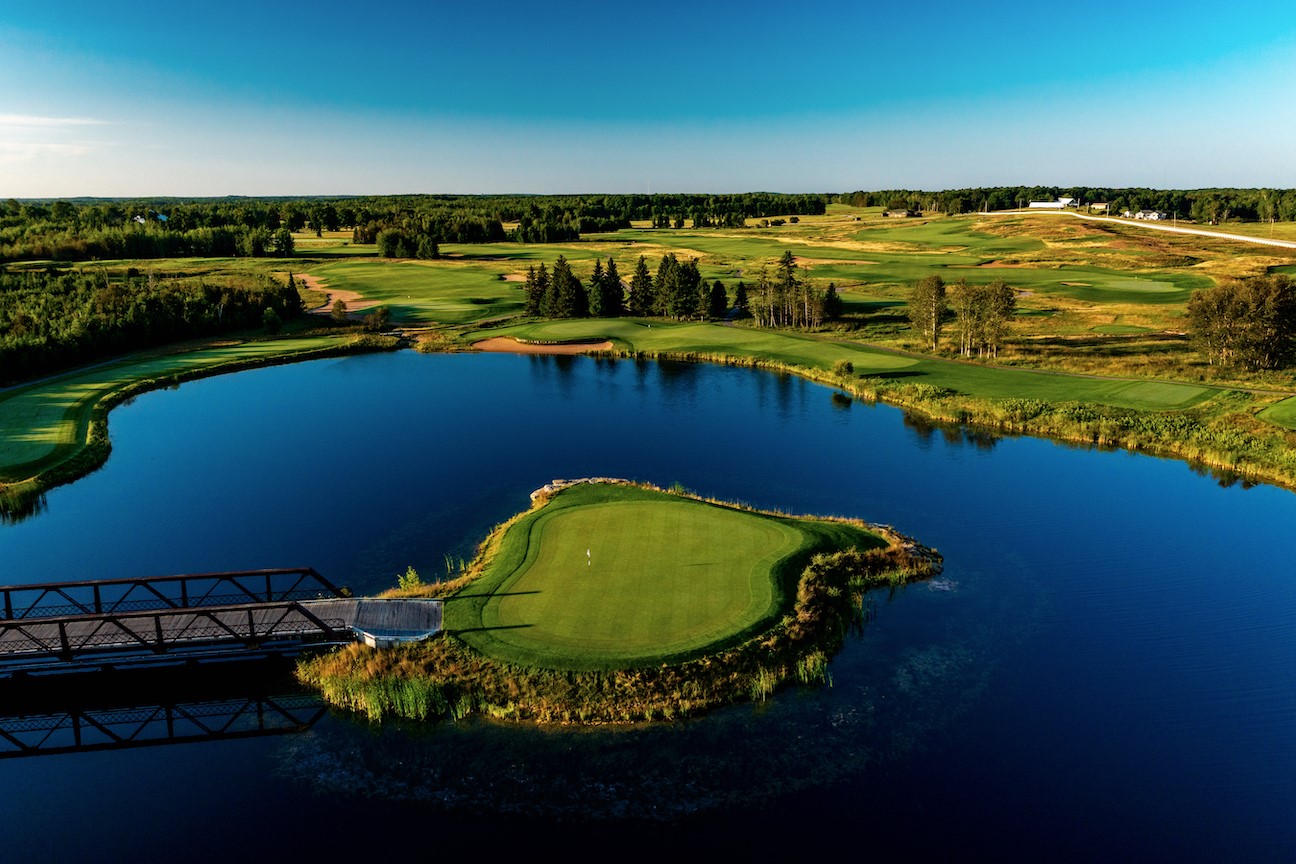 Located in Michigan's premier Upper Peninsula, Island Resort & Casino is a golf destination located just outside of Escanaba that features the award-winning Sweetgrass and Sage Run golf courses. Following a $33 million renovation, the resort offers golfers new lodging, dining and gaming opportunities this season.
Designed by Paul Albanese, Sweetgrass was named the 2022 National Golf Course of the Year by the NGCOA. The prairie links-style course features an open layout with some of the game's most fun greens to putt (Redan, Biarritz, Island, and Double-Green), as well as some wonderful strategic holes that include No. 15's famous island green and spectacular finishing par-five holes on each side.
Golf course design aficionados might be familiar with local Redan and Biarritz examples at Chicago Golf Club in Wheaton. The famous 7th at Chicago Golf Club is a Redan hole, which comes the French word for part of a fortification. Redan holes typically range anywhere from 170 to 240 yards and are well defended with the green offset close to a 45-degree angle moving from right to left and bunkers all around.
The par 3 third hole at Chicago Golf Club plays 219 yards and is known as a Biarritz hole. The Biarritz favors a low running shot that can run through the swale to emerge on the green. If you don't judge the distance correctly, you'll find the wrong side of the hole.
Sweetgrass Golf Club hosts the Epson Tour Island Resort Championship June 24-26, is also ranked among Golfweek's Best Courses, and has been recognized by GOLF Magazine and Golf Digest as a Best in State selection.
Sage Run Golf Club offers a contrasting style from its sister course. Listed on Golf Digest's prestigious "Best New Courses" list in 2019, it meanders through beautiful Upper Peninsula hardwoods, open vistas and a dramatic ridge offering a scenic variety of shots that create a thrill ride for golfers. The course annually hosts top collegiate players with the Island Resort Intercollegiate at Sage Run.
Located 15 minutes west of Escanaba, Island Resort & Casino is one of the Midwest's largest golf, casino and entertainment resort destinations. The resort now features 400+ guest rooms, more than 1,200 of the latest slots, a poker room, various gaming tables, a sportsbook, bingo hall, two championship golf courses, the Drift Spa, an RV park, a headline entertainment showroom, a pool with waterpark features, an expansive convention space that can be customized, and enough dining choices to please every palate.
Island Resort & Casino is easily accessible via two regional airports in Escanaba and Marquette, connecting through Detroit, Saginaw, Lansing or Grand Rapids.