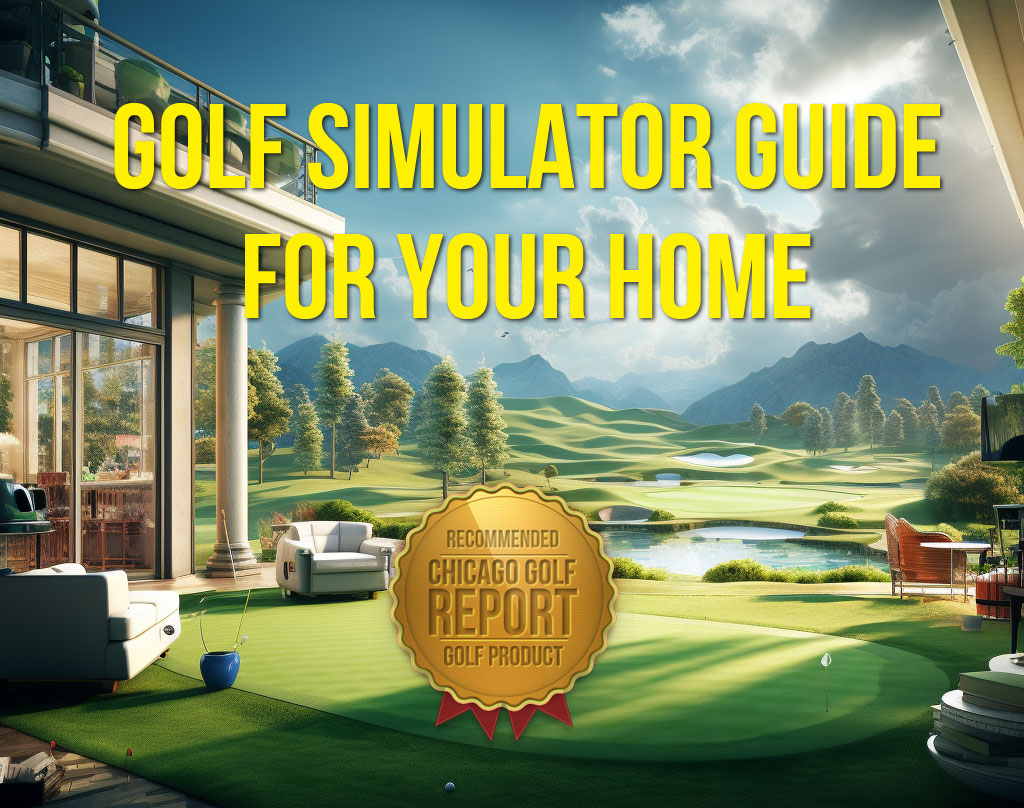 For those passionate about golf and golf gadgets, exploring the intricacies of a golf simulator can be an enlightening experience. These simulators give golfers the opportunity to play at home, as well as gain insight into their swing and ball flight.
In this comprehensive guide, we will provide you with all of the components necessary to build your own home golf simulator. We'll also delve into top-notch golf launch monitors like Garmin R10 and SkyTrack, shedding light on their features and capabilities. We'll also analyze mid-range launch monitors such as FlightScope Mevo+ and Foresight's GC3.
We won't stop there; our exploration extends to premium level launch monitors including Uneekor EYE XO's functionalities, Trackman 4 – often considered the gold standard in simulation software. You'll learn about overhead mounted large monitor systems like Uneekor QED system that offer unique features to enhance your game experience.
To keep you updated with future trends in indoor golf simulators, we'll discuss ceiling-mounted hitting zones such as the Foresight GCHawk. Lastly, we will compare elite products focusing on TrackMan And Foresight GCQuad.
By understanding these tools better, you can elevate your practice ranges or even enjoy a full round at Pebble Beach or Augusta National without leaving home!
Table of Contents:
Home Golf Simulator Components
Building a home golf simulator can be a fun and rewarding project. The simulator can give you a chance to practice your golf game year-round, regardless of the weather or time of day. However, it's important to note that the components required may vary depending on the type of simulator you are building and your personal requirements. Here is a list of the most common components needed:
Space: You'll need a space large enough to safely swing a golf club and to accommodate all the components of your simulator. Generally, a room with at least a 10-foot high ceiling is suggested. Here's a guide to choosing the right simulator for your space.
Golf Simulator Software: This is the program that will simulate the golf courses and track your game. Examples include The Golf Club, E6 Connect, or SkyTrak.
Launch Monitor or Tracking System: This is a device that uses radar or camera technology to track your shots and provide data like swing speed, ball speed, launch angle, spin rate, and more. Examples include SkyTrak, GC3 or GCQuad from Foresight Sports, or Trackman.
Impact Screen: This is the screen where the golf course will be projected, and where you'll be hitting your golf balls into. It should be durable to withstand the impact of golf balls.
Projector: You'll need a projector to display the golf course simulation onto your impact screen. The specifications will depend on your room size, lighting conditions, and desired image quality.
Computer or Tablet: The golf simulator software will need to run on either a computer or a tablet. The device needs to be powerful enough to run the simulator software smoothly.
Golf Mat: This is where you'll stand and hit your golf balls from. It's important to choose a high-quality mat to simulate real turf and to protect your floors.
Nets and Padding: Safety nets on the sides and padding around the simulator area can help catch any errant shots and protect your home.
Golf Clubs and Golf Balls: Of course, you'll need your own set of golf clubs and golf balls to play.
Optional – Audio System: Some people choose to install an audio system to enhance the immersive experience.
Optional – Lighting: Good lighting is crucial for both your visibility and for some tracking systems to function accurately.
Optional – Furniture: Depending on your space, you may want to add seating or storage for an enhanced experience.
Remember, the cost and complexity of the setup can vary greatly depending on the components you choose. High-end options can reach into the tens of thousands of dollars, while more budget-conscious choices can be a few thousand or less. Always make sure to do thorough research and consider professional installation for more complex systems.
Overview of Top Launch Monitors
In 2023, the golf simulator market is flooded with options, each offering unique features. From entry-level to premium devices, there's something for every golfer. Let's check out the top contenders.
Garmin R10
The Garmin R10 is perfect for beginners or those on a budget. It offers reliable data and easy setup.
SkyTrack
SkyTrack is a great option for amateurs and pros alike. It provides accurate ball flight data and fun game improvement features.
FlightScope Mevo+
Moving up in price range, the FlightScope Mevo+ uses Doppler radar technology for precise swing and ball trajectory readings.
Foresight GC3
If you're willing to invest more, consider Foresight's GC3 and GCQuad models. These launch monitors offer high-definition visuals and advanced analytics tools for serious players.
Uneekor QED & EYE XO
Last but not least are Uneekor's QED & EYE XO models. These overhead-mounted systems provide hyper-accurate clubhead speed, launch angle, spin rate, and more. No need to change the setup for left- or right-handed players – Uneekor's QED & EYE XO models offer a seamless experience. Elevate your performance levels.
Detailed Review on Entry-Level Launch Monitors
| | Garmin R10 | SkyTrack | FlightScope Mevo+ | Foresight GC3 | Foresight GCQuad | Foresight GCHawk | Uneekor EYE XO | Trackman 4 |
| --- | --- | --- | --- | --- | --- | --- | --- | --- |
| Technology | Doppler | Photometric | Radar | Photometric | Photometric | Photometric | Photometric | Doppler |
| Portable | Yes | Yes | Yes | Yes | Yes | No | No | Yes |
| Indoors/Outdoors | Either | Either | Either | Either | Either | Indoors | Indoors | Either |
| Accuracy | Good | Good | Good | Better | Best | Best | Best | Best |
| Putting Analysis | No | No | Yes | No | Yes | No | Yes | Yes |
| Launch Monitor Price | $599 | $1,995 | $1,979 | $5,999 | $14,500 | $19,500 | $14,000 | $21,495 |
| Simulator Kit Price | $2,530 | $4,995 | $8,690.00 | $10,495 | $26,995 | $33,995 | $21,665 | |
If you're a serious golfer looking to up your game without spending too much, consider entry-level launch monitors like the Garmin R10 and SkyTrack. These budget-friendly options offer impressive accuracy and are perfect for practicing at home.
Features and Capabilities of Garmin R10
The Garmin R10 is a portable device that provides key metrics such as ball speed, club head speed, smash factor, and estimated distance. It's easy to install in tight spaces, making it perfect for indoor use. Plus, with its integrated rechargeable battery and compatibility with both iOS and Android platforms through the Garmin Golf app, you can practice anywhere.
Pros and Cons of SkyTrack
SkyTrack is another popular choice among beginners. It offers real-time feedback on shot shape, carry distance, and total roll out distance, giving players valuable insights into their game. However, keep in mind that there is an annual subscription fee after the initial purchase.
Other notable brands like FlightScope Mevo+ and OptiShot 2 also offer excellent value-for-money solutions for virtual golfing enthusiasts.
Investing in an entry-level simulator allows you to understand your strengths and weaknesses, improve faster with instant feedback, and enjoy playing famous courses virtually from the comfort of your home. So why wait? Start exploring now.
Build Your Own Golf Simulator
Mid-range Launch Monitors Analysis
In the world of golf simulators, mid-range launch monitors like the FlightScope Mevo+ and Foresight's GC3 offer a balance between affordability and advanced features. These devices use cutting-edge technology to provide accurate data points that can help improve your game.
Breakdown on FlightScope Mevo+
The FlightScope Mevo+ is an impressive device that uses Doppler radar technology to track ball flight in real-time. It measures parameters such as club speed, ball speed, carry distance, vertical launch angle, spin rate, and more. This technology allows golfers to comprehend precisely what transpires during each swing and how it impacts the flight of their shots.
Doppler Radar Technology: The Mevo+ uses this tech to track both clubhead speed and ball flight with great accuracy.
Data Parameters: Measures important metrics like carry distance, total roll out, etc., helping players understand their shot patterns better.
To sum up, these mid-range options are perfect for serious golfers who want reliable data without breaking their bank accounts. Click here to learn more.
Get Ready to Swing with Premium Level Launch Monitors
These high-end devices deliver elite performance, measuring over 20 data points and offering compatibility with a wide range of golf simulator software options.
Unleash the Power of Uneekor EYE XO
The Uneekor EYE XO is a top contender in this category. This advanced system uses dual camera technology to capture club and ball data with pinpoint precision. With features like automatic tee up and dynamic green control, it adds a touch of realism to your indoor golf experience. Click here to learn more about its amazing features.
Trackman 4: The Gold Standard
TrackMan 4 is hailed as the gold standard among professional golfers and coaches. Its unparalleled accuracy and extensive metrics coverage make it a favorite. With dual radar technology capturing both long-range and close-up action, it provides comprehensive feedback for every swing.
These premium launch monitors not only provide detailed insights into your game but also seamlessly integrate with various virtual courses worldwide through compatible software platforms. It's like bringing famous greens right into your living room.
Investing in a premium level product may be costly, but it provides an unparalleled playing experience and sophisticated analytics that can help you reach new heights. If you're ready to invest in improving or simply enjoying your indoor game, these devices are definitely worth considering.
Build Your Own Golf Simulator
Exploring Overhead Mounted Large Monitor Systems
If you're looking for a golf simulator that's as convenient as a hole-in-one and as versatile as a Swiss army knife, then you gotta check out the Uneekor QED overhead mounted large monitor system. It's like having your own personal golf coach right in your living room.
Analyzing the Unique Features of the Uneekor QED System
The Uneekor QED is not your average golf simulator; it's a next-level tool for serious golfers who want to take their game to new heights. With its high-speed cameras and hyperspeed sensors, this bad boy can track every little detail of your swing and give you accurate data on everything from swing speed to launch angle to spin rate. It's like having a golf scientist analyze your every move.
Dual High-Speed Cameras: These cameras are so fast, they make Usain Bolt look like a snail. They capture a whopping 3000 frames per second each, so you won't miss a single millisecond of your swing.
No Marking Required: Unlike other simulators that demand special marked balls, the Uneekor QED doesn't care about markings. It's smart enough to track your shots without any extra hassle. It's like magic, but better.
In-depth Analysis: The Uneekor QED doesn't just give you numbers; it gives you real-time visual feedback and post-shot analysis tools. It's like having a personal golf coach who can pinpoint exactly where you need to improve. Talk about a hole-in-one.
And here's the best part: this overhead system takes up less space than those clunky floor-based units. Even in the tightest of living spaces, you can still enjoy a game of golf with Uneekor QED's overhead system.
Key Takeaway: The Uneekor QED overhead mounted large monitor system is a top-of-the-line golf simulator that offers advanced features for serious golfers. With high-speed cameras and hyperspeed sensors, it provides accurate data on swing details and offers real-time visual feedback, making it like having a personal golf coach in your living room.
New Club Tracking System – A Look at Foresight's GC3
Golf technology keeps getting better, and Foresight's GC3 is leading the way in club tracking systems. This game-changer gives golfers a whole new level of precision and detail to analyze their swing.
What sets Foresight's GC3 apart?
The standout feature of the GC3 is its three-camera system, providing a comprehensive view of your swing from multiple angles. Get ready for some serious analysis and performance improvements.
Detailed Swing Analysis: The triple camera setup captures every aspect of your swing, from club path to face angle and impact location.
Precision Data: With high-speed cameras capturing up to 10,000 frames per second and infrared object tracking technology, you'll get incredibly accurate measurements.
User-Friendly Interface: The intuitive software interface makes it a breeze to understand your data and make necessary swing adjustments.
In addition to these features, Foresight's GC3 is compatible with various golf simulator software, making it a versatile tool for personal use and professional coaching setups.
This new club tracking system is a big leap forward in indoor golf simulation technology. It offers insights into player performance that traditional launch monitors or simulators couldn't provide. With products like the Foresight's GC3, players can truly improve their game through more effective training methods. Click here to learn more.
Ceiling-Mounted Hitting Zones – The Future of Indoor Golf Simulation
Technology keeps evolving, and so does golf simulation. Enter ceiling-mounted hitting zones, the latest innovation in this field. These systems are ideal for both commercial installations and home use.
Take the 'GC Hawk' from Foresight Sports, for example. This revolutionary product has transformed indoor golf simulations by offering an overhead mounted solution that captures every swing with precision.
How does the 'GC Hawk' revolutionize indoor golf simulations?
The GC Hawk uses advanced imaging technology to capture club and ball data at impact, providing accurate readings on key performance parameters like launch angle, spin rate, and carry distance. Both left and right-handed players are supported by the GC Hawk, which makes it an ideal choice for golfers of all skill levels who wish to take advantage of its space-efficient ceiling-mounted design and multi-sport usage capabilities.
Space-efficient: With its unique ceiling-mounted design, it saves valuable floor space while delivering a high-quality simulation experience.
Versatile: It accommodates players of all skill levels and even allows multi-sport usage, including soccer and baseball simulations.
User-friendly: Its easy-to-use interface ensures that users can start playing immediately without any complex setup requirements.
But what truly sets the GC Hawk apart is its ability to create an immersive playing environment. With its wide-angle high-speed camera system capturing up to 100 frames per second (fps), players get real-time feedback on their swings, leading to improved gameplay over time.
Comparing Elite Level Products: TrackMan vs GC Quad
TrackMan 4 and ForeSights' GC Quad. Both offer elite-level performance, but they have their unique features and strengths.
Battle of Titans: TrackMan vs GC Quad
The TrackMan 4 is often considered the gold standard in launch monitors. Its advanced radar technology measures over 20 data points with high precision. It's like having a golf detective on your side, gathering all the evidence you need. However, it comes at a premium price point, so it's not for the budget-conscious golfer.
On the other hand, ForeSights' GC Quad, while also on the higher end of the pricing spectrum, offers some distinct advantages. With its four high-speed cameras, it captures ball and club data with impressive accuracy. It's like having a personal golf paparazzi, documenting every move you make.
Pricing: While both are premium products, TrackMan tends to be more expensive than GC Quad. So, if you're on a tight budget, GC Quad might be the better choice. It's like snagging a bargain on an exquisite golf club.
Data Accuracy: Both provide extremely accurate measurements, but they use different technologies. TrackMan's radar technology is like a golf scientist, while GC Quad's camera system is like a golf artist. They both have their unique ways of capturing data.
Spatial Requirements: TrackMan requires a larger setup area compared to GC Quad. So, if you have limited space, GC Quad is like a golf magician that can fit into smaller areas without any tricks.
So, when it comes to TrackMan vs GC Quad, it's like choosing between two golf superheroes. Both options have their pros and cons, yet it all comes down to your financial means, inclinations, and the size of area available. Happy golfing.
Key Takeaway: The contents compare two elite-level golf simulators, TrackMan 4 and GC Quad. While both offer accurate measurements, TrackMan is more expensive and requires a larger setup area, while GC Quad provides a good alternative for budget-conscious golfers with limited space.
Conclusion
When it comes to golf simulators, there's something for every budget and skill level – from the Garmin R10 and SkyTrack for beginners, to the FlightScope Mevo+ and Foresight GC2 for those in the middle, and the Uneekor EYE XO and Trackman 4 for the high rollers.
And let's not forget about the cool innovations like the Uneekor QED system with its overhead mounted large monitor or Foresight's GC Hawk with its ceiling-mounted hitting zones – the future of indoor golf simulation is looking pretty fancy.
So whether you're practicing your swing at home or challenging your buddies to a virtual tournament, a golf simulator can take your game to the next level – no matter the weather outside.