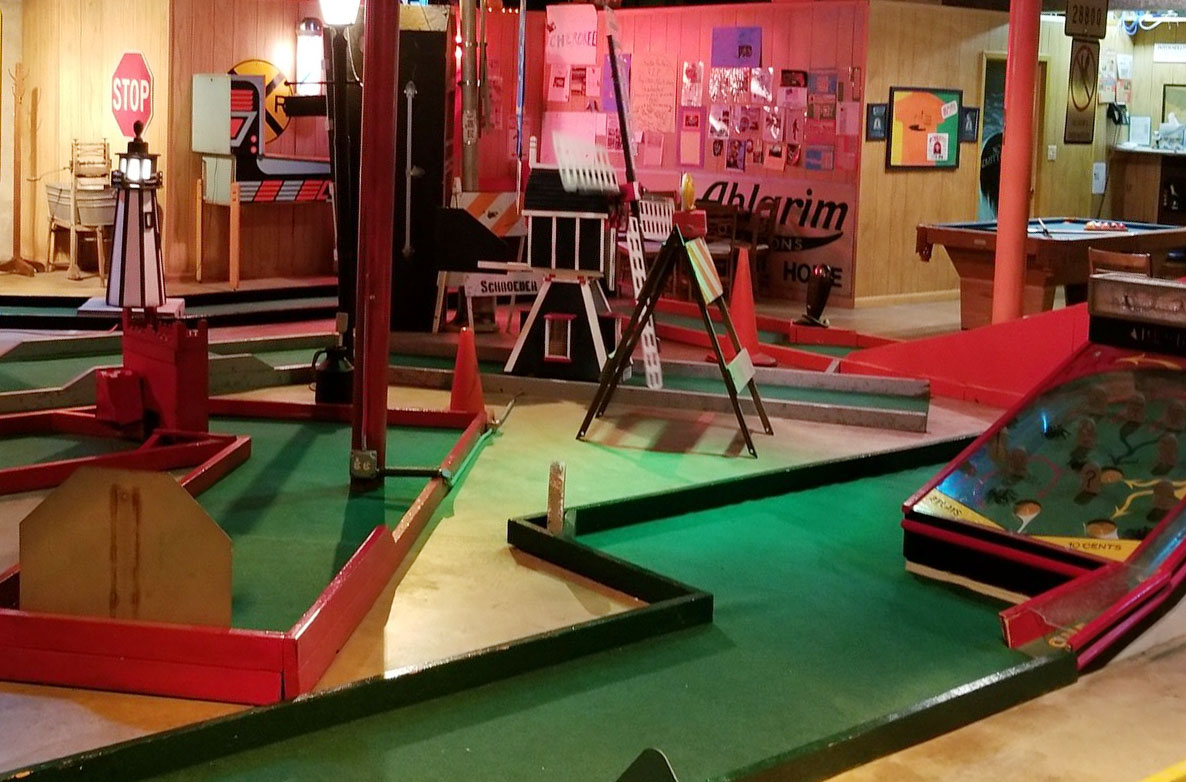 From the outside, the building at 201 N. Northwest Highway in Palatine, IL, appears to be an ordinary funeral home, but tucked away in its basement, behind a door marked 'private', is something that makes this particular funeral home extraordinary — a nine hole miniature golf course (see photo gallery below)! Anyone who believes that it is not possible to practice putting during Chicago's harsh winters would be "dead wrong" (pardon the pun).
Ahlgrim & Sons is a family owned funeral home company, founded in 1892. The number 'four' might well be the favorite number of the Ahlgrim family, as this family business in now four generations old, and operates locations in Palatine and Lake Zurich. And the exclamation 'fore' might well be the favorite phrase of young visitors to the basement of Ahlgrim's Palatine location.
Roger Ahlgrim opened the Palatine funeral home in 1964, and he explained "The building is quite large, and only a small portion of the basement was needed for supplies. I always liked miniature golf, so as a means to keep my energetic children occupied, I decided to build a course for them".
That decision was made in early 1965, and by the end of summer, 1965, the course was completed; Roger named it "Ahlgrim Acres". Initially, play at Ahlgrim Acres remained solely a family fun pastime. But, during the winter of 1965-66 the Ahlgrim children invited a few of their friends over to play, and word of the existence of the unique course quickly spread, so in mid-1966 Roger chose to allow the public in on his creation.
As his scorecard shows, Ahlgrim Acres has nine holes; the concrete floor is the substrate, regular green-colored indoor/outdoor carpeting is the grass, and wooden 2×4's which are glued in place are the siderails; the precision sinking of regulation golf cups provide a professional miniature golf appearance. Each hole is numbered and named by a different color — the painted color of the siderails.
But the holes could have just as well have been named for the obstacle which the golfer must navigate on that hole: skull, graveyard, tombstone, crypt, or haunted house. Most holes have macabre themes; only hole #5 lacks a ghoulish obstacle, opting instead for a large rotating windmill, which is the Ahlgrim company logo and testimony to the family's Dutch heritage.
The course traverses the entire area of the basement, and creepy sounds and music, and blinking lights add to the ambiance. Golfers must 'execute' proper timing on the two holes that feature mechanical obstacles: hole #5's windmill blades and hole #3's guillotine, which raises and drops swiftly. Hidden mazes inside of the haunted house, cryptorium, and casket shipping crate can deflect putts onto alternate routes to the hole, or even into hazards.
Ahlgrim Acres even features real hazards found on normal golf courses; hole #1 has a sand trap, and hole #9 has a small pond. Other spooky items, like spider webs, bats, and rubber snakes adorn the walls and trails of the course. Near the finish, a mummy inside of a 'life' sized wooden coffin keeps watch over the final three holes and is ready to put a mummy's curse on any golfers caught cheating.
For those visitors to Algrim's basement, who might prefer other fun'n'games, there are pinball machines, video games, ping-pong table, pool table, and basement floor shuffleboard — talk about a real man-cave!
Throughout the years, the unusual Ahlgrim Acres course has attracted some media attention. "We have been written up in Sports Illustrated, Golf Digest, Maximum Golf, a few funeral parlor trade journals, and even the National Enquirer. And, we've had appearances on three Chicago television stations", Roger said.
Roger's children are now adults and are fourth generation partners in the funeral business. "As for the public, we began by allowing Cub Scouts, Indian Scouts, Brownies, church groups, Rotarians and other service clubs to play Ahlgrim Acres; rounds can now be arranged during business hours whenever we are NOT hosting a funeral or visitation…and there is no charge", Roger commented. He went on to say, "we have nearly 200 rounds played each month, so that totals just over 2000 per year". Illustrating his wonderful sense of humor, Roger wished to clarify that "Ahlgrim Acres actually is situated twenty feet below street level, not 'six-feet under' as most people would want to believe".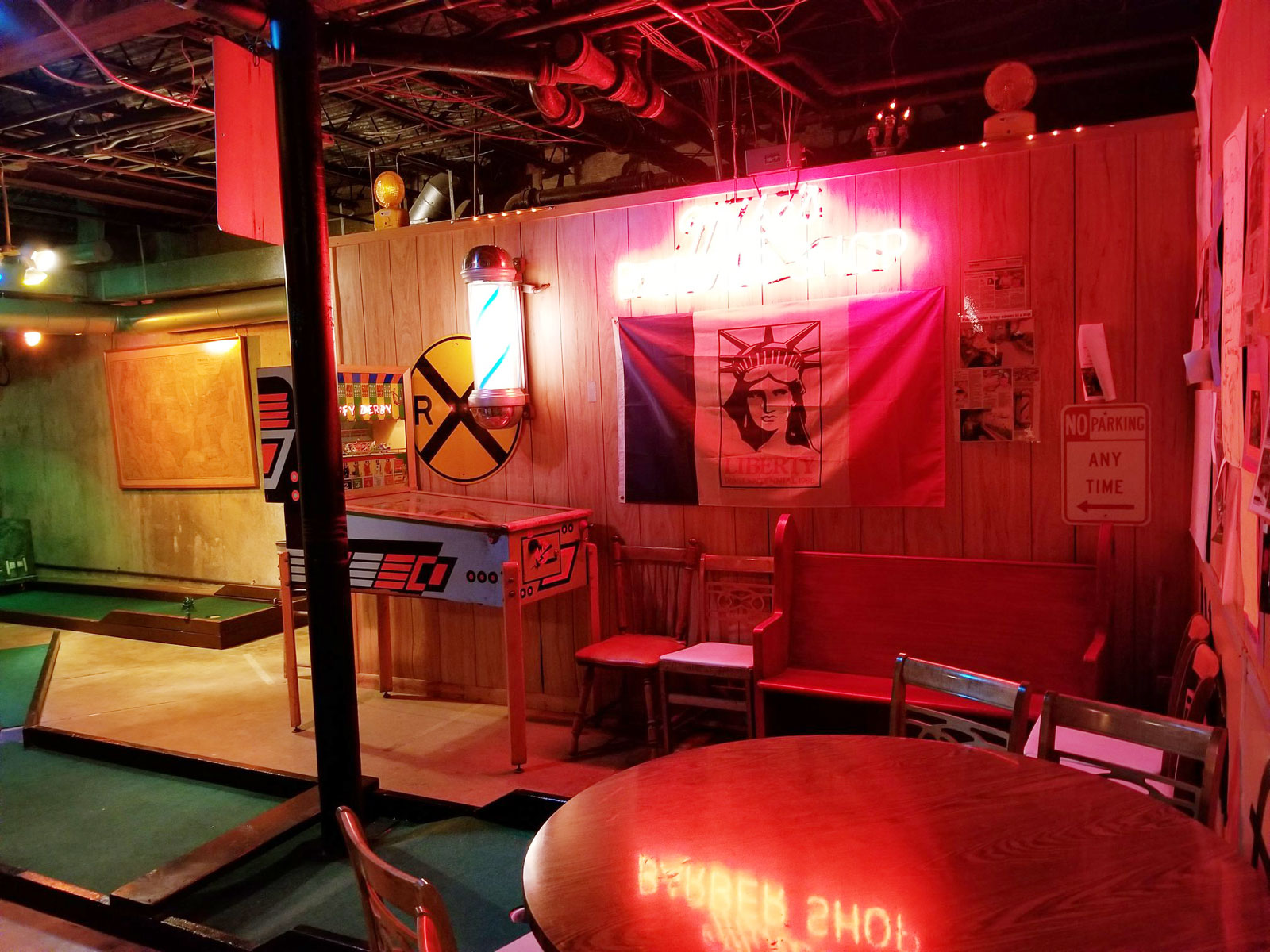 What started out as merely a fun, family pastime, has become a dynamic public relations bonanza — proving "that all is not grim at Ahlgrim's".
201 N. Northwest Hwy
Palatine, IL 60067
(847) 358-7411