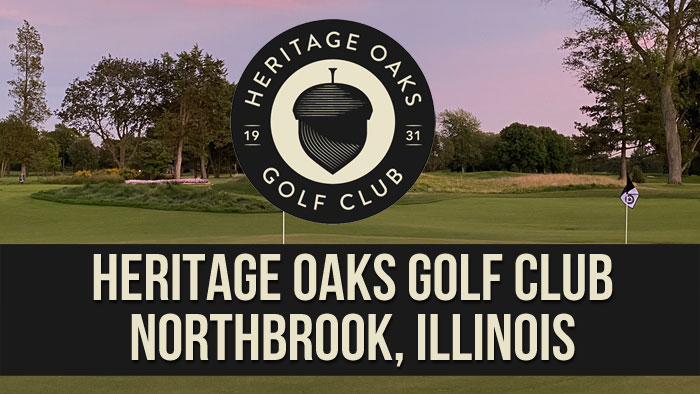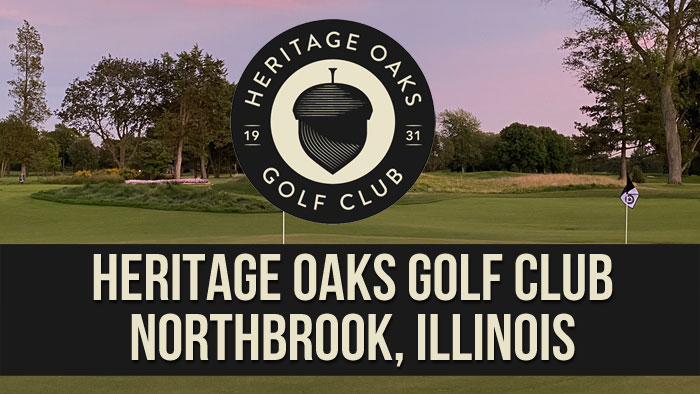 Whether you call it Heritage Oaks Golf Club or still call it Sportsman's Country Club, and whether you refer to it as a grand opening or a grand re-opening, Northbrook Park District's golf facility once again began servicing golfers on August 16, 2021.
Following a short-lived attempt to initiate golf on the south side of Dundee Road in Northbrook (Sky Harbor Golf Club, 1929), the year 1931 witnessed the genesis of Heritage Oaks Golf Club, with its opening as Sportsman's Country Club. Sportsman's Country Club was developed and owned by millionaire George Chamberlain, who also owned Illinois Country Club (later aka Green Acres Country Club).
The original design of Heritage Oaks / Sportsman's CC is credited to Edward B. Dearie, Jr., an understudy of renown architect Donald Ross. Dearie is acknowledged to be the designer of thirteen golf courses here in Illinois and for the opening of Sportsman's Country Club in 1931 the owner enlisted hall-of-famer, Chick Evans, to headline a tournament that Evans won with a score of 76. Sportsman's Country Club began as an 18-hole club, then added another 18 holes in later years.
A key component to the early success and growth of Sportsman's Country Club was the use of an underground irrigation system. Owner, George Chamberlain, racked up 'sizable' water bills during the Great Depression, but the extra expense provided better playing conditions for his customers. It has been noted that in 1933, Sportsman's was one of only thirty-three golf courses in the area to utilize this state-of-the-art watering system.
Sportsman's CC continued as an 18-hole course through the years of World War II and then began to flourish after the war ended. In the 1950's the clubhouse was expanded to include a pro shop, restaurant, and bowling alleys. The outside grounds also expanded to add an additional eighteen holes and a driving range.
Over the next two decades increasing property taxes placed a heavy burden on privately owned, public play golf courses, such that in 1971 the owners of Sportsman's CC made the decision to sell a portion of their property to the developers of Ancient Tree residential housing; this sale necessitated a slight re-routing of Sportsman's East-9 (Red Course) layout. Following the first property sell-off, later in the 1970's, a second sale of the entire West-9 (Blue Course) was contracted to the developers of the single-family housing community known as Wildebrook on the Green.
The finale of private ownership of Sportsman's CC came in 1978, when Northbrook residents rallied by circulating a petition for the Northbrook Park District to take ownership of the golf course over the intentions of builders for conversion into another housing development. Members of the grassroots committee Organization to Preserve the Environment of Northbrook (OPEN) worked to pass an $8.3 million referendum which assisted the Park District in purchasing 151.82 acres of property on August 11, 1978.
Now containing 27 golf holes, from 1978 until 1987 the Northbrook Park District owned the Championship-18 course, but paid a fee to School District 225 to lease and operate the East-9 course. Subsequently, in 1987 Northbrook citizens again voted overwhelmingly to purchase the 63-acre Sportsman's East 9 Course from School District 225 for the price of $7.2 million.
Longtime Northbrook residents, along with past and present Heritage Oaks staff have fond memories of the Sportsman's bowling alley and chicken restaurant — the last restaurant unit of the famed Chicken in the Rough chain. The brick building containing the old Sportsman's golf pro shop, bowling alleys, and restaurant was repurposed into a maintenance building and barn for golf riding carts when a new clubhouse was built in 1983.
Greg Baron, PGA, Director of Golf Operations adds "I have accumulated so many terrific memories with our customers and staff throughout my 18 seasons at Sportsman's. In many ways they are an extension of my family and for that I am so grateful. As we say goodbye to the (1983) clubhouse, my home away from home, I am sentimental but tremendously excited for the renovation that begins this winter (2019). The new facilities will provide our golfers an enhanced experience and the improvements will appeal to the Northbrook community as well."
Sportsman's patrons may also have recollections of the miniature golf course that was constructed in 1982. That year also saw upgrades to the driving range. A total renovation of the East 9 was completed in June 1991, with the new design by architect Roger Packard. Then there was the NorDome, 1997-2000, a temporary, two-story, 65-foot-tall inflated structure, covering a full acre which sat the east end of the club's (outdoor) driving range. The NorDome featured 32 hitting stations and was an indoor driving range available from November 1 until April 30 in those years.
With a watchful eye on the conditions that neighboring upscale public courses offered their residents (The Glen Club opening 2001) (Traditions at Chevy Chase remodeling 2003), the Northbrook Park District hired the Jacobson Golf Course Design firm of Libertyville to renovate the bunkers and recontour all the Sportsman's greens in 2004-5.
In 2018, the Northbrook Park District launched a capital initiative plan to include improvements to the golf courses, practice facilities and clubhouse at Sportsman's Country Club. The Northbrook Park District Board of Commissioners allocated $12.5 million for this project. The entire Sportsman's Country Club golf facility shall be upgraded and improved, including all 27 holes from both courses, the clubhouse, driving range, and parking lot. After a thorough review and analysis of their plans the Northbrook Park District Board of Commissioners along with the Golf Project Team selected Rick Jacobson, President, Jacobson Golf Course Design, Inc., of Libertyville, IL, as architect for the improvements at both golf courses and the range at Sportsman's Country Club.
Sportsman's Country Club closed in September 2019 in order to commence work on this total renovation project. Upgrades to all 27 holes included: total reconstruction of all Classic 18 greens and re-grassing of all East 9 greens; re-grassing of all fairways on both courses; and, the addition of forward tees on all 27 holes. Improvements have been made to the East 9 irrigation system. The installation of sub-surface piping for improved drainage has been implemented on both courses along with contouring around and expansion of the lakes for better storm water management.
Upon completion of the $12.5 million renovation to Sportsman's Country Club, Northbrook Park District officials decided to change the name of the 27-hole facility to 'Heritage Oaks Golf Club', with the reasoning influenced by "the large number of oak trees under the district's stewardship and the rich heritage of this 90-year-old course." The names of Heritage Oaks Golf Club's two courses are now the Classic-18 and Legacy-9.
"A key amenity of Heritage Oaks is the newly constructed clubhouse and beautifully designed Acorn Grill + Terrace where the community can enjoy a phenomenal dining experience, gather with friends and make memories," said Executive Director Molly Hamer. "I envision diners enjoying summer evenings on the terrace and golfers playing courses from around the world on the two new indoor Full Swing Pro Series golf simulators. This new facility will afford opportunities for special events and family activities, strengthening our connection to the community as we continue to fulfill our mission of providing outstanding services and facilities."
Another exciting element of the course improvements is the introduction of TrackMan technology at the practice range. The six-acre renovated outdoor practice range at Heritage Oaks Golf Club features 30 hitting stations, new target greens, and TrackMan Range technology for tracking all your shots during practice, playing virtual golf on the range and engaging in interactive games. The practice range offers a self-serve golf ball distribution option along with range lighting for evening play.
The Northbrook Park District proudly continues a tradition of year-round activities at Heritage Oaks, with the wintertime availability of two new indoor Full Swing Pro Series golf simulators and the 12-month food and beverage service at the Acorn Grill + Terrace. Previously during the winter months, Northbrook residents could bowl at Sportsman's bowling alley or even cross-country ski when snow covered the golf course.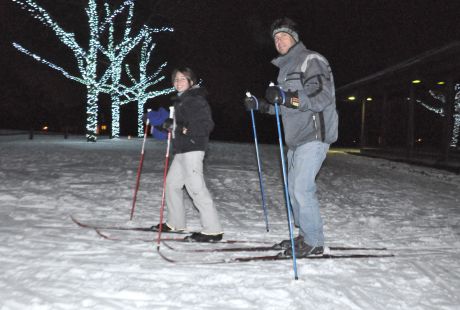 As the Classic and Legacy courses at Heritage Oaks have now been re-opened for just more than one month, most of the rounds have been played by Northbrook area golfers, but as play progresses into the 2022 golf season and word spreads, the new Heritage Oaks will be "locally tested, regionally approved".
3535 Dundee Rd
Northbrook, IL 60062
(847) 291-2351
(Photos courtesy, NBparks and Northbrook Historical Society).