Looking back into the past it was printed material, i.e. books, that provided the advice or guidance to humans in order to achieve their goals and objectives. For example travelers who were driving from state to state used a road atlas. Tourists who were visiting a foreign country referred to Fodor's guide to international travel. Students relied upon Cliff's Notes to help pass their exams. And, when the dashboard lights were not illuminated, new car owners reluctantly read the owner's manual to finally locate the always-hidden common fuse box.
In contrast, today's advice and guidance is read by humans when it is 'printed' on a screen, or furthermore, is given to us in audio fashion, without printing, when we ask 'Alexa' for the answers.
For that category of humans called golfers, there is a product that combines 21st century technology with an old-school ink on paper format to provide advice on how to read greens — the GolfLogix Green Book. On a basis of par, putting is 50% of the strokes made in a round on a regulation, par 72 golf course; 36 strokes hit through the air and 36 strokes putted on the ground.
Some golfers struggle to hit the ball from the ground into the air, while other golfers struggle to roll the ball on the ground into the hole. Why?? Putts that are missed are the result of either being mis-hit or mis-read. In his book, Dave Pelz's Putting Bible, Pelz said that, on average, amateur players only read about a third of the actual break in a putt. This Pelz theory can be ignored if all putts were attempted on straight, flat greens.
Much to our dismay, modern golf course architects are enamored with green designs containing humps, bumps, undulations, slopes, and other mysteries such that there are only a limited number of level areas on a green. But does the greenskeeper choose a level area for the cup location? The end result being that a high percentage of attempted putts will have a break in them.
As an aid to reading the break in your next putt, GolfLogix offers for sale a green reading book for each of over 14,000 courses worldwide. Made to fit easily into pants pockets, the GolfLogix Green Book measures approximately 4 1/4 x 6 3/4 inches (closed). For each hole on the course the GolfLogix Green Book illustrates three maps on two adjacent open pages.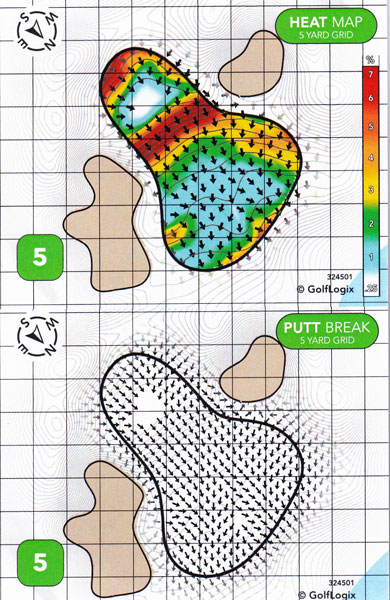 The bottom page shows the entire hole map — a full 6+ inches of illustration, many times larger than shown on scorecards, with precise GPS distances. The top page shows two maps of that hole's green. The putt-break map features arrows showing the direction of the breaks; the heat map (in full color) indicates the magnitude of the break. The heat map's color range — white, blue, green, yellow, orange, red — indicates the severity of the beak from near zero percent (white) to seven percent (red).
The GolfLogix Green Book is rules compliant, fully legal according to current USGA and R&A rules.
This green book comes with a clear plastic protective sleeve; as an option, a leather cover is available for an additional charge.
It was just over one hundred years ago, but could Eddie Lowery ever imagined such technological advancements when he said to Francis Ouimet, "Read it, roll it, hole it."
Visit the Green Books Store for further information, to view the video tutorial, or purchase a GolfLogix Green Book.