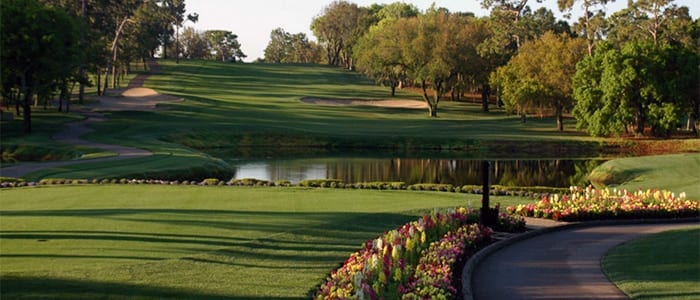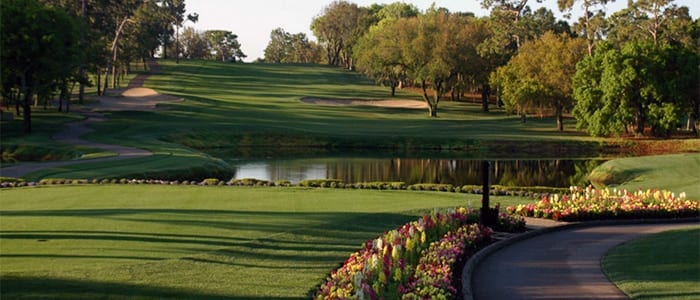 The golf buddy trip I had planned with three friends was in danger of being wiped out by an impending snowstorm promising to blanket the Midwest. Luckily, just days before it hit, we jetted to Tampa to do a couple of things golf lovers crave – play golf and attend a PGA Tour event.
Innisbrook Golf Resort & Spa located a 30 minute drive from the airport is the home of the Valspar Championship where major winners Jordan Spieth, Jim Furyk, Vijay Singh and Retief Goosen have claimed victory on its renown Copperhead course. And just hours after the championship's final putt dropped, yours truly stepped to the first tee. My knees were shaking, but not from the cold.
But first, before we tackled one of Florida's top five courses according to NBC Sports golf analyst, Mark Rolfing, we scouted the course during the first round of the tournament and witnessed Tour player Jim Herman record a blistering 62 in absolutely perfect weather conditions. We neither thought about what was to hit Chicago nor how imposing this monster course would be for a few amateur duffers. If someone could shoot 62, what was the problem?
To prepare for the challenge of Copperhead, one of four Larry Packard-designed courses at Innisbrook, the day of the final round we had our choice of teeing it up on either the Island, North or South course. We selected the Island course set in a natural environment with several varieties of birds, bushy-tailed squirrels and alligators roaming the property. Measuring nearly 7,200 yards from the tips, Island is unlike many Florida golf courses which typically are flat and surrounded by water. With elevations of up to nearly 87 feet on some of the holes, the course is lined with rows of pine trees and oaks. Each hole is different than the last, and it was the group's consensus that this track could be played seven days a week without becoming boring. It was the perfect warm-up for Copperhead. After a hearty lunch at Island's Turnberry Pub, we headed to Copperhead's first tee to watch the leaders compete in the final round action.
Following the experts on championship Sunday, gave us the the knowledge of where to hit approach shots to hole locations that would be the same on Monday for our group. It's fair to say that watching is different than doing. We all gained a further appreciation of these talented professionals as they endeavored to get through Copperhead's difficult 16th, 17th and 18th holes known as "The Snake Pit." The eventual winner, Canadian Adam Hadwin, will not soon forget how he squandered a two-stroke lead when he pumped a shot into the water off the right side of the fairway. To his credit, he parred 18 to secure his maiden victory.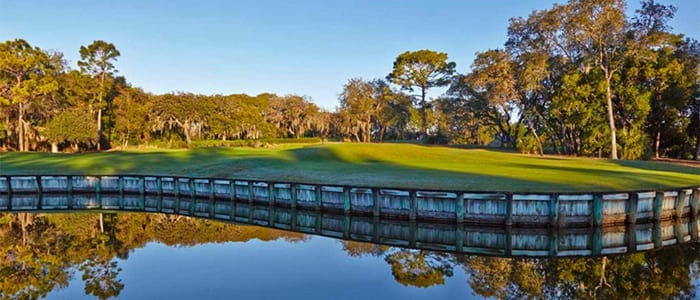 After the excitement of the final round we definitely were in a celebratory mood. No better place than Innisbrook's Packard's Steak House where prime, aged meats, freshly caught fish and seafood awaited us. To accompany the food, we selected a couple of bottles of wine from an extensive list to pair with an incredible meal of filet mignon topped with a lobster tail and two sides. We resisted the temptation to enjoy a single malt scotch from an impressive list. We had an early tee-time, and duty called.
Another morning of perfect Tampa Bay weather welcomed us as we stepped onto the first tee at Copperhead. Looking out at the par 5, 560 yards of a dogleg right we hoped there had to be easier holes than this to come. Not true. The course, in tip-top shape after a week of tournament action, had greens running at 12-13 on the Stimpmeter and the rough was no place to hit your golf ball. We wisely did not play from the tips although we selected the 2nd of three other mens' tees which measured a playable 6,139 yards. That, however, was still a formidable challenge. We were playing tournament conditions on a beast of a track.
By the time we arrived at the beginning of "The Snake Pit," we were convinced that Rolfing was correct. Copperhead is one course every golfer needs to tackle, and even though difficult, you want to come back and play it again. One of my golf buddies said he will never forget "The Pit" since he played it even par. Not bad for a 12 handicapper!
The round over, it was time for a hearty lunch at the Osprey Clubhouse's Market Salamander Grille where burgers, salads, sandwiches, and such will satisfy the hungriest of golfers. Complementing the food and helping to dull the memories of poor shotmaking and high scores, is a full list of craft beers including the award-winning local favorite from Cigar City Brewing of Tampa.
The finishing touch of a spectacular few days was a visit to the Salamander Spa where we restored our sore muscles and aching body with a "Golfer's Muscle Melter Massage." Using a unique treatment focusing on releasing muscle tension and mobilizing the joints in the affected areas through Thai stretching techniques, we were re-invigorated and ready to return home to the chore of shoveling snow.
Innisbrook caters to golfers of any age, skill level, or gender and if one is not a golfer, there is a tennis center with 11 clay courts, six swimming pools, jogging and hiking trails, fitness center and the full-service European-style spa.
The visit proved that a golfer's dream of attending a premier golf event and then playing golf on the same course can come true, but Innisbrook is open year-round, so place it on your schedule. It is worthy of the trek, and you will be rewarded by all of the memories.
36750 U.S. Highway 19
Northpalm Harbor, FL 34684
1-888-794-8627