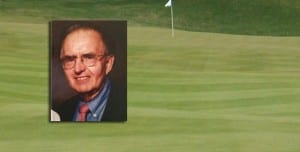 Chicago golf recently lost one of its strongest voices with the passing of Charles Chudek, the former publisher of Chicagoland Golfer, a biweekly newspaper that covered golf-related news, instruction, features and the results of local amateur and national professional golf tournaments. Mr. Chudek, 82 and formerly of Wheaton, died of natural causes Wednesday, November 7, at a health care facility near Williamsburg, Virginia.
A member of Lane Tech's golf team in the late 1940s, Charles worked for Wilson Sporting Goods before starting Chicagoland Golfer. Mr. Chudek handled everything at his newspaper including layout, advertising and circulation to writing, editing and hiring freelance writers and photographers. Chicagoland Golfer eventually reached a circulation of 25,000 and earned Charles recognition from the Illinois PGA in 1964 for his work in promoting Chicago golf. He was at the forefront of the Chicago golf scene, helping to promote the golf courses by providing valuable news and information to Chicago golfers.
"Chuck loved everything about golf, from being outdoors to socializing with friends to practicing a swing until you got it just right," said Catherine, his wife of 53 years. "He knew it was the kind of sport that, once you got started, you'd never get enough."
In addition to his passion for golf, Charles was a Navy veteran, a graduate of the University of Illinois with a B.S. in Journalism, major in advertising and minor in reporting. During his later years, he was an avid stockbroker.
Mr. Chudek's passing comes three years after Chicago golf lost another of its top media contributors, Phil Kosin. Mr. Kosin founded the Chicagoland Golf newspaper, serving as its editor and publisher until his death on August 10, 2009. The Phil Kosin Illinois Women's Open continues in his honor and is considered the premier local event in women's golf.