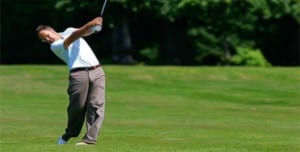 If you're looking to improve your golf swing health and your overall golf fitness, a great place to start is the four-pound organ responsible for over 500 functions and chemical reactions within your body. You may not think your liver plays a major role in your golf swing, but you might be surprised.
The liver is perhaps one of the most important organs in your body since it plays such a big role in so many different bodily processes. Most people don't realize just how important it is because it's always quietly working in the background. As a result, most of us do things that actually damage their liver, without even knowing it.
Things like eating unhealthy foods, excess alcohol consumption, smoking, taking in too many over-the-counter medications, prescription drugs, stress, and environmental toxins all contribute to an unhealthy liver. Symptoms of an overworked, unhealthy liver can include chronic fatigue, high blood pressure, blood sugar issues, poor eyesight, joint pain, digestive issues, lethargy and more. Not only can these ailments have a detrimental impact on your health and wellbeing, but it could also prevent your golf fitness from improving too. But some of them can be treated. For example, particular CBD products, that can be found at somewhere similar to Blessed CBD, (one of the UK's top brands), are able to help relieve your joint pain and chronic fatigue. But when they could be result of an underlying liver issue, what should you do? Having an unhealthy liver never benefits anyone, which is why people who find themselves in this position may decide to try something like these glutathione detox supplements, in the hopes of improving their liver function. Saying this though, it is always best to seek medical advice before trying anything new, especially when it comes to our health.
glutathione detox
Practically anything that enters your bloodstream has to be processed by the liver, so it's essential to watch what you eat and what you do to your body. On the bright side, there are a few liver "helpers" that can dramatically improve this organ's function:
S-Adenosylmethionine (SAMe).This is a special type of molecule that can help return your liver cells back to normal. Studies show it can reduce the severity of non-alcoholic fatty-liver disease and improve liver enzymes. [1,2,3]
Dandelion. This natural herb has been used for centuries as a natural diuretic and as a way to help rid the body of toxins. Native Americans used the leaves and roots to treat liver problems. While there are no quality scientific studies to neither confirm or deny dandelion's positive effects on the liver, there is enough anecdotal evidence out there to give it a try. You can find it at most health food stores.
Milk thistle. It's main claim to fame is its ability to help keep your liver healthy. It's been used for over 2,500 years in all kinds of herbal and ancient medicine. There are studies that prove its effectiveness (especially on those folks with cirrhosis of the liver) but more studies need to be done in order to prove this conclusively. A therapeutic dose is anywhere from 100mg – 400 mg per day. Try and choose a supplement that has at least 80% standardized silymarin – the active ingredient that helps detox your overworked liver.
Vitamin E. This powerful antioxidant was found (in 2004) to have a powerful healing effect on the liver. Researchers at the Virginia Commonwealth University Medical Center discovered that vitamin E can improve the appearance of liver tissue on biopsies and decrease liver fat levels and improve markers of liver cell-injury in the blood. [4] The dose to take based on the available research ranges from 400 – 1,200 iu daily.
If you're serious about improving your health and golf game, then consider taking advantage of your free Golf Fitness Consultation (a $50 value). During this consult, you'll receive detailed information on how fitness and nutrition can improve your golf game, as well as, prevent injuries. To sign up, visit the Golf Fitness Chicago website.
By Mark Tolle
Golf Fitness Chicago
706 Landwehr Road
Northbrook IL 60062
Phone: 773-965-4959