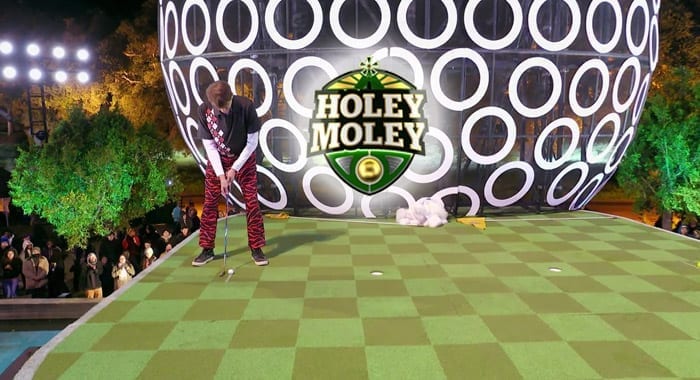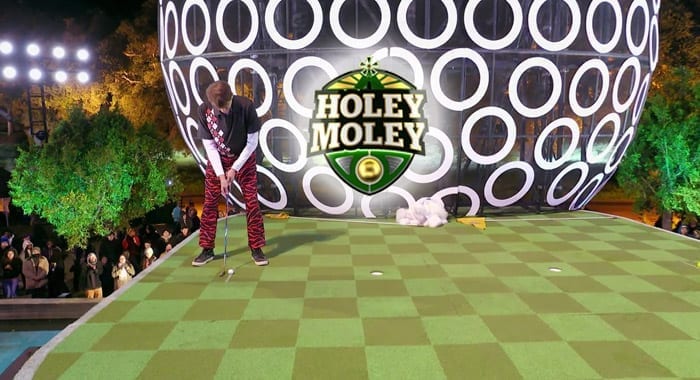 Editors's Note: Holey Moley returns to ABC on Thursday, May 21 with 13 new episodes of the extreme mini-golf competition series where the winner will receive a $250,000 prize. Rumored guests for season 2 include "The Bachelor's" Chris Harrison, Olympic gold medalist Greg Louganis and "Police Academy" star Steve Guttenberg.

Could it be that Chicago Golf Report was a trendsetter ahead of its time, when in 2012, my article about the area's most unusual mini golf course — the 'gruesome' miniature course in the basement Alhgrim's Funeral Home on Northwest Hwy in Palatine — was posted? Now, fast forward to a 2019 summer TV show appearing on ABC, which has created the world's most unusual mini golf course — the extreme physical challenge of "Holey Moley".

Video recording of the series, Holey Moley, takes place at Sable Ranch in Canyon Country, Santa Clarita, California. NBA superstar and golf fanatic, Stephen Curry, is an executive producer of the show and also appears as the show's resident mini golf professional.

The "Holey Moley" episodes feature contestants competing against each other in a series of head-to-head, single hole sudden-death matchups on a supersized miniature golf obstacle course. In round one, 12 mini-golf contestants face off one-on-one to eliminate 6 golfers. Winners move on to round two and from there, only three will make it to the third and final round, where they compete on the "Mt. Holey Moley" hole in a three-way contest to determine the winner.

The larger-than-life minigolf course features 10 supersized themed holes: 1) Dutch Courage where contestants must hit through a series of windmills that can knock golf balls and / or contestants into the water; 2) Caddysmack, which is an alternate shot of sorts, where after an initial putt, the contestants have either Steph Curry or an Iron-Byron robot hit their next pitch shot over water to the green; 3) Arc de Trigolf where players hit their ball along a large arc to the green; 4) Tee'd Off has the contestant who is first to miss a 4-foot putt-off fall into the pool; 5) Sweet Spot, featuring rotating platforms and giant prop candies as obstacles; 6) Surf Or Turf which has the contestants hit a ball up a large concave wave ramp 30 feet into the air, launching it backwards over their heads to an island green; 7) Slip N' Putt where the contestants must make their way atop an icy hill, then putt their ball through the legs of the polar bear; 8) Log Roll where contestants must putt up a hill and then climb it while avoiding rolling logs on rails; 9) The Distractor, which features the challenge of attempting to sink a 15-foot putt with a distractions such as saxophonist Kenny G, a noisy drill sergeant, or a group of paparazzi; and finally, 10) Mt. Holey Moley where contestants must ride a zip line to a floating pier and putt up the side of a volcano.

The payoff to the winner of each episode is "The Golden Putter" trophy, a stunning or stunningly outrageous "Holey Moley" plaid jacket, and a $25,000 grand prize.

Could it be that Lake County's far northern suburbs are a breeding ground of "Holey Moley" champions? In season one, a local son and mother combination triumphed in back-to-back episodes . Calling Lindenhurst his home town, Mick Cullen defeated Catarina Rocha in a playoff to finish Episode 4, and in the following week, his 61-year young mother, Dianne Cullen, of Grayslake emerged as the winner. $50,000 to the same family through mini-golf!