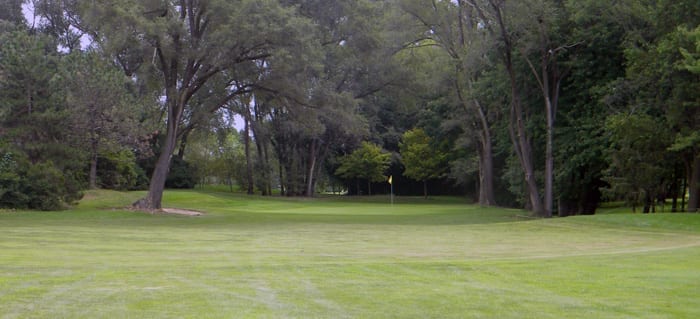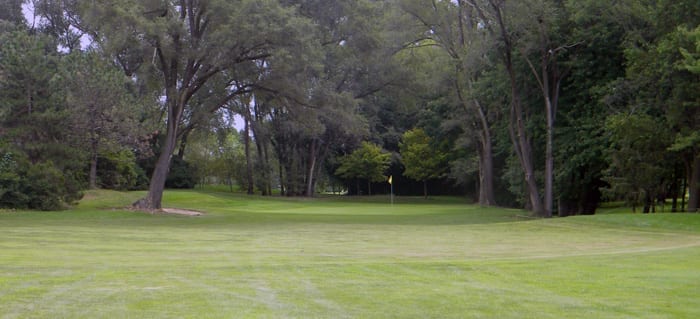 Utilizing three descriptive modes — pictures, numbers, and words — Chicago Golf Report presents a review of Old Top Farm Golf Course. Old Top Farm is a privately owned, 9-hole, open to the public, golf course located in Crystal Lake, IL.
Old Top Farm has 3 sets of tees: the blue set plays to a total length of 2891 yards; the white set measures 2699 yards; and, the forward red set's length is 1724 yards. The par is 37 for the blue and white tees, and par is 35 for the red tees; the difference of two strokes in par is created with two holes (#4 & #9) played as par-4's when playing from the forward tees as opposed to par-5's when played from either the middle or back tees.
Old Top Farm Golf Course was designed by Randy Wirkus, who is also the owner. The course occupies property that was a former tree and sod farm, and while this land is an old farm, it is a relatively new course.
Old Top Farm opened as a golf course in 1998; in 2008 the routing was changed to its present mapping. A favorable dichotomy of Old Top Farm is that even though its total par of 37 may conjure thoughts of OTF being a 'long' course, six of its holes are of relatively 'short-for-their-par' lengths. These six holes provide six birdie (or better) opportunities.
Old Top Farm's topography is flat, easily walkable, and mostly open; nonetheless, it could still be categorized as parkland-style. By trade, OTF's owner, Randy Wikus is a landscape architect, and he has retained stately trees in one area of the course. Hole #5 is a short par-3, whose green is situated in a grotto of tall trees. The next hole follows with the course's signature living landmark, a massive oak tree that rests majestically to the right of the par-4, #6 green. The age of this tree is between 150 and 200 years old.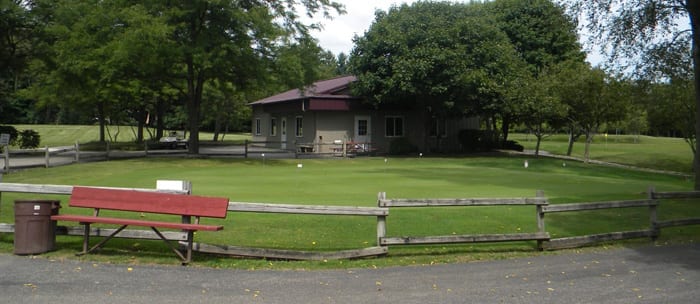 In the remainder of the 'open portion' of the course, Wirkus has added one mound of prairie grass, two ponds, and a several small groupings of trees; all of these hazards are cleverly positioned as to be both eye-catching and ball-catching. A quaint gazebo, acting as a rain shelter, is located in the middle of course.
Finding the Old Top Farm golf course may be slightly difficult due to an unusual factor — the north-south running street on which Old Top Farm Golf Course is located has two names; if approaching from the south, this road is called 'Walkup', but if approached from the north, the same road was labeled 'Crystal Lake.'
When OTF first opened in 1998 the old farm house was used as the course's clubhouse. A few years later a new permanent clubhouse was built. Riding carts and pull carts are available for rent. The practice putting green is a few steps outside of the clubhouse. The clubhouse offers a modest selection of snacks and beverages. OTF is a solid, value-conscious choice for a round of golf. For example, using the "bogo" coupon on their website, on a weekday, seniors can buy a 9-hole greens fee and get the second 9-holes free; that is, based upon the 2016 greens fee rate, 18-holes with riding cart will cost $22.
It is the policy at OTF to allow single golfers or groups smaller than foursomes to play by themselves; forcible combining of golfers at OTF is not done. Also of note, reserved tee times are not taken at Old Top Farm, as management prefers the situation where anybody can come out on the spur of the moment and have an equal chance of being next on the first tee.
Further information about Old Top Farm Golf Course including hole-by-hole playing tips and a flyover can be found on their website: www.oldtopfarm.com, or by phone at 815-479-9361.
Old Top Farm Golf Course
2120 Walkup Road
Crystal Lake, IL 60012
815-479-9361