Our guest this episode is the Director of Golf and Player Development at Northwestern University, Pat Goss. You can learn more about Pat and the Wildcat Golf Academy by visiting Wildcatgolfacademy.com
Interviewer: Walter Lis. Running Time: 25:03
[soundcloud url="https://api.soundcloud.com/tracks/251742225″ params="auto_play=false&hide_related=false&show_comments=true&show_user=true&show_reposts=false&visual=true" width="100%" height="300″ iframe="true" /]
CGR: Let's start with how did you find your way to Evanston, you know a student as a player. What was the process that got you there to start you know what you know has been a long stay there.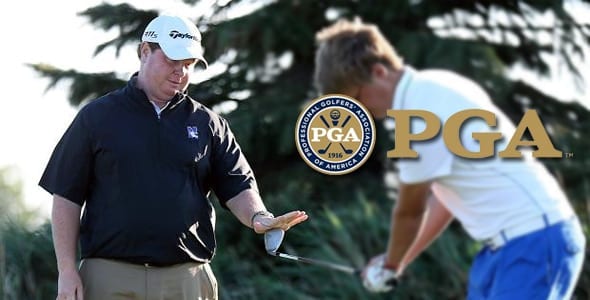 PG: The process for me to get to Evanston which was obviously the greatest opportunity of my life, and something that's really had an incredible impact on me by playing golf at Northwestern and becoming a Northwestern student began through Dr. Jim Suttie, who is a wonderful teacher, and consistently a top 100 teacher in America, really an innovative teacher and biomechanics and video usage. And I had started taking lessons with Dr. Suttie, and I was finishing high school and playing college golf at Marshall University in my first years. I had grown up in Crystal Lake.
I was a good player, not a great player. You know a kind of a mid-level division one player and had a nice opportunity at Marshall which was a great place. But Doc helped me a lot and I got a lot better, and that created an opportunity for me to transfer and finish my last years at Northwestern University. And I don't think there has been anybody so proud of that.
CGR: What was Dr. Suttie's role at that time was he working for Northwestern.
PG: He was a golf coach. There was a two and half or three-year window when Dr. Suttie was a golf coach at Northwestern University. So you know, he saw me getting better and he gave me an opportunity to come on board.
CGR: And then how did the transition come from being a student and a player then to eventually finding your way in the teaching faculty at Northwestern.
PG: Right after I got here Dr. Suttie left and he had stopped coaching and his assistant was Jeff Mory, and so just became my head coach. And Jeff was really great to me and still remains one of my biggest mentors in life and in golf for sure. We've remained very good friends, even own a business together. But Jeff became the golf coach and so I played my last season for Jeff, and it was right at the end there, Jeff had an opportunity to get a part-time assistant. Didn't get paid very much to do it, but you know he knew how much I loved Northwestern and I loved golf. And Jeff was really the first person who told me you know, I think you should teach golf for a living. I think you would be good at it, and have the right mindset for it. So I took the opportunity and become Jeff Mory's assistant in the fall of 1992 right after I had finished school.
CGR: And when he said that he told you that you would be good at teaching, did it take a while to sink in, or did you kind of know that that was you know the analytical component of working with players and you thought I could get that. Was there something that you had to kind of get your mind around or did you believe it at that time?
PG: No, I believed it. I've always you know, I'm one of these guys that loves golf beyond belief, and always have. The game has had such a great influence on me, and just immediately fell in love with the game. By the time I was a young kid, in fact recently saw some stuff and in eighth grade I wrote a paper about you know how I would work in golf my whole life. And saw another interview in the local paper at Crystal Lake featuring some seniors, and they ask me what I would be doing 20 years from now. And I said I'd probably bum around some golf course working in the game, and I pretty much nailed it.
So I knew I always wanted to be in golf, and it was just a matter of what area I was going to be in. And I would say as a player I was always wired more towards teaching and coaching, probably to a point where it hindered my ability. But I always wanted to understand the game and really study it and you know and I'm not always sure that's healthy as a player. So Jeff really gave me the shove to get going and the direction that I think I was really destined for.
CGR: So you have a very unique perspective with all of these new players that you recruit, such league level players and you know the ones that you recruit is collegiate players, and then the people that you work with as they become professionals. Is there a group of players that you enjoy working with more than others? Do you like working with the highest and most elite players like Luke Donald or do you still get the same kind of feedback and enjoy working with amateurs say who you know could have 20 plus handicap.
PG: Sure, I get joy from helping any player that gets better and enjoys the game. But what I'm really good at and what I understand how to do is develop elite level players, that's much more where my training is, my background, the way I'm wired. You know to understand how to take a player who's at a certain level, and this player has the time to put into the game, the energy and the love for it. You know, and to understand how to slowly progress through these levels and then hopefully achieve their goal is what I'm best at.
CGR: I'm sure this has taken a lifetime to sort of hone that skill, especially working with elite players, but is there a sort of framework of that you used to work with elite players to sort of identify things that they can work on. Or is it all something that is dictated by your eye when you see a movement or something like say okay, that could be a problem?
PG: It's definitely all individually based. The formula has been different for all the players and I would say it has been something that I've been able to hone over the last 20+ years. But I'll also tell you I'm still learning a lot, and there's so much still great research being done and so much more good technology that's helping us understand. I'll be learning for the next 25 years. I think I'm better at it now than I was 20 years ago and I'm hoping to continue to improve at it.
But the formula is different. It's going to be a lot based on first, I think we have a good understanding of what you have to do to be a professional golfer at the tour level. And I'm very thankful to Luke Donald, for giving me the opportunity to coach for him after he left college at Northwestern to go on that journey with him. And that became my greatest learning opportunity, was to be inside the ropes with the best players in the world. The best teachers, the best fitness trainers, everybody to get a glimpse, and the best athletes to get a glimpse of what they were doing has really influenced my coaching greatly and provided a lot of good resources to continue to learn.
So you know, we're starting with this framework of we've got a good understanding of what it's going to take to achieve the PGA Tour player, and we're working backwards. And one, we're trying to build off your strength, better strength that will help you do that. But we're also trying to identify weaknesses that need to improve towards doing that. Some of it is golfer swings, some of it is short games, some of its practice, some of its emotional, some of its analytics based. There is a whole lot of it that goes into it.
CGR: Before we get back to I want to hear more about Northwestern and what you've done, but I do have one question with regards to that, especially elite players. And this is something that comes up quite often when I talk to other people and I guess I've never been able to ask someone like yourself. But when a professional player like Luke McDonald or anybody on any of the tours the LPGA or PGA or whatever it is, you always wonder as an amateur, how could they play that much just with the nature of the game itself. Is that something that you have to sort of take into mind that these players are playing and practicing every day and playing a lot. Is there a burnout factor that you have to be aware of, or is that something that the players themselves manage and you don't have to take into account?
PG: No it is really important, even for our college players. It's a little less important for them, they're young and they're healthy. But Luke Donald recently turned 38, so rest and recovery is part of preparation. It's part of improvement, and mentally you need to rest and recover, and physically you need to rest and recover. It's no different from workouts. If you want to get that muscle stronger you have to break it down and you have to let it recover and go do it again. And there's an element of that in golf.
We do need rest and recovery, when you are looking at playing tournaments, multi-weeks in a row, and for college kids combining academics with that, all the travel, the different time zones rest and recovery is really critical. And I really see it with the young professional players you know, David Lipsky, who I'm still really involved with who plays the European Tour.
You know and Sam Chien who played the web.com Tour last year, these guys they want to play all the time, and they're young enough to be able to do it. But even getting them to understand the value of off weeks, the value of having some segments that are off weeks that you can rest then train are really important.
CGR: Can you talk a little bit then about the strengths of being able to have a school like Northwestern University? What are the things that allow you to recruit top players that may be other schools don't have.
PG: Well there's surely a lot of great places and I will say there's the right place for everybody to play college golf. And there's so many opportunities, great division three opportunities, and great division one opportunities. And we fit a certain unique niche that's for the right type of person. You know, first and foremost we are trying to attract someone who really wants to be a tour player, and believe that Northwestern is the right place to come and prepare for them.
But on the flip side, there's somebody who's really worked hard at their academics and they have invested heavily in education, and they want to pursue that parallel path. You know they don't want to make a sacrifice at either end. They don't want to go to a school where they don't receive a certain level of education, but they can really pursue golf. And on the flipside they don't only want to go and pursue a higher level of education and not be able to pursue PGA tour aspiration level of golf.
So it is a unique person that really says I want both. And there aren't really too many schools that are actively trying to pursue that. So our recruiting niche becomes small. It's not very geographically based. We have kids from all over the country, even all over the world. But they all fit that bill and they really made a conscious choice that they wanted to go and receive a great education in an elite level academic school, while playing golf at the highest level.
CGR: So how often do those two goals like you talked about, playing on the tour and also having an elite level of education, how often does it intersect when you have a player like Matthew Fitzpatrick, who has this incredible elite level of talent, but also could fit into Northwestern, but yet you find out his talent is so high that you know that he's decided he's going to go right to the next level right away. Is that something you bump up against, where it may be that the players themselves may be more into pursuing a professional tour life and then struggle or don't want to be involved in the school, or is that something you have to have balance as a coach?

PG: Yeah we haven't had too many examples of that. You know, if anything we'll have more experiences with kids that get here and as you go up every level in golf, you see how good players are and how hard you're going to work and how much time you're going to have to invest. And we'll have kids say, God I have great opportunities in the finance world or whatever their chosen profession is, you know and they'll really start to pursue that as well while they're in school. But you know Matt was a great example. I would recruit Matt many times over, and luckily for us he's really proud of his Northwestern experience and has stayed really affiliated to it and engaged in it. But we recruited Matt, and he is the 11th ranked amateur in the world and the second ranked 18 or younger in the world, higher ranked than any other American player.
You know, and he goes out that summer and before he wins the US Amateur, and he becomes the youngest winner in history, younger than Bobby Jones, younger than Tiger Woods, and comes to school as the number one ranked amateur in the world. And he had just too many good opportunities. He made a good decision you know, when he went home that Christmas there was a lot of opportunities for him with Under Armour for Golf in Dubai with club manufacturers. And he's proved he can do it, and I've never been more proud of the year he has had this year.
CGR: When you have an elite level player like that, that you probably could tell that this you know young player here had a huge future. When you have a player like that and I imagine you saw a little bit of that with Luke when he was younger as well. Does that change the way you approach them or do you again, is it something that each player is different and you try as a coach to try and fill in where you see that they need help with.
PG: It's going to be individually based with each player. You know, we're getting them where they need the help. And you know, one of the things that I am really proud of is you know we've been able to develop these high level players who are ready to go and play professional golf immediately after school and have a lot of success. You know so I think we understand that process that can help that Luke Donald, that Matt Fitzpatrick, or David Lipsky, or whoever those players are be ready for their goals after school.
Podcast: Play in new window | Download
Subscribe: RSS