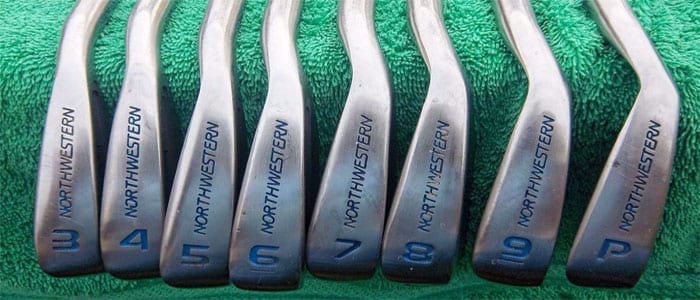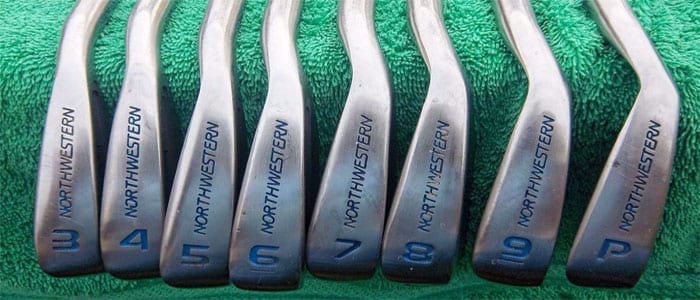 Long before Rickie Fowler played Cobra, long before Fred Couples played Lynx, long before Tom Watson played Ram, and even before Jack Nicklaus developed and sold Golden Bear, there was a manufacturer of golf clubs using an animal logo that was endorsed by a number of golfing greats of their era; that animal was a thunderbird, and if you are old enough to recall the likes of Johnny Revolta, Chandler Harper, Dick Metz, Marty Furgol, or George Fazio, then there is a good chance that you owned or used golf clubs that were made by Northwestern Golf Company.
Long before amateurs made their golf purchases at the 'big box' stores like Golf Galaxy,
PGA Superstore, Golfsmith, or Dick's Sporting Goods, the vast majority of casual golfers bought their clubs at Sears & Roebuck's, J.C. Penney's, Wieboldt's, Goldblatt's, or perhaps a local hardware store.
Long before Scottsdale/Phoenix (AZ), Carlsbad (CA), Fairhaven (MA), Beaverton (OR), or China or Mexico were considered to be the golf club manufacturing centers of the world, it was here in Chicago, Illinois where the most golf clubs were produced, and here is where the Northwestern Golf Company was founded and grew.
Nat C. Rosasco Sr., was an expert machinist who emigrated from Genoa, Italy, to the U.S. in 1907. He settled in Chicago and was a neighbor of L.B. Icely, the head of
Wilson Sporting Goods Co., who offered Nat a job manufacturing golf clubs. After working for Wilson for a handful of years, the elder Nat Rosasco took his earnings and what he learned about golf club-making and in 1929 founded Northwestern Golf.
Mr. Rosasco Sr. fathered two sons, Nat Roscasco, Jr. and Leroy, both of whom began working at the company full time as teenagers. Nat C. Roscasco, Jr. took over the day-to-day responsibilities of managing Northwestern's operations in 1961 when the elder Nat C. Rosasco died. Nat II, at first, steadfastly continued his father's company motto, "We make golf clubs for the masses NOT the classes!", and hence continued to sell easily affordable clubs only through department store outlets. The company grew and flourished under Nat II, and moved its office and plant from 3505 N. Elston Avenue to a 1,000,000 sq. ft. facility at 4701 N. Ravenswood Avenue (coincidentally located just alongside of Northwestern Railway tracks). By 1978 Northwestern had become the largest manufacturer of golf clubs in both units and dollars, doubling that of the nearest competitor; Northwestern manufactured and sold more than 7 million clubs per year.
Within the next two decades, competition in golf club design and manufacturing had risen dramatically, and drastically bit into Northwestern sales. As a combative reaction, Northwestern modified the long standing company philosophy and began manufacturing a 'higher end' model of clubs and selling them through golf pro shops; this new line was called Pro Select. Pro Select's offices were in Elmhurst, IL.

Also within the next two decades Nat II modified his desire of running a golf company into a primary desire to help fellow man. Not surprisingly, Nat II was as successful as a philanthropist as he was as a manufacturer. Two of his most renown charitable endeavors are his launching of the

Hook a Kid on Golf Foundation, and the Nat Rosasco Heritage Cup Youth Fund, in which he raised close to $2 million for high school students with disabilities who were in need of money for college. Nat II continued charitable work for the needy of Chicago right up until his death in 2012 at age 83.

Nat Rosasco is remembered fondly by many Heritage Cup Youth Fund graduates, by many more Chicago area Italian Americans, and by generations of older golfers. And as for his company, in October 2004, Northwestern Golf employees were given notice that the company was ceasing to do business and that they no longer had jobs. In the same month a bank, as intermediary, arranged for Northwestern Golf's tangible and intangible assets to be sold to other companies outside of the USA. Beneath a layer or two of dust, many Chicago attics, basements, and garages are likely to still contain one or more Northwestern golf clubs. The Northwestern Golf Company may be gone but it is not forgotten.


[schema type="organization" orgtype="Corporation" name="Northwestern Golf Company" description="World's leading manufacturer of golf clubs." street="4701 N. Ravenswood Avenue" city="Chicago" state="IL" postalcode="60640″ country="US" ]