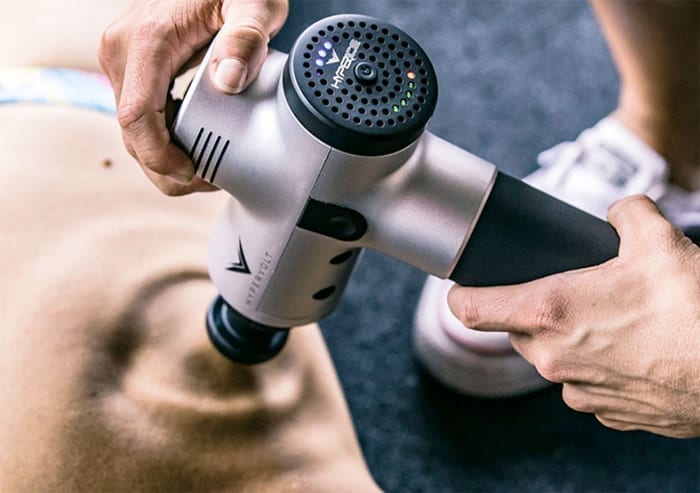 There may be no better way to promote a product than by word of mouth. But in a sport like golf where product endorsements are commonplace, seeing is believing.
Over the past couple of years, it's become quite common to see a percussion therapy tool in the clubhouse at golf clubs throughout Chicagoland. In fact, golfers often share stories about how they fixed their soreness, improved their mobility or even dropped strokes with the help of a percussion therapy tool.
To get a better idea of what's creating such a stir, I recently tested the Hyperice Hypervolt, which is a popular brand of percussion therapy tools. The product comes with the Hypervolt itself, which is shaped somewhat like a power drill. The device is battery operated, so it comes with a wall charger as well as five different head attachments.
The Hypervolt weighs 2.5 lbs, so it's easy to handle, which is important so you can reach and massage anywhere on your body. Popular massage areas include the chest, forearms, calves, quads, feet and traps.
The tool itself is exceptionally easy to use and ergonomic. Just turn it on and place it against the area that you're looking to massage.
The percussion massage that the Hypervolt delivers is unlike most traditional massages because the vibration stimulates the tissue on and around the area that you are working on. If you're experiencing tightness in you calf, the Hypervolt will massage the entire calf and provide immediate relief on the surrounding tissue.
In addition to being lightweight, the device is really quiet, which is remarkable considering the power it provides. The Hypervolt that I tested has three speeds for a customized massage experience for maximum results in minimum time.
The Hypervolt also comes with a built-in pressure sensor that provides visual feedback throughout the massage process. This allows you to see when you're providing more or less pressure to the massage.
In addition to the therapy aspect, a true benefit of a percussion therapy device can come from improved recovery and range of motion. Using the Hypervolt to warm up before your round is a great way prime your body for performance. The tool is also an excellent release to help return oxygen to your muscles post round. This process can ultimately help relieve muscle pain, stiffness and soreness.
It would be hard for even the biggest skeptic to question the benefit of the Hypervolt and its $300 price tag given the opportunity to try the product. The word of mouth popularity is real because the product works and feeling is believing.