By the time most Americans have reached the traditional retirement age of 65, they have completed their life's work, but very few can say that they led a complete life. Fifty-seven year-old Randy Cochran has already finished 46 years devoted to his life's ambition — golf; he has completed climbing all the rungs of the private golf club ladder, and now has taken note of his golf experiences by becoming a golf author.
Randy grew up a bike-ride away from Elmhurst Country Club in Addison, IL. He began caddying there at age 11, despite club regulations that young caddies be at least age 13. Randy's two older brothers also worked at Elmhurst CC shining shoes in the men's locker room, and they tweaked the truth, claiming that Randy was indeed 'a smallish 13′.
After seven or eight golf seasons of toting bags during elementary school and high school, Randy was off to college in Milwaukee on an Evans Scholarship to Marquette University. Randy had played golf for his high school, Driscoll HS in Addison, but was not scouted or recruited for varsity college golf teams. Marquette did have a club-sport men's golf program and Randy made the team. Summers during college were spent back at Elmhurst CC looping but with additional duties working in the pro shop; Randy quickly became the head professional's right-hand-man.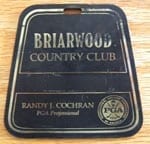 By his own admission, as a golfer Randy was a late bloomer. Cochran passed the playing ability test (PAT) and completed all the other requirements necessary for membership in the Illinois Section of the PGA of America, first handling the duties as Assistant Professional at Elmhurst CC, and then ultimately working as Head Golf Professional at Briarwood CC for 26 years. Honing his game and lowering his scores, Cochran qualified for three Western Opens and was named IPGA Player of the Year in 1991. Randy states that his biggest thrill in golf was qualifying and playing in the US Senior Open at Crooked Stick in 2009; his practice round partners were Fred Funk and Andy Bean.
Two clichés might offer a start to the review of Cochran's book. It has been stated that 'golf is a metaphor for life', and Randy viewed this metaphor repeatedly through his young looper eyes. Secondly, a round of golf 'exposes one's true character', and Randy eye-witnessed plenty of characters while caddying for them at the private country club…and thus the title of his 237-page hardcover effort became Through The Eyes of a Caddy
.
Each chapter describes hilarious and/or nearly disastrous events that took place at 'Clockhurst' Country Club. Everybody likes reading about near-disasters, don't they? It may have been recommended to Cochran by his Proofreader to do this and to put them in particular chapters to make his story flow better. As a result, Cochran's book will appeal to a wide spectrum of readers: if you are a non-golfer or a golfer whose rounds are played solely at public courses, you will discover what shenanigans often take place at private country clubs; if you are a member of a private country club that is conservative by design and sedate in nature, you will become aware of the shenanigans that are bred at other less-than-sedate private clubs; and, if you are already a member of one of these lively, less-than-sedate private clubs you can compare your club's shenanigans to those of 'Clockhurst' Country Club.
After retiring from the head professional position at Briarwood CC, Randy has now moved over to Green Valley Driving Range in Hanover Park, where he enjoys teaching and instructing junior golfers, individually and in group camps. As the FedEx Cup drew near to its exciting finish in 2015, Randy had a table at the front entrance to the BMW Championship merchandise pavilion at Conway Farms where he signed copies of his book.
With further use of his college degree in communications, Randy has also written a charming series of juvenile fiction books, "Critter Golf". The three "Critter Golf" books and "Through The Eyes of a Caddy" can be purchased through amazon.com or by contacting Randy Cochran directly at this email address: belliel@aol.com.