Tim Clarke has been the general manager of Chicago-based Wilson Golf since 2006, helping to re-establish the company as one of the top global brands in golf. In this interview, Tim shares how Wilson Golf works to leverage its history and connection to the Chicagoland area. He also explains how Wilson Golf groups players based on their needs and how they created the "advisory staff" and still uses feedback from their staff relationships to build and test new products.
Chicago Golf Report: How do you take the advantages of being such a well-known brand and having this history and yet push it forward so that it's the cutting edge component of golf?
Tim Clarke: I think, first and foremost, it's affiliation of players. Even to touch on one of the things when I got this opportunity, my first move was to go out and reconnect with Illinois. My general view is you need to win big in your backyard so you can win in other places.
We had kind of lost our way a bit in Illinois and to be able to go out and create an advisory staff relationship with Mike Small, the head coach at University of Illinois. He probably will go down as one of the club professional level greatest players of all-time, and to have that influence and to be able to pick up the phone and call him and send something down there for him to test is an amazing thing. To go out and get Kevin Streelman and get him on our staff and to connect with Kevin as a kid that grew up here, so all of a sudden we started building our local position.
Then when you talk about the marketing side, the key is hitting the influence, understanding the consumer, hitting the influence consumer-centric and it's always very simple to say, well, "golfers are normal. If you ask them what they want to do they'd like to hit golf balls farther and straighter and they'd like their ball to go farther and straighter," but what we really did is we dove into the details and that's what we're going to continue to do and that's been the big DNA change of our resurgence.
We went out and we were like, "Okay, when you say you want a golf ball, anyone can make a golf ball go long and straight, but what's the point of difference?" and we started testing compression and we had a leadership position and low compression. Staff Titanium, which was one of the most successful golf balls ever sold at Wilson, was actually about 15 compression points off anyone else's in the market.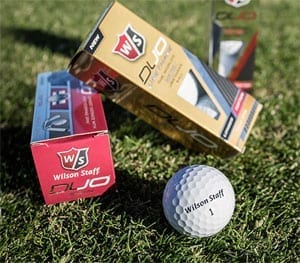 Then we came up with 50 which was the first golf ball with 50 compression, and through all the player insights what we have discovered is that golfers want products on the golf ball side that feel better, as long as you can maintain distance. Then we really broke out with Duo, where we took it to 38. We had 38 compression, and we have a Duo that's basically new and improved. It's sitting at 29. Eight out of ten players who tested it prefer a softer golf ball, so we were able to get the consumer insight, put our engineers and our innovation team against that challenge and say, "Okay, I need the softest golf ball possible but it has to be as long as anything in the market," and that was kind of phase one.
The second thing we did on the consumer side was we started talking to consumers. Consumers have a hard time articulating what they want, but when you start talking to enough of them, there really are three types of players out there. We identified that there's the distance player, and we have a strategy that we mark it "F", "C" and "D".
We know that there's a distance player out there and if you go and talk to any good teacher they'll say the one thing that's really hard to teach is distance. That's where we put all our efforts in the equipment to help it do as much as possible to help somebody with a lower swing speed hit it five, ten yards longer. That makes a big difference. The second thing we found is that, and that the "D" category is about 55% of the players in the marketplace.
The other two segments we discovered were we have what we kind of call the crossover or control player, and that player has usually been a "D" player who's completely committed to the game of golf and has started to get better, and now because he's got buddies who are good players and play with smaller looking equipment he wants to kind of fit in a little more. He still wants better skills and he wants to be able to control the ball, but he doesn't need it to be, "I can hit it and it goes wherever it goes," he wants to know when he hits it bad and when he hits it good.
Then we started these advisory staffs, and the reason there's advisory staffs in any sport is because of Wilson and Wilson Golf was the first in the golf space to do it. The "F" player, that is all about your low handicap, so the "F" player side he is basically a steel guy. Usually he wants to play a forged product, like the driver and he's looking for more workability than he is hitting all over the place.
We've developed products to specifically bring solutions to each of these categories and actually helped the consumer figure out exactly who they are in that category, but also to help our golf professionals and our retail partners articulate what product that we make fits them because a lot of people get confused out there in the equipment selection.
Chicago Golf Report: Can you touch a little bit on the advantages of being a Chicago-based company? You talked about Mike Small and him being just downstate but are there other things that you as Wilson Golf are able to take from having this connection with Chicago?
Tim Clarke: First and foremost is when you look at golf markets around the world, there is no doubt that Illinois, although unfortunately a pretty short season, much shorter than I would prefer, the golf and the demand around golf and the quality of the golf versus Illinois are second to none. I think what we look at if this is a home base, I mean, obviously we have sites in Florida and Tennessee because you have to have those things, but at the end of the day this is an especially passionate golf market.
I think when you look at Illinois and you look at the talent pool that you have to hire from. I mean, when you put an opening out for golf, what's amazing is not only the quantity of people that apply because they live in Chicago and they're golf fanatics and they've got great education but they're golfers at heart or they play at college or at least love golf, so you've got a talent pool that is second to none.
Then the other thing is if you do want to go out and find a specific fit for a position that maybe we don't have, that we need to compete with a rival company to get that person, there's nothing like the City of Chicago when people come and we bring them up for a tour. There are certain things in life that are hard to sell but I would say Chicago, Illinois is not one of them.
Chicago Golf Report: You mentioned the fact that we're so lucky, even though the season's short, we have a plethora of wonderful over 200 great golf courses in the area. Can you talk about some of the courses that are your favorite golf courses in the area?
Tim Clarke: I've had a very blessed life in this regard and I live up in the western suburbs so I've had the opportunity to play Chicago Golf a number of times, and make no mistake, there is nothing more historic. I kind of bucket them into classes, I look at Chicago Golf and I look at Shoreacres, these kind of old, iconic places that when you get there you really feel that you're on hallowed ground.
Then I look at the opportunity to just go play some of the best golf courses in the world and you can go play Butler National or you go play Olympia Fields or you go play Conway Farms. The list of the private golf clubs in Chicago is second to none.
The real thing that excites me about Chicago golf, and I think it fits in well with Wilson because we are definitely more of Middle America's brand, is the fact that you have honestly some of the best public golf in United States. If you want to go over to Cantigny in Wheaton, I don't know if you can find a better public experience. You can go to Cog Hill and play Dubsdread where the tours have played. So to me it's the fact that the city has so much to offer and on the golf side there is history and tradition at the very elite level.
There are world class courses that have held, the U.S. Open and other events, but if you want to go out and you want to test yourself, the options to go play a course that is as good as many of the private courses is available to you. I think that's really unique because you don't get that when you get out of the east coast. It's very hard to find very, very nice daily courses or city-owned courses.
Interviewer: Walter Lis. Running Time: 19:48
Click here to download an MP3 file.
Podcast: Play in new window | Download
Subscribe: RSS