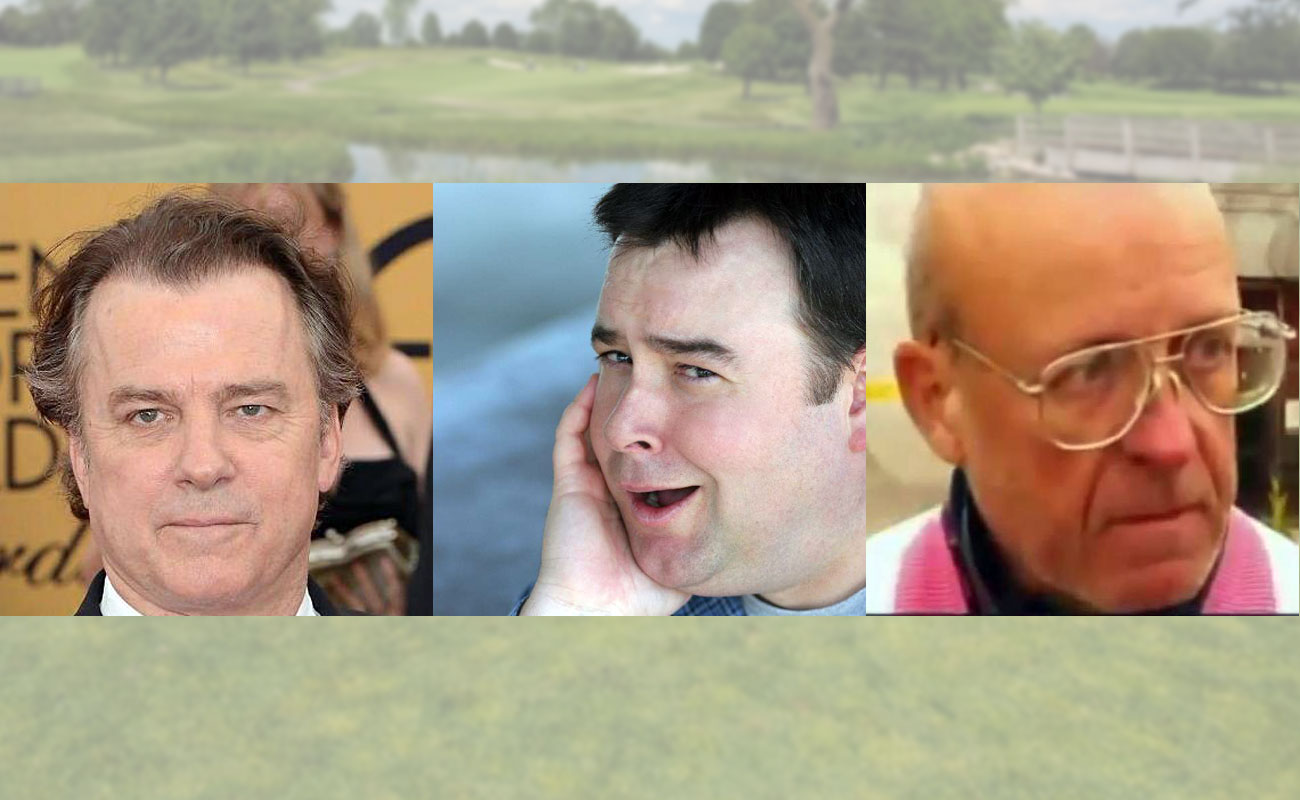 Michael O'Keefe, Matt Griesser, and Rollen Stewart – their real names, and recent photos, may not be immediately recognizable, but for those golf fans who are old enough to have enjoyed watching the sport for at least 40 years, recalling these iconic 'golf characters' should bring back humorous and enjoyable memories.
In 1980, the 25-year old actor Michael O'Keefe rose to fame portraying the rambunctious, effervescent, adventurous, and financially challenged caddy, Danny Noonan in the film Caddyshack. The movie's plot follows Danny's ups-and-downs, who, in an effort to save money for college, often caddied for Ty Webb (Chevy Chase), a suave and talented golfer and the son of one of Bushwood's co-founders.
Furthermore, Danny also decides to gain favor with Judge Elihu Smails (Ted Knight), the country club's stodgy co-founder and director of the caddy scholarship program, by caddying for him as well. Additionally, Danny is somewhat of an accomplished golfer, and wins the Caddy Day golf tournament and the accompanying scholarship.
In the film's finale, circumstances have Danny Noonan subbing for Al Czervik (Rodney Dangerfield) and partnering with Ty Webb against Judge Smails and his partner Dr. Beeper in a golf match where the stakes have reached $160,000.00 per team.
Fast forward 40 years and Michael O'Keefe 'caddied' once again. In the 2020 U.S. Open held at Winged Foot in Mamaroneck, N.Y, O'Keefe, then 65 years old, caddied for club professional Danny Balin in the Monday and Tuesday practice rounds, before handing the bag over to Marc Mondelblatt, Balin's regular caddie.
Balin, the head pro at Fresh Meadow Country Club on Long Island, and was one of three club pros to whom the USGA gave a U.S. Open exemption for finishing in the top three of the 2019 PGA Professional Player of the Year standings. O'Keefe, grew up near the storied Winged Foot club and caddied there in 1971 and '72.
After appearing in Caddyshack, O'Keefe continued his acting career. Among other roles, O'Keefe portrayed Ben Meechum in The Great Santini, for which he received a nomination for the Academy Award for Best Supporting Actor. O'Keefe was married to rock / blues singing star Bonnie Raitt for 8 years from 1991-1999.
Michael O'Keefe still plays golf for fun, but admits that when he visits new courses, golf course employees rarely believe him when he says "I'm Danny Noonan."
Matt Griesser is an actor, comedian, and television commercial personality. Matt began his career performing ensemble improv with Second City Alumni in Los Angeles, CA. He studied under improv greats, Ryan Stiles and Jane Morris, while frequently performing at Up Front Comedy, The IceHouse and Improv Olympic.
After appearing in many national television commercials and several sitcom guest spots, he was cast as the signature character for the FootJoy golf shoe promotion, and forever became known as "Signboy", the portly, overly talkative, but still lovable standard-bearer. For more than eight seasons, "SignBoy" managed to annoy many of the world's top golfers including Adam Scott, Phil Mickelson, Jesper Parnevik, Zach Johnson, Tim Herron, Duffy Waldorf, and Vijay Singh while exhibiting remarkable expertise in identifying the myriad of FootJoy shoe styles.

Already the number one brand in golf shoes, the Signboy advertising campaign elevated FootJoy's aura even higher. Over the course of the campaign's run, Matt performed and often improvised a large part of more than 50 international FootJoy television spots.

The "Signboy" character was so immensely popular that FootJoy even came out with a "Signboy" bobblehead.

After the FootJoy / SignBoy campaign ended, Griesser continued his acting career with various appearances in films, TV sitcoms, television commercials and voiceovers.

In his early adult life Rollen Stewart owned an auto repair shop and had aspirations of becoming a top professional drag racer. His career choice and attempt for fame then switched to becoming a marijuana farmer and growing the world's largest mustache. But Rollen's past jobs and goals took another turn when in 1977, Stewart got on camera for the first time at the NBA finals in Portland, Oregon.

Hooked on being in the spotlight, he sold his pot farm and in the years that followed, he showed up on camera at several major sporting events. His 'trademark' for being noticed in the background of televised sporting events was the wearing of a rainbow colored wig, and hence acquired the nickname of 'Rainbow Man'.

Stewart carried a battery-powered television with him to the events to keep track of cameras so he would know where to sit or stand to get himself on television. Rollen stated "I had watched television, seen all the angles, and saw a person could stand in the background in all of these shots and become instantly known. I had a dream in technology. I needed a magnet.

To stand there as a person would be fine, but I could do twice as good if I had a color scheme or something." If the on-camera time was sufficient, he also gyrated a bit and collected a second nickname of "Rock'n Rollen".

In 1980, Stewart became a born-again Christian after watching a televangelist the evening after he attended the Super Bowl. After becoming born-again, he began wearing t-shirts with religious messages like 'John 3:16' or 'Jesus Saves'. Stewart was now without a job and was living out of his car, surviving on contributions of money and tickets from other Christians.

In the 1980's golf was becoming ever-popular, and professional tournaments were played nearly 52 weeks of the year, outdoors, with mostly agreeable weather conditions — ideally suitable for the 'Rainbow Man' appearances. Furthermore, these professional golf tournaments were nationally televised back-to-back on Saturday and Sunday.

While his appearance was fun for fans, 'Rainbow Man' became the bane and thorn in the side of producers and directors of televised golf events. NBC's golf producer in the 1980s, Larry Cirillo, asked his cameramen to refrain from showing Stewart, going so far as to threaten their jobs if they gave him air time.

If Frank Chirkinian, executive producer of CBS's golf coverage from 1959 until 1996, were the 'cat' and if Rollen Stewart were the 'mouse' and if the ideal background position were the 'cheese', it was 'game on' between these two adversaries on the weekend.

One fateful day in September 1992 turned out to be Stewart's swansong. Rollen locked himself in a hotel room near the Los Angeles International Airport.

He pulled a gun on a maid who then locked herself in the bathroom. During the standoff with police, Stewart threatened to shoot at planes. The police used a concussion grenade to subdue him, and while no one was hurt in the standoff, police found a loaded .45 caliber handgun with one round chambered, two ammunition clips fully loaded, and about forty-seven live rounds of ammunition. Stewart was charged with eight felonies.

Stewart (b. February 23, 1944) is now seventy-eight, and is currently serving three life sentences in Mule Creek State prison in Ione, CA. His legacy might possibly be expressed in the fact that Stewart was parodied by actor Christopher Walken on Saturday Night Live; was 'cameoed' in a Simpsons cartoon episode; and was the title character of a DVD documentary, "The Rainbow Man / John 3:16".