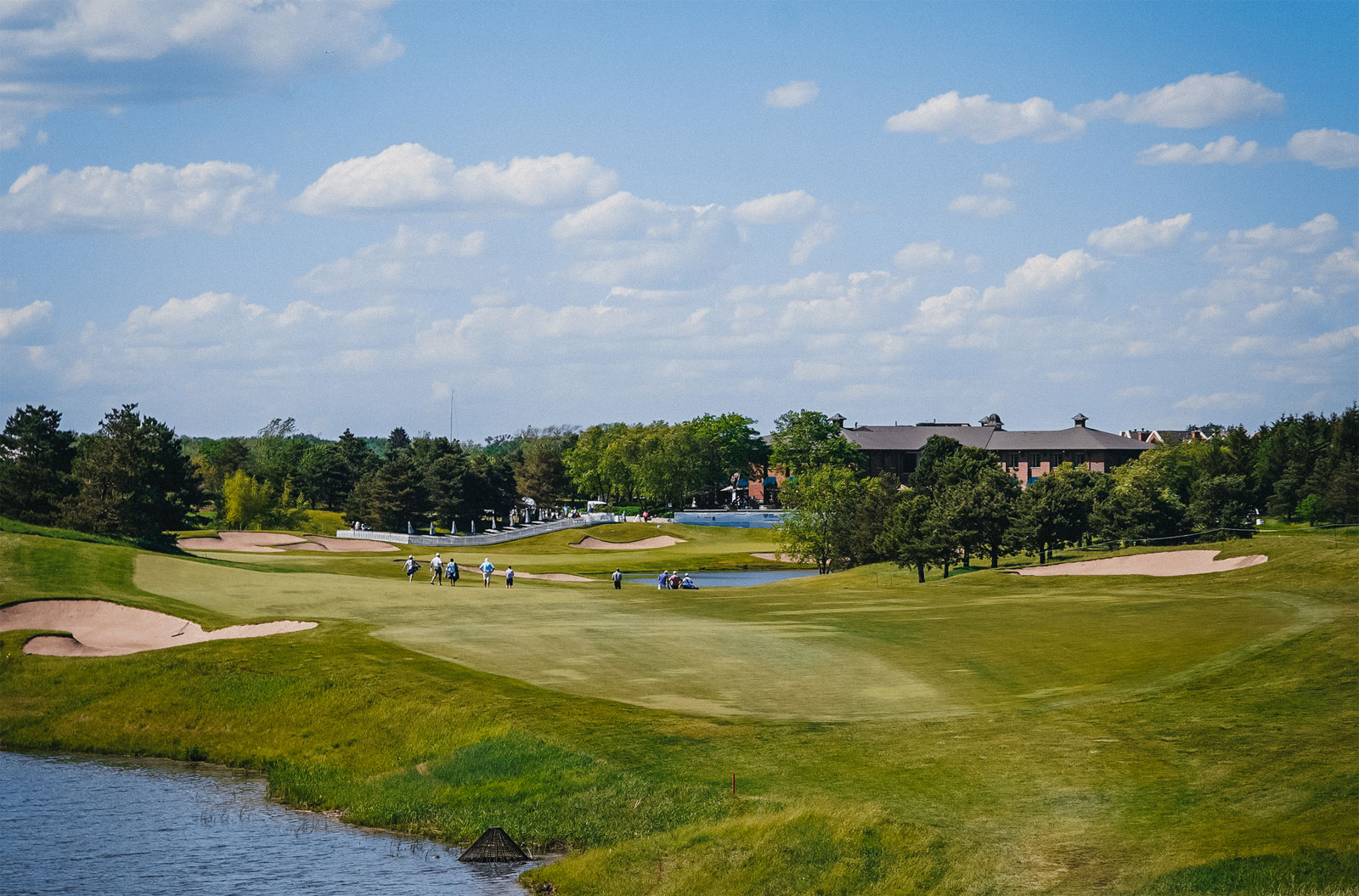 The Glen Club opened in 2001, and soon after its opening was already in line to host important tournaments, the first of which was the Fuji-Xerox USA vs. Japan Collegiate Golf Championship, held on July 17-19, 2002. Recall that in 2002 international diplomacy was askew after the 9/11 attacks in New York City and Washington D.C. Therefore hosting a friendly international contest at this time garnered more esteem than it would in normal times.
First held at Narashino Country Club in Japan, the US-Japan matches had been held annually in cooperation with the Japanese Student Golf Association and the Golf Coaches Association of America. The matches featured outstanding men's and women's collegiate players from the United States and Japan and were founded to help promote international goodwill through the game of golf. Former U.S. players included Curtis Strange, Jay Haas, Peter Jacobsen, Brad Faxon, Juli Inkster, David Love III, Steve Stricker, Dottie Pepper, Todd Hamilton, Davis Toms, Ben Curtis, Bob Tway and Scott Verplank.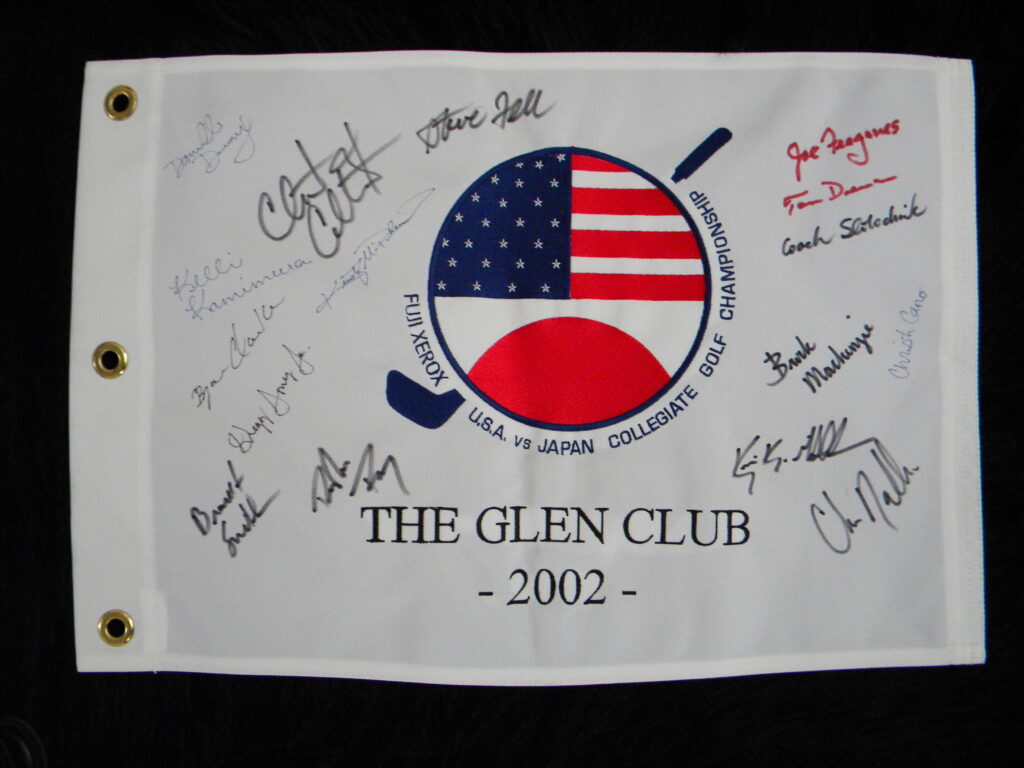 The Fuji-Xerox USA vs. Japan Collegiate Golf Championship is a team event comprised of 12 collegiate golfers from each country. There are eight men and four women on each team.
The tournament plays three rounds of 18-hole stroke play; there are six matches on day one, and twelve matches on each of the final two days. The six matches on Day-1 are two-person aggregate four-ball matches at stroke-play (total strokes for both team players).
The final two days are all individual stroke-play matches. Over all three days of competition, each match won is worth two points, halved matches are worth one point per side.
The 2002 Team USA members were: Danielle Downey (Auburn), Kelli Kamimura (Washington), Kristy McPherson (South Carolina), Christi Cano (Oklahoma State); Brock Mackenzie (Washington), Clint Colbert (Savannah College of Art & Design), Dustin Bray (North Carolina), Kris Mikkelson (Georgia Tech), Brandt Snedeker (Vanderbilt), Chris Nallen (Arizona), Bryan Clarke (University of West Florida), and Gregg Jones (Clemson).

Team USA jumped out to a quick lead on Wednesday (July 17) at The Glen Club. The Americans won four of the six matches and halved a fifth, building a 9-3 lead after the first day of competition. Playing to a par of 72, the opening round was highlighted by Bryan Clarke of the University of West Florida carding a course-record 68 (-4) on the year-old Tom Fazio-designed course.

The course record was lowered on Day-2, by Vanderbilt's Brandt Snedeker carding a 65. Also lowered on Day-2 was the lead held by the Americans, who led by 6 points after Day-1, but by nightfall of the second round held a 4 point lead. Matters got even closer on Day-3 as Japan tied the score at 29 with only one match to play. The Americans secured the victory when South Carolina's Kristy McPherson closed out a nine-stroke win over Chiharu Tsunekawa. Final score: USA 31 – Japan 29.

Georgia Tech's Kris Mikkelsen continued the trend of setting the course record during the competition. On Day-3 Mikkelsen posted a 10-under-par 62, bettering the record set one day earlier by Brandt Snedeker by three strokes.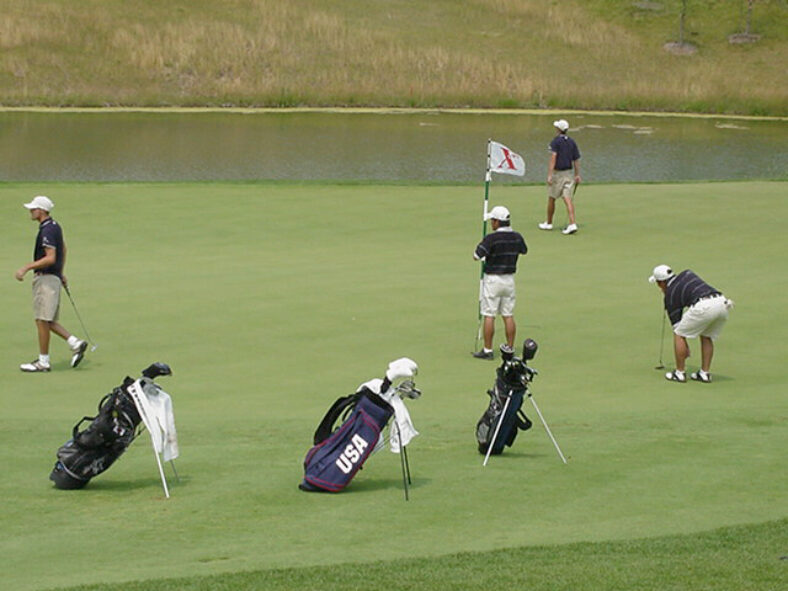 Mikkelsen and McPherson garnered MVP honors by posting the low 54-hole totals for the tournament. Mikkelsen (men) shot 204 (-12), while McPherson (women) carded a score of 217 (+1). The win for Team USA in 2002 put the total series score at USA 21 – Japan 6.
The Fuji Xerox USA vs. Japan Collegiate Golf Championship, which was the longest running international collegiate golf event in the world, continued until 2008. The 33rd and final competition of the Fuji Xerox USA vs. Japan Collegiate Golf Championship was contested at the Tokyo Golf Club, where the Americans dominated the event defeating Japan 37-23. The all-time series concluded with Team USA scoring 24 victories while Japan won 9 times.
With the Fuji Xerox USA vs. Japan Collegiate Golf Championship as a springboard to host future tournaments, in subsequent years The Glen Club has been the proud host of numerous Illinois Section PGA tournaments, The Illinois Open, and Korn-Ferry Tour tournaments.