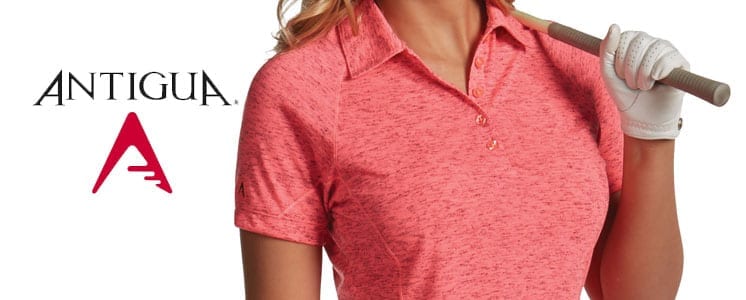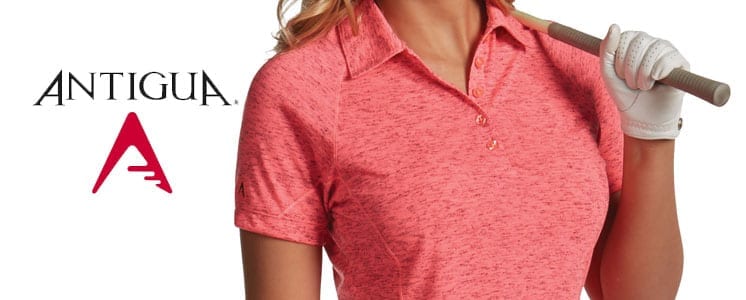 It's often the details that dictate success on the golf course. The difference between a good round and a great round can be decided by a simple grip adjustment or a change in your swing setup.
The same can be said for golf apparel, where top golf clothing manufacturers like Antigua are known for sweating the details. This dedication is especially evident in the outstanding new Antigua Spring 2015 Women's Golf Collection which smoothly mixes comfort and style. Top LPGA player Stacy Lewis is consistently near the top of the leaderboard and looks on TV great wearing the new Antigua line.
Featuring a blend of neon colors mixed with black and white, this apparel not only looks good, but the Antigua Desert Dry and Desert Dry XtraLite fabrics really help keep you dry and comfortable on the golf course. In fact, the design and material looks so good, it's perfect for off the golf course as well.
Antigua has been one of the nation's leading designers and marketers of lifestyle and golf apparel for a long time. This experience shows in the technology featured in the 2015 collection. The exclusive Antigua Desert Dry™ technology absorbs and wicks moisture quickly and evenly using poly/cotton blends. This fabric feels great without compromising the wicking capabilities of the poly fabrics.
Desert Dry™ XTRA-LITE combines the Desert Dry™ moisture-wicking feature with specially constructed ultra-light fabrics that feel and look like cotton. The Jubilee style and the Thrill style use a popular multi-colored nap yarn that feels cozy cotton, but easily handles perspiration. These new cotton-like poly fabrics open up a whole new world female golfers who can have the comfort of their favorite tee while maintaining the performance and wicking power.
"We're very excited about our Spring 2015 Women's Golf Collection," said Ron McPherson, President and CEO of Antigua. "Response to the bright colors, fantastic new styling, and the advanced moisture-wicking technology has been outstanding. This promises to be our best-selling women's collection to date."
"There's so much lifestyle apparel out in the marketplace right now," says Danielle Dellios, Antigua Women's Head Designer. "Many customers are looking for something to wear on the course but also to social events, out running errands, etc. That in mind, I combined a professional-yet-relaxed look for this line. Women want new necklines, collar treatments and styles — which led me to play with the idea of a non-conventional polo silhouette."
The shirts that we tested utilize sharp trim details and flirty necklines with soft and stretchy fabrics, that respond well to the golf swing. Antigua's new non-traditional polo styles, such as Envy with its soccer-style collar and neckline and sporty color-blocked silhouette; and Zoom, a sleeveless mini-stripe polo that blends polyester/cotton/spandex jersey make a definite impact on and off the golf course.
"By mixing black and white in with fun colors such as calypso, electric and papaya, I'm providing older customers with a neutral base and a pop of color to make them feel trendy while still maintaining a wide demographic," said Dellios. Whatever their strategy, Antigua's 2015 Women's Golf Collection has proven to be a great success by focusing on the golfer and on the details.
To check out their Spring 2015 Women's Golf Collection, visit the Antigua website.