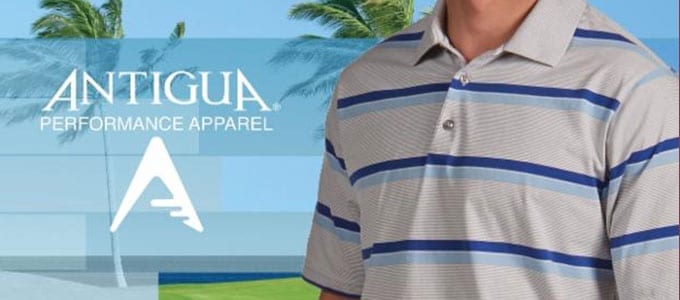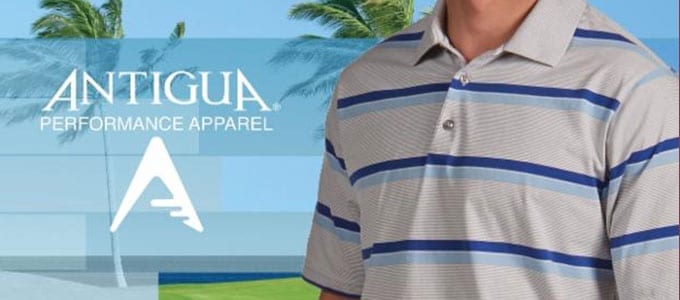 If you've finally upgraded your wardrobe of golf shirts to the moisture-wicking kind composed primarily of polyester fabric, you're not alone. It seems virtually every new golf shirt is now made with a similar approach. But just like everything in fashion, styles and materials return… and so is the cotton golf shirt.
However, the new breed of cotton girl shirt in 2015 brings together the best of both worlds. Consider it Cotton 2.0, the next generation of comfort and performance.
Recently, golf apparel brand Antigua introduced their Spring 2015 Men's Golf Performance Collection that utilizes a new fabric called Desert Dry Performance Cotton (D2PC). This fabric combines the comfort of cotton with moisture-wicking technology.
The result is a shirt that stays cool in the heat and provides the comfort of cotton. In addition to feeling significantly lighter than traditional cotton, Antigua's Desert Dry Performance Cotton looks great after being washed. By combining fabrics with synthetic micro-filament yarns and blending them with fine natural cotton fibers, D2PC offers the look and casual comfort of cotton while maximizing the wicking properties of a performance fabric.
"The Spring 2015 Men's Golf Outerwear Collection includes this amazing new fabric," says Ron McPherson, President and CEO of Antigua. "It combines the moisture-wicking features of our proprietary Desert Dry moisture management technology with the natural fibers of cotton, to create a performance product that offers the best of both."
Consider this a reinvention of cotton that will make it cool to be the cotton shirt guy once again. In fact, you'll probably become somewhat averse to today's traditional polyester blend fabrics once you try one of the new shirts from the Antigua Spring 2015 Performance 72 golf collection. They look great, feel great and perform even better.
The lighter fabric allows for easy of movement throughout the golf swing. Golfers who are used to adjusting their sleeves and shoulders within their pre-shot routine may not need to follow that tradition with Desert Dry Performance Cotton that follows the contours of your body without restriction.
Check out the new Antigua Men's Golf Performance Collection and see for yourself. You may be changing your golf wardrobe back to the comfort of cotton sooner than you expected.