For any of us that take the game of golf seriously, we look at the top golfers and wonder how it must feel to have a support team like theirs to keep them on track to getting better. Today's elite level golfers have access to a swing coach, physical trainer, sports psychologist, nutritionist and more as they prepare to play the best golf of their lives. It can cost upwards of $80,000 a year to hire the top coaches in the world to help you with your game, travel to see them and then put in the time to implement their teachings.
Fortunately, there has been the introduction of Edufii, a coaching platform that allows a player to be connected to whatever coach they want to be from anywhere in the world. Edufii is a program that I have been using for the past few months to help students reach their newest heights ever and I want to share a few of the ways you should be looking to improve your game with it too:
Swing Analysis
The first thing to know is Edufii allows an athlete and coach to use a Training Space which is an area that allows either to post a video, text note, voice note, image or even documents into their space. This means that a coach or student can take a video of the golf swing, post the video to the training space and then analyze the video and give coaching on how to improve the golf swing. This allows the student to receive coaching from the coach of their choice just as if they were taking the lesson in person.
As a coach I can also film and send back drills that may be relevant to the student so they can work on making the corrective changes.
Purposeful Practice
One of the most important aspects of improving your golf game is how you practice. The basis for my teaching philosophy revolves around helping people understand how to practice when I am not physically present and also finding other like minded students for them to compete against. With most people's busy schedules, it can be tough to find times to get out to the course and find other people who can do the same at appropriate times. Again, with Edufii, I am able to issue challenges to my students and then show the results and rank the students on their abilities like I did below: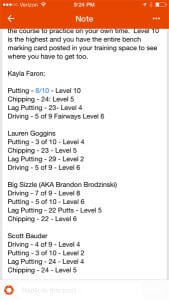 These types of challenges aren't to embarrass any one student, but are meant to show where they may need to work on their games and also give them some competition to motivate them to practice and improve.
Cover All Aspects of the Game
Edufii is a great way for me to help students by allowing me to upload specialized workout and nutrition plans, and also have them perform physical evaluations that I will take to my team of fitness experts in downtown Chicago where we devise a plan to help the student improve their physical attributes. I will also upload a mental questionnaire that asks students to hit a series of shots with various cues and thoughts and have them record their thoughts about each one. This allows me to help a student with all aspects of the game that equate to good scores, not just the golf swing.
Open Communication
This is easily the most important in good coaching and having a team to help you improve. There needs to be an open line of communications between the coaches and student so that we can help out. It is important for the student to send response videos, posts, notes and upload scorecards and stats for the coach to see what is going on. Below is an example of a post where a student sent me a swing video of a day his swing felt really good, and then he played a round and electronically uploaded the scorecard for me to see: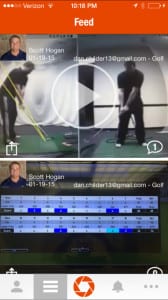 This communication is vital for me to see what is going on for the student and for me to understand what makes him tick as a golfer. It is with this type of feedback that this student has gone from a low round of 84 at the end of 2014 to shooting a 73 at the start of 2015.
Technology has changed the way we look at golf swings with force plates, launch monitors and other technology that allows us to measure what is going on. But most importantly it allows golfers to be connected to instruction from their favorite coaches and improve their games quicker and redefine their goals faster.
*Join Scott Hogan's group – The Legion of Birdies – by clicking here. It is 100% free to join and you will gain access to exclusive tips, drills, performance challenges, discussions and more.*