Some things just naturally go together in pairs — peanut butter & jelly, mac & cheese, ham & eggs, fish & chips, and burgers & fries. Beyond those food pairings there are love & marriage, horse & carriage, and of course, golf & gambling. And as the song lyrics say 'you can't have one without the other'.
Outside on the golf course gambling comes in the form of Nassau, scotch, skins, wolf, 16-point, snake, bingo/bango/bongo, and many, many more. You might even find those that are enjoying watching others golf, they could be playing a casino game on a website similar to https://casino-korea.com/ with the aims of trying to make a few extra bucks in between swings! Gambling is involved in the central plot, or sub-plot, of the most recent and popular golf movies. Danny Noonan takes over for the 'injured' Al Czervik to win the $40,000 four-ball match in Caddyshack; Don Johnson cons and wins Kevin Costner's Cadillac with a bet in Tin Cup; in Dead Solid Perfect, Kenny Lee (Randy Quaid) is advised to 'better make some birdies' in his progressive / concurrent Naussau match against Bad Hair Wimberly (Jack Warden); and, the early scene in Happy Gilmore has Adam Sandler making a $20 bet with the movers.
Just recently, Golfweek announced their list of the Top 50 Casino golf courses for 2015, none of which were in Illinois. But even when Illinois golfers have used up all their 'pops', or are out of 'presses', or have simply run out of holes to play, there is a still a way to continue the action and perhaps exit the parking lot as a winner — the Video Gaming Terminal. And, as long as the golfer is age 21 or older, it's all perfectly legal!
The Video Gaming Act of Illinois was enacted in July 2009, and authorized the placement of up to five Video Gaming Terminals (VGTs) in licensed retail establishments, truck stops, veteran and fraternal establishments, and golf courses. All Illinois VGTs are all connected to and monitored by a central communications system. And while five seems to be rather low for the number of VGT's in any one place, the choice of gambling games that each VGT offers is usually quite large. The likely choice of VGT for most golf courses is usually a version of IGT's popular machine called "Game King", which offers multiple games at multiple betting denominations. For example, Game King VGT's can contain 97 games: 6 slots, 6 keno, 1 blackjack, and 84 poker games.
The legislature in Springfield has granted statewide permission to operate VGTs, however, local municipalities may invoke home rule and pass ordinances prohibiting the installation of the gaming terminals within their city limits. Many localities in northern Illinois, in fact, have done so. Bucking this trend, and in line with the city of North Chicago's permission of gaming, Foss Park GC is fine example of a golf course's method of incorporating VGTs into their establishment.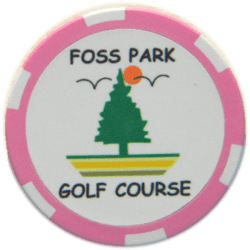 With the opening of the 2012 golf season, Foss Park GC unveiled the work of the renovation to their golf course clubhouse. The $940,000 remodeling project modernized the pro shop and included a deck that overlooks the practice putting green. Dramatic renovation of the restaurant and bar included a new kitchen, expanded dining seating, and a new gaming area featuring five VGTs (the legal maximum number) welcoming those looking for action.
If you are unable to get up to Foss Park in North Chicago, below is a list of cities and courses in the Chicago area that presently offer VGTs at their establishment. For more information on these golf courses and their locations check out our Chicago golf course directory.
Antioch – Antioch Golf Course
Blue Island – The Meadows Golf Club
Cary – Chalet Hills Golf Club
Chicago Heights – CH Golf Course – East
Chicago Heights – CH Golf Course – West
Crete – Lincoln Oaks Golf Course
Deer Grove -Deer Valley Golf Club
Dixon – Timber Creek Golf Club
Elk Grove Village – Fox Run Golf Course
Fox Lake – Fox Lake Country Club
Genoa – The Oak Club Golf Course
Joliet – Inwood Golf Club
Joliet – Wedgewood Golf Club
Manteno – Manteno Golf Club and Learning Center
Marengo – Marengo Ridge Golf Club
Momence – South Shore Golf Club
North Chicago – Foss Park Golf Course
Ottawa – Dayton Ridge Golf Club
Plainfield – Links at Carillon Golf Club
University Park – University Golf Club and CC