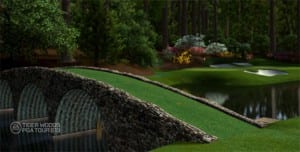 Last month video game company EA Sports released the latest installment of its annual video game series which it has been producing since 1986. Originally called PGA Tour golf, the game's title changed in 1998 with an endorsement from Tiger Woods.
This year's game is titled Tiger Woods PGA Tour 13, but a special version of the game is called Tiger Woods PGA Tour 13: The Masters Collector's Edition. This version of the game comes with a "Masters-like feel" as soon as you pop the disc into your Playstation 3 or XBOX 360.
I played the regular demo for Tiger Woods PGA Tour 13 and it felt like a normal tournament atmosphere, yet was very exciting. I currently have the Collector's Edition and the first thing you'll notice is the signature Masters theme song that plays with a picture of Augusta National's famous "Golden Bell" in the background.
The regular edition features some of the top golf courses in the world including, Augusta National, Pebble Beach and St. Andrews. One of the cool course additions is the addition of Crooked Stick Golf Club in Indianapolis which is where John Daly came from relative obscurity to win the first of his two majors (the other win coming at The 1995 Open Championship at St. Andrews).
A Chicago course hasn't been included in a Tiger Woods video game since 2009 when Cog Hill Golf & Country Club was featured in Tiger Woods PGA Tour 10, which was considered by many to be the greatest Tiger Woods game of all-time until the release of this year's version. Tiger Woods PGA Tour 13 has received outstanding critical response so far, drawing comparison with the wildly popular Madden NFL brand, also produced by EA Sports.
Many consider Madden NFL 2004 as the greatest home console based sports game of all-time, featuring Michael Vick on the cover. However, this year's Tiger Woods video game might just match the 2004 version of Madden.
Although Augusta National was featured in last year's Tiger Woods PGA Tour game, it did not have that true Masters feel. The Collector's Edition even features a special green jacket champions' ceremony for the first time. The Masters has been the most demanded feature in the history of the EA Sports golfing franchise and for good reason.
As a fan, it is very exciting to see Augusta in the game because it is one of the most beautiful places on earth and is one of the best golf courses around. The addition of another great course, such as Pine Valley in New Jersey would be a real treat for golf and sports gaming fans.
It would also be nice to have a Ryder Cup version of the game, especially considering its close proximity to Chicago this year at Medinah Country Club. The Ryder Cup was the headline feature in Tiger Woods PGA Tour 11 which featured Rory Mcilroy on the cover and introduced the gorgeous Celtic Manor Golf Club to video game golf.
However, I feel that Tiger Woods PGA Tour 13 is the total package. The swing mechanics are pure and very realistic. I honestly almost drooled when I saw how realistic the swings looked and felt really excited when I was playing on Augusta's world class practice facility.
The Augusta practice facility in the game is beautiful and looks like you are there practicing for the big tournament. There is also an online mode called "Country Clubs" which I also found interesting. This mode allows you to create your own Country Club and invite your friends to join your Club.
Once all friends are invited, then that's where the fun starts. You can compete in tournaments with other Country Clubs and see who has the best Country Club in the game. This game is a must have and is one of the best sports games I have ever played. So go pick up Tiger Woods PGA Tour 13 in regular or collector's edition!