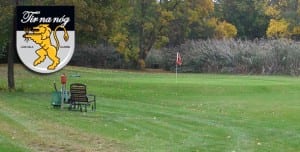 Given the recent worldwide successes of Irish golfers (Padraig Harrington -IRL – wins 2007 & 2008 British Open and 2008 PGA Championship; Graeme McDowell -NIR- wins 2010 U.S. Open; and Rory McIlroy wins 2011 U.S. Open and 2012 PGA Championship), Irish American golfers in the Chicago vicinity might ask 'Are there any Irish golf courses nearby'?
Next question: any golfers driving along Deep Lake Road in Lake County, Illinois, who catch a quick glimpse of tees, greens, flagsticks, and ball washers might ask 'What golf course is that'?
The answer to both questions is Tir Na Nog Country Estate Golf Course. "Tir Na Nog" is the Irish phrase meaning 'Land of The Young'. But is Tir Na Nog a public golf course on private land, or a private golf course on public land, or only a private/private golf course? Tir Na Nog could easily be befitting a quote made by Winston Churchill: "It's a mystery wrapped in a riddle inside an enigma". Tir Na Nog is a private retreat, or bed and breakfast, available for rental to the public for wedding receptions, business meetings, or group getaways. Indoors, Tir Na Nog's main house can accommodate more than two dozen overnight guests, and outdoors, Tir Na Nog's pavilion tent can seat as many as 200 guests.
The Lake Villa Historical Society states that Tir Na Nog (presently owned by Peggy Murphy) is an historic mansion that was built in the 1920's as a summer residence for Mildred Peacock Haerther, daughter of Emilia Lehmann and her husband Charles Peacock, son of the founder of Peacock Jewelers' of Chicago. In 1970, this country retreat was bought by the Murphy family. Mr. (George) Murphy promptly named the property "Tir Na Nog" — Land of the Young. The house can comfortably accommodate up to 28 overnight guests, where indoor activities include a weight room, billiards, darts and table tennis. The beautiful grounds, covering more than 80 acres, include a private 9-hole golf course, swimming pool, lawn bowling green, and tennis and basketball courts; guests may lounge on the sundeck, hike the nearby woods or stroll along the water's edge of beautiful Deep Lake. Tir Na Nog was annexed to the Village of Lake Villa in 2008.
The golf course is an efficient use of the available space, and incorporates the strategic placing of eight greens and seven tees to create an executive length, 9-hole course, playing at a distance of 1825 yards, to a par of 30. Delightfully colored trees, bushes, sawgrass, and a stream enhance the beauty and challenge of this little 'Emerald Isle' gem. Further information can be found at www.tirnanogestate.com.
Tir Na Nog
38276 N Deep Lake Road
Lake Villa, IL 60046