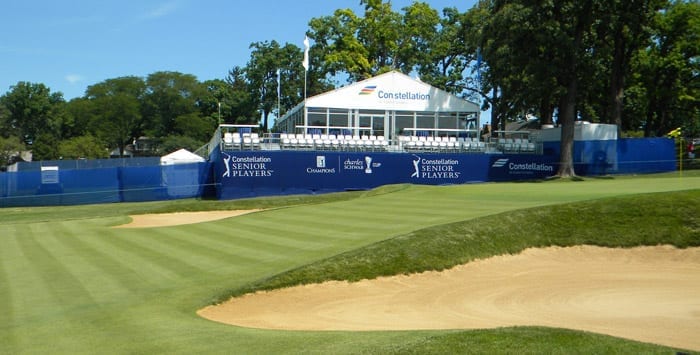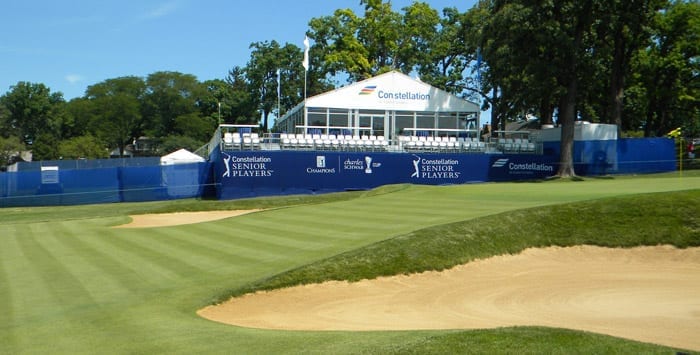 As I was growing up I discovered that the word 'major' was most often followed by a word denoting trouble: major problems, major calamity, major disaster. But for professional golfers on the PGA Champions Tour, quite the opposite can be true: major opportunity, major accomplishment, major victory. And so it is, this week at the Constellation Senior Players Championship at Exmoor Country Club in Highland Park, the chance to win one of the five major senior tournaments on the PGA Tour Champions schedule.
The 2018 Champions Tour season began modestly in January in Florida with the Diamond Resorts Invitational, a PGA Tour Champions Challenge Season event. The regular season began in full swing one week later in Hawaii with the Mitsubishi Electric Championship at Hualalai, and, roughly ten months later will conclude in November in Arizona with the Charles Schwab Cup Championship.
In the midst of the PGA Tour Champions season there is an intense 9-week, 7-tournament segment in which five of the seven tournaments are 'majors'. The Chicago area is fortunate to host the third of these five majors, the Constellation Senior Players Championship at Exmoor Country Club in Highland Park, July 11-15.
2018 will mark the first time since 1997, when Graham Marsh won the U.S. Senior Open at Olympia Fields Country Club, that any one of the five senior major championships has been contested in the greater Chicago area. In 2018 Exmoor becomes the 13th course to host this major championship, which began in 1983 when Miller Barber claimed the inaugural title at Canterbury Golf Club in Beechwood, Ohio.
Exmoor CC is one of the more storied clubs in the greater Chicago area, with a history dating back to 1896. The club was one of 11 charter clubs that established the WGA in 1899 and is one of just seven WGA founding clubs remaining. In 1914, famed architect Donald Ross redesigned the original H.J. Tweedie design, allowing for his trademark green contours and strategic bunkering to bring the course up to early 20th century standards for one of Chicago's most prominent clubs.
"Continuing a 120-year heritage of championship golf, we are proud that Exmoor Country Club has been selected to host the 2018 Constellation Senior Players Championship," said Club President Sandy Stevenson. "To have the legends of the game of golf grace us with their presence is a testament to the powerful place that Exmoor Country Club holds in the local community for hosting meaningful and memorable sporting competitions."
One of those legends, Bernhard Langer, said in a Tuesday pre-tournament interview, "…I do like the course. I think it's all right there in front of you. There's no trickery about it. It's in beautiful shape. I like the grasses that you have up here. Somewhat I'm used to from Germany, I think, from Europe, even though I live in Florida now full time."
There is a 'major financial incentive' looming this week for the Tour Champions golfers — a total purse of $2.8 million dollars, which is the third largest purse on the 2018 PGA Tour Champions schedule. This incentive should grab the attention of former champions Jay Haas, Fred Couples, Kenny Perry, and Bernhard Langer, along with more than seventy others who wish to dethrone defending champion Scott McCarron.
Spectator admission begins on Wednesday, July 11, with gates opening at 6:30am for the Accenture Championship Pro-Am that tees off on Hole #1 and #10 for morning and afternoon sessions. Tournament play begins on Thursday, July 12, with tee times from tee #1 beginning at 7:45am in threesomes; the same schedule continues on Friday, July 13.
The tee times for Saturday and Sunday begin at 7:30am from tee #1 in twosomes. There is no cut for the field of 78 contestants; all golfers play all four rounds. General spectator parking will be at Northbrook Court (1515 Lake Cook Rd, Northbrook, IL 60062). Complimentary shuttles will run from the time gates open until one hour after play ends.
If you cannot attend in person, all four days of the championship will have television coverage on the GolfChannel. Thursday and Friday TV coverage airs from 12:30-3:00pm; GolfChannel's Saturday and Sunday broadcasts air from 4:00-6:00pm.
Further information, including ticket purchase, about the 2018 Constellation Senior Players Championship can be found at the 2018 Constellation SENIOR PLAYERS Championship website. Photo galley is shown below.
[schema type="event" evtype="SportsEvent" url="https://www.pgatour.com/champions/tournaments/constellation-senior-players-championship.html" name="Constellation Senior Players Championship" description="The Constellation Senior Players Championship will take place at Exmoor Country Club in Highland Park, July 12-15. " sdate="2018-07-12″ edate="2018-07-15″ street="700 Vine Ave" city="Highland Park" state="IL" postalcode="60035″ country="US" ]