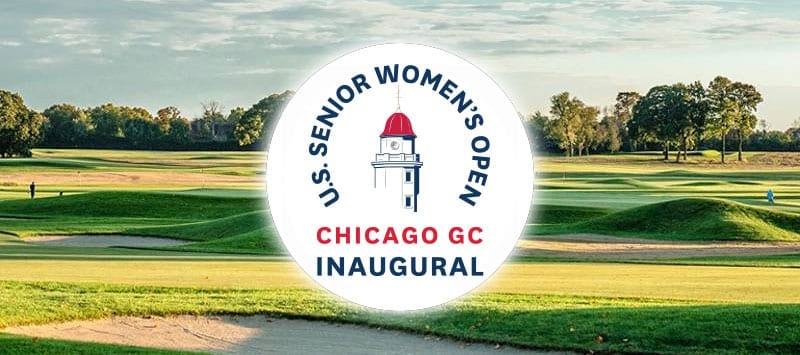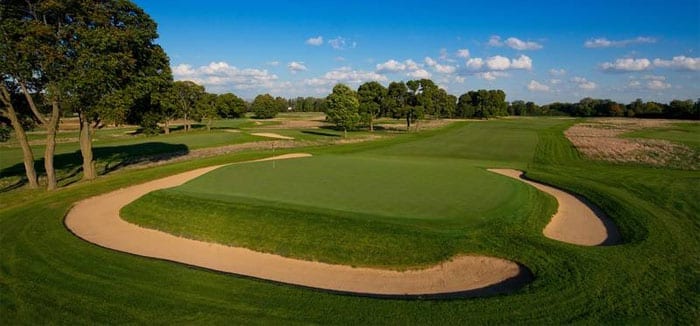 The Inaugural U.S. Senior Women's Open visited Chicagoland July 12-15, 2018 at the historic Chicago Golf Club in Wheaton. The field included 120 players and was open to professionals and amateur golfers who are 50 years of age and are exempt or qualify for the championship.
Eighteen holes of stroke were played each day from Thursday, July 12, through Sunday, July 15. The starting field was cut to the low 50 scorers, including ties after the second round. Chicago Golf Club played to a par of 36-37—73 at 6,082 yards.
The U.S. Senior Women's Open featured $1 million in prize money. The winner was Laura Davies, who received a 13-pound sterling silver trophy that was designed and produced by English silversmith Nicholas Winton and is the heaviest of the USGA's Open championship trophies.
"I've been waiting for 17 years for this" said LPGA Hall of Famer Pat Bradley. "It's just great that the USGA has done this, just as it is that the LPGA started their senior tournament."
"We feel strongly that factors such as the international strength of the LPGA and the increasing number of age-eligible quality competitors from around the world, as well as the growth of women's golf, are key to reaching this historic announcement," said Mike Davis, Chief Executive Officer of the United States Golf Association. "The number of entries in our women's championships continues to grow. We hope this new championship will inspire both amateurs and professionals."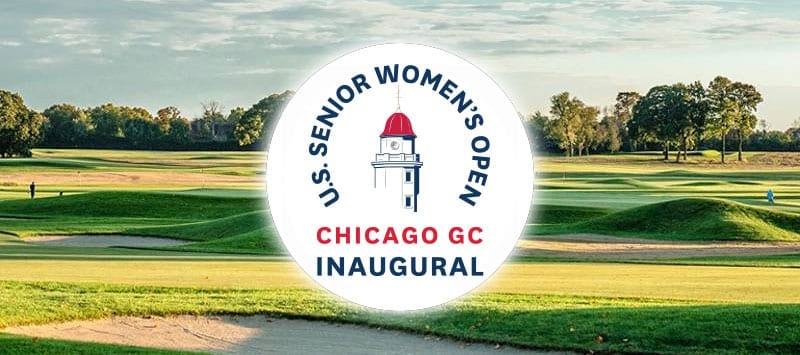 Chicago Golf Club is a fitting host for this first ever competition given its rich history as the oldest 18-hole course in North America and one of the five founding clubs of the United States Golf Association. Founded in 1893 and designed by CB Macdonald, Chicago Golf Club has hosted the US Open three times (1897, 1900, 1911), the US Amateur four times (1897, 1905, 1909, 1912), the US Women's Amateur in 1903, the US Senior Amateur in 1979 and the Walker Cup in 1928 and 2005.
Current Chicago Golf Club members include Cleveland Golf founder Roger Cleveland, actor Chris O'Donnell and former Amoco chairman H. Laurence Fuller. Two-time Masters champion Ben Crenshaw is a non-resident member. Chicago Golf Club admitted its first African-American member, Charles Thurston, in 1993 and its first female full member, Judith Whinfrey, in 2001.
The 2018 U.S. Senior Women's Open was the first Open championship played in the state of Illinois in 15 years since Jim Furyk's U.S. Open Championship victory in 2003 at Olympia Fields Country Club. The previous most recent USGA championship in Illinois was the 2015 U.S. Amateur, which was won by Bryson DeChambeau at Olympia Fields. The 2018 U.S. Senior Women's Open was be the 61st USGA championship contested in the Land of Lincoln.
The 2019 U.S. Senior Women's Open will be contested at Pine Needles Lodge & Golf Club in Southern Pines, North Carolina. Pine Needles hosted the U.S. Women's Open in 1996, 2001 and 2007. It is also scheduled to host the U.S. Women's Open in 2022.
Sectional Qualifying
Sectional qualifying was conducted at 17 sites nationwide between June 4 and June 20. Qualifying sites were located in 16 states, including two in California.
U.S. Senior Women's Open Tickets
Tickets for the 2018 U.S. Senior Women's Open were available for purchase at the tournament website. Trophy Club Weekly One Day Tickets were $30, and Trophy Club Championship Two Packs were available for $50. Tickets were good for any one day Thursday – Sunday. All Juniors age 18 and under got in free.
TV Coverage
FS1 televised the final two rounds of the U.S. Senior Women's Open. Coverage began at 3PM CST on Saturday and Sunday.
U.S. Senior Women's Open Exempt Players
The following 58 players are fully exempt into the 2018 U.S. Senior Women's Open:
• Kristi Albers
• Amy Alcott
• Helen Alfredsson
• Danielle Ammaccapane
• Janet Anderson
• Donna Andrews
• Jean Bartholomew
• Laura Baugh
• Jane Blalock
• Nanci Bowen
• Pat Bradley
• Murle Breer
• Jerilyn Britz
• Macarena Campomanes
• Kay Cockerill
• Jane Crafter
• Laura Davies
• Alicia Dibos
• Judy Dickinson
• Cindy Figg-Currier
• Joanne Foreman
• Jane Geddes
• Tammie Green-Parker
• Lisa Grimes
• JoAnne Gunderson Carner
• Mary Jane Hiestand
• Carolyn Hill
• Juli Inkster
• Becky Iverson
• Christa Johnson
• Trish Johnson
• Cathy Johnston-Forbes
• Rosie Jones
• Lorie Kane
• Betsy King
• Hiromi Kobayashi
• Judith Kyrinis
• Jenny Lidback
• Sally Little
• Marilyn Lovander
• Lauri Merten
• Alice Miller
• Barbara Moxness
• Barb Mucha
• Martha Nause
• Liselotte Neumann
• Alison Nicholas
• Sandra Palmer
• Ellen Port
• Cindy Rarick
• Michele Redman
• Laurie Rinker
• Terrill Samuel
• Nancy Scranton
• Hollis Stacy
• Jan Stephenson
• Kris Tschetter
• Sue Wooster
FAQ
Question: When was Chicago Golf Club built and who was the architect?
Answer: C.B. Macdonald designed the original Chicago Golf Club golf course in Wheaton in 1895.
Question: How big is the Chicago Golf Club golf course?
Answer: Chicago Golf Club sits on roughly 200 acres on a rectangular piece of property. The site was chosen for its rolling hills covered with native grasses, which reminded architect CB Macdonald of Scotland.
Question: How many major golf tournaments has Chicago Golf Club hosted?
Answer: The Chicago Golf Club hosted the U.S. Open in 1897, 1900 and 1911, the Amateur in 1897, 1905, 1909 and 1912, the Walker Cup in 1928 and 2005 and the U.S. Senior Women's Open in 2018.
Question: How many members does Chicago Golf Club have?
Answer: Chicago Golf Club has less than 125 members, making it one of the most exclusive private golf clubs in the world.