Eric Nuxol, tournament operations coordinator, informed Chicago Golf Report that "the individual results of the ANA Inspiration, held last week, have determined the eight countries that will participate in the 2016 UL International Crown." Based upon official Rolex Standings issued on April 4, the eight countries whose best four golfers collectively total the best rankings (lowest sum) became eligible to compete in the second International Crown Tournament. Underwriters Laboratories (Headquarters: Northbrook, IL) is the title sponsor of the 2016 International Crown, which will be held at the Merit Club in Gurnee, IL, on July 19-24.
The Republic of Korea captured the #1 seed scoring (21), followed by the United States (39). Rounding out the remaining field are Japan (181), Chinese Taipei (203), Thailand (342), England (344), China (386), and Australia (390). Most surprisingly, the defending champions, Spain, will not be eligible to defend their titles. Thus, the elation on the faces of the Spanish team when they donned their own silver crowns at Caves Valley Golf Club will not be repeated.
The title of best female golfing nation in the world will fall to another squad. An additional surprise is that Sweden will not have a squad participating in the 2016 event. The final field of 32 players will be determined via the Rolex World Rankings on June 13, 2016. At this point, the top-4 ranked players from each pre-qualified country will qualify for their respective country's team. Note that if a player ranked in the top-4 of a pre-qualified country chooses not to compete or is unable to compete, the spot will be filled by the next highest ranked available from the Rolex World Ranking for that country.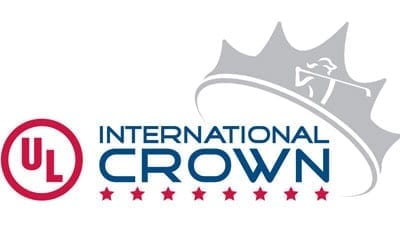 The tournament slogan of "32 players – 8 countries – 1 crown" will have this schedule during the July 19-24 period: Tuesday, team practice rounds; Wednesday, UL International Crown Official Pro-Am; Thursday, Day 1 four-ball matches (8 matches); Friday, Day 2 four-ball matches (8 matches); Saturday, Day 3 four-ball matches (8 matches); Sunday, Singles matches (10 matches).
The emerging strength of women's golf in the 'Pacific Rim' is clearly evident in the Austral-Asian placing of six squads in the field of eight. Also, the dominance of the Korean women is shown with their qualifying squad having Rolex rankings of #2, #5, #6, & #8. Recall that it was 52 years ago, in the 1964 James Bond film, when Auric Goldfinger, international gold smuggler, laughs and excuses his caddie's appearance by saying, "Golf is not yet the national game of Korea, eh, ha-ha-ha-ha."
Further information can be obtained at the website: www.ulcrown.com.
[schema type="event" evtype="Event" url="http://www.ulcrown.com" name="2016 International Crown" description="The 2016 International Crown will be held at the Merit Club in Gurnee, IL, on July 19-24." sdate="2016-07-19″ edate="2016-07-24″ street="1500 Merit Club Lane" city="Gurnee" state="IL" postalcode="60048″ country="US" ]