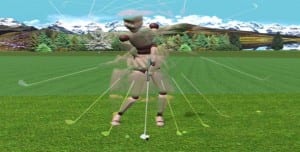 What would it take to create your perfect golf swing? How much would you pay for the one piece of technology that would help you lower your handicap to your goal?
One sports scientist at the University of Greenwich in London is using state-of-the-art equipment to help golfers perfect their swing. His mission is help you accomplish your goal, no matter what the cost.
University of Greenwich PhD student Peter Brooks said his high-tech virtual golf simulator and top-of-the-range cameras, worth more than £100,000 in total, could improve a golfer's game by up to five per cent. The cameras are used to capture each golfer's swing in minute detail. The software then analyses what separates the ten best drives from the ten worst and give the golfers' a 3D view of their swing.
"We can analyse golfers' motion in three dimensions from inception to completion of the golf swing. This is totally new," said Brooks. "We have ten cameras which capture about 500 frames a second, compared to about 25 frames a second at a normal golf lesson. Initial findings have been encouraging. Different characteristics are emerging from the data leading us to think that there may be multiple swing styles based on factors such as flexibility, strength, age or size but more subjects are needed to confirm this."
Click here for the full article.