The partnership shared by the creators of the Swingbyte system is an interesting one. On one side you have a low handicapper that played professionally. On the other side you have an engineer who never set foot on a golf course or swung a golf club prior to working on the device. A match seemingly made in heaven, Brian Payne and Alex Pedenko met in business school. A quick speed networking session designed to introduce students to each other and to spark collaboration initially led to a working concept. Add in operations wiz Nathan Wojtkiewicz and a year later the trio took third place in the University of Chicago's Booth School of Business new ventures program. Their success caught the eye of investors.
The first version of the Swingbyte was introduced to the world at the 2012 PGA Golf Show and quickly turned heads for its simplicity and affordability. Golf Digest called it "One of the 12 coolest items at the PGA Show". It would be difficult to find anyone that would argue.
The device connects to your club just below the grip using a rubber band of sorts and then connects to your mobile device (phones & tablets, iOS & Android) via bluetooth. The data that is generated creates a 3D image of your swing in addition to giving you the raw data. All of this is accessible directly through the app and through the incredibly easy to use web interface. Compare your swings to pros, or share the data with your teacher. The app even has simple tips based on fairly common swing theories.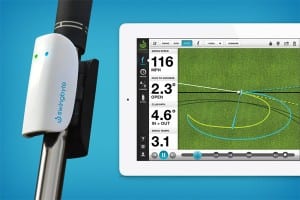 The Swingbyte team is now on the cusp of releasing a highly anticipated version 2.0 to address stability issues and add even more functionality to the app and web interface.
Endorsed by some of golf's most recognizable names such as Dr. Jim Suttie (PGA of America Teacher of the year in 2000, GOLF Magazine Top 100 teacher and a Golf Digest top 20 teacher) and Cog Hill's Director of Instruction Kevin Weeks, Swingbyte has quickly proven that there is need for instant and actionable data in golf instruction. But the best part about the device is that you don't have to be a professional to benefit from the device and accompanying app.
PROS
The price. This kind of data collection and analysis could easily cost thousands of dollars (think Trackman and expensive lessons with a launch monitor).
Very easy to use, just attach the Swingbyte to the shaft of any club, connect your bluetooth enabled device and start collecting swing data.
The app and web interface just keep getting better and better.
The addition if swing tips adds a unique element to the app.
It works on all clubs by simply swapping the device and selecting the club via the app.
Using the My Swingbyte feature on the website you can compare your data to others, including professionals, for analysis and a social element.
CONS
Some slippage with longer clubs leading to inaccurate readings and making it necessary to fiddle with the unit before each swing. Changes in Swingbyte 2.0 should remedy this issue.
The Android app was initially a bit buggy, but continued updates have fixed that. It is a bit of a processor hog as you might imagine, so I would recommend turning other applications off if at all possible.
FINAL WORD
Touted by Golf Digest, Golf magazine, WIRED magazine and even Playboy. Word is getting out about this effective & inexpensive unit that will help you retool your golf swing with instant feedback. If you're not using technology to fix your game, you're falling behind. Swingbyte is a great place to start. The device is available at the Swingbyte website, Amazon.com, in AT&T stores, and most golf retailers.
There's no reason not to use the Swingbyte. It costs less than that brand new red driver in your bag and will improve your game much faster. If you're in it for the long haul, put this one ounce device in your bag. You won't regret it.