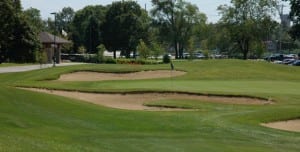 June is the month, as most golfers across the country realize, during which the United States Open is contested, and this year the Olympic Club in San Francisco is the host site. However, many local golfers are unaware that the United States Naval Training Center in Great Lakes, IL, hosts a golf course that, while on military property, is open to the public.
The Willow Glen Golf Course has been operational for more than six and a half decades, having first opened as a nine hole course in 1945. At times in its past history the course had been open only to active military personnel, reservists, retired military, and all branches of military veterans, such that civilian neighbors and passers-by could not play Willow Glen. But now policy changes have granted admittance to anyone desiring to test Willow Glen, and change what had been merely a visual acquaintance into friendly hands-on challenge.
During the 1960's an additional 9 holes were added, with Dick Nugent serving as architect. More than thirty years passed before the front-9 was closed during 1997 for remodeling. The front-9 rework was designed by Paul Loague and the new version (same routing, modern upgrades) re-opened in 1998. Further renovation to the course closed the back-9 in 2003, again, with Paul Loague serving as architect. The back nine received a completely new routing with expanded acreage, as ground from a land fill and fire fighters training unit was gained. The new back-9 (now, total of 18 holes) reopened on August 11, 2004.
Readily apparent to the naked eye, the original clubhouse (built, 1945) was seen to have outlived its useful days. After the demolition of the former clubhouse in late 2006, the course operated from a trailer for the entire 2007 season while construction of the new clubhouse proceeded; the new building opened in 2008. And most recently (late 2011 to the present) improvements have been made on the course grounds. Willow Glen's Assistant Manager, Walter McGuire reports "Regarding the perimeter of the golf course, the 10th hole will indeed feature a new retention pond short and left of the green. The 11th and 12th holes have primarily been widened to their former states. The 5th hole will feature two new tee boxes — I'm guessing they will be open for play by mid-late June. One hundred new trees were planted in the construction areas, primarily to better frame the areas left of the greens at #10 and #11 and to add some additional beauty to the tees at #11, #12, and #5".
Two creeks, five ponds, 47 bunkers, and more than 50 willow trees provide a most effective challenge on this par-71 layout. There are four sets of tees measuring 6637 / 6184 / 5512 / 5006 yards. A full flight, all grass stations, driving range with six target greens provides an excellent warm-up or practice means. Other golf amenities at Willow Glen include a 9,000 square foot practice green and pull carts and riding carts for rental, and Buckley's Restaurant — a bar, grill, and full service restaurant.
Dan Kraft is the general manager at Willow Glen Golf Club, and has been in the golf industry since 1979, and at Willow Glen since 1990. Kraft describes his course as a course with a combination of holes having a traditional feel (mostly seen on the front-9), with additional holes featuring the more modern links-style design (mostly evident on the back-9). "Our course is fairly flat, but slightly rolling, with some grassy or prairie nature areas, but, true to our name, we also have plenty of mature trees" Kraft stated.
Either one of two holes on the inward back-9, could be considered to be Willow Glen's signature hole. There is the difficult par-4, #10 hole, which was once actually a par-5. Kraft says "Number Ten has it all! Starting with its length (478 / 450 / 419 / 388 yards), the hole plays slightly uphill and usually into the prevailing west wind; standing on the 10th tee, golfers become visually aware of a hardwood tree in the middle of the fairway at roughly the 200 yard marker, and later must cross a creek at approximately the 150-yard marker, finally reaching a two-tiered green guarded by a right greenside bunker and the new pond to the left".
But, the most talked about hole at Willow Glen is the right-angled, short par-4, #15 hole, where the approach must carry a wetland / prairie area to a green with a stone retaining wall. Total distance for the #15 hole is 344 / 320 / 313 / 297 yards, but drives, depending upon the angle taken, can be hit with any club from 9-iron up to 3-wood; drives ending up closest to the 'nature preserve hazard' must still carry 131 yards to the green.
Reduced greens fees are available for active military, as well as discounts for retired military and veterans, and internet coupons for all others.
Willow Glen Golf Course
2821 Great Lakes Rd
Great Lakes, IL 60088
847-688-4593