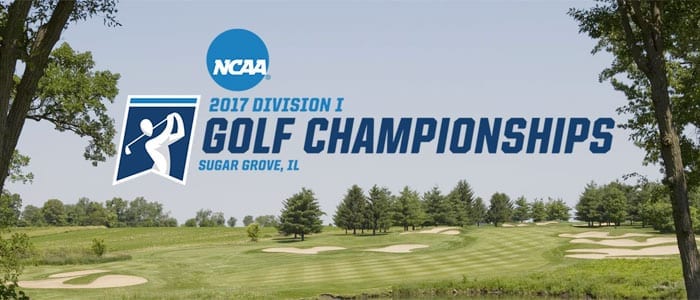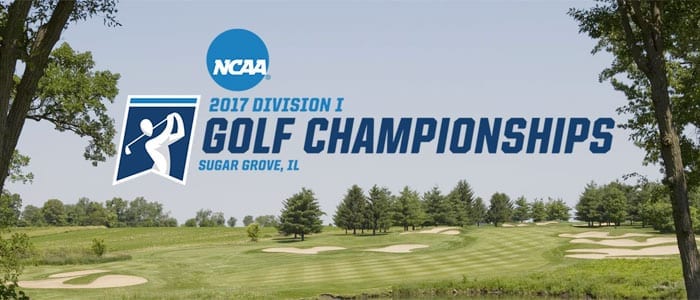 As the NCAA Division I Women's golf championships take place this week at Rich Harvest Farms in suburban Sugar Grove, the top men's collegiate players are preparing to tee it up the following week at the same venue. Recently, former world number one and Northwestern alum Luke Donald, as well as Northwestern golf coach Pat Goss and University of Illinois golf coach Mike Small got together to discuss the upcoming NCAA Division I Men's golf championships.
Having the event in the Chicagoland area, which is home to an estimated 2 million alumni of the top schools, is a rare treat. "Obviously to have it in the Chicago area is going to be amazing, and hopefully Coach Small and I can both get our teams there and do a good job so we can bring some fans along with us" said Northwestern golf coach Pat Goss. "But it's going to be a spectacular event at a great venue and a great golf scene."
PGA Tour veteran Luke Donald echoed his coaches' excitement about the NCAA Championships returning to the Chicagoland area. "I obviously really enjoy coming back to Chicago and enjoy this city tremendously, and obviously just missed out playing at Conway" said Donald. "I came the year after it was hosted here at Conway Farms 20 years ago, so it's aging me a little bit, but it's great to have it back in the city, and Rich Harvest will be a great venue for it."
Participating in the NCAA Championships can create lifetime memories, even for a player with 17 professional wins. "Winning the individual NCAA in '99 and the team finishing third and narrowly losing out to Georgia that year was very special" said Luke Donald. "I think at the time I didn't realize what a great big deal it was coming from England. But it was certainly a catapult to my career and all the college successes I had, especially winning the NCAA, were a big part of the successes that I had down the road."
For a coach, preparing for the NCAA tournament is a big shift from the regular season. "You do spend all year, and you've got to take care of business and make sure you play well enough to get your ranking high up enough to qualify for the NCAA championship, but ultimately your whole season is judged upon what you do in the month of May" said Pat Goss. "The kids know it. The coaches know it. Hopefully we've prepared well all year and we're ready to go."
As coach of the University of Illinois, Mike Small has enjoyed an amazingly successful run over the past four years. During that time period, his teams have posted three top three finishes and were runners up in 2013.
For Coach Small, enjoying the moment during competition is something that he believes is important to success. "Our team talks all the time, this is fun" said Mike Small. "This is supposed to be fun. This isn't nerve racking. You don't want to make it life ending or anything, you want to make it fun. We kid on our team, if you don't enjoy college golf right now, you're never going to enjoy it, so we're excited about it."
With eight tournament bids, the Big Ten will be highly represented in the NCAA Tournament. That success has both coaches quite optimistic about the conference and their ability to compete against the best players and teams in the nation.
"I said it last week after the Big Ten championship, this conference has great players and great coaches" said Mike Small. "The support we get from the office is obviously unbelievable, and the conference is the premier conference in college athletics, I believe, and golf should be in that realm, too, and the time and effort and the importance of the schools and institutions put into golf is showing in the facilities and expectations, and I know for one thing as a coach, I want expectations. I want our team to be given the resources and expect them to do well, and that's what the Big Ten is starting to do with their golf programs."
For the University of Illinois, overcoming first tee jitters in the big dance could be a challenge. "Since we have a young team, to be playing in Chicago, that first tee shot will be the most hardest one, all the fans" said Mike Small. "It'll be exciting. But again, I've said it all day today, I want them to understand, we've got to get there first. We can't as a team look past regionals, but if we do get there, that first tee shot will be special for us."
Handling the pressure will also be a priority for Northwestern's golf team while competing on a challenging golf course at Rich Harvest Farms. According to Coach Pat Goss, the 17th hole could be a pivotal one for the tournament. "I think that will be a really pivotal hole for the championship. That is a really tough second shot after a tough drive. You've got to really be able to control your ball into the green. That's going to be a great hole to watch."
Coach Goss also plans on leveraging the experience of his most famous golf alum to help his troops at Rich Harvest Farms. "I'll give them all my tips" said Luke Donald. "But it's been a couple years since I played. I think they played the nines the other way around when I last played there, so I might be getting the holes mixed up. But there's certainly some challenging par 4s out there. I remember some very cool risk reward drivable par 4s, as well. I think it'll make for a very exciting week, and you can see what it means to the guys competing, and it'll be fun to watch on Golf Channel."
[schema type="event" evtype="SportsEvent" url="http://www.ncaa.com/sports/golf-men/d1″ name="2017 Men's NCAA Golf Championships" description="2017 Men's Division I NCAA Golf Championships at Rich Harvest Farms in Sugar Grove, IL." sdate="2017-05-26″ edate="2017-05-31″ street="7S771 Dugan Road" city="Sugar Grove" state="IL" postalcode="60554″ country="US" ]