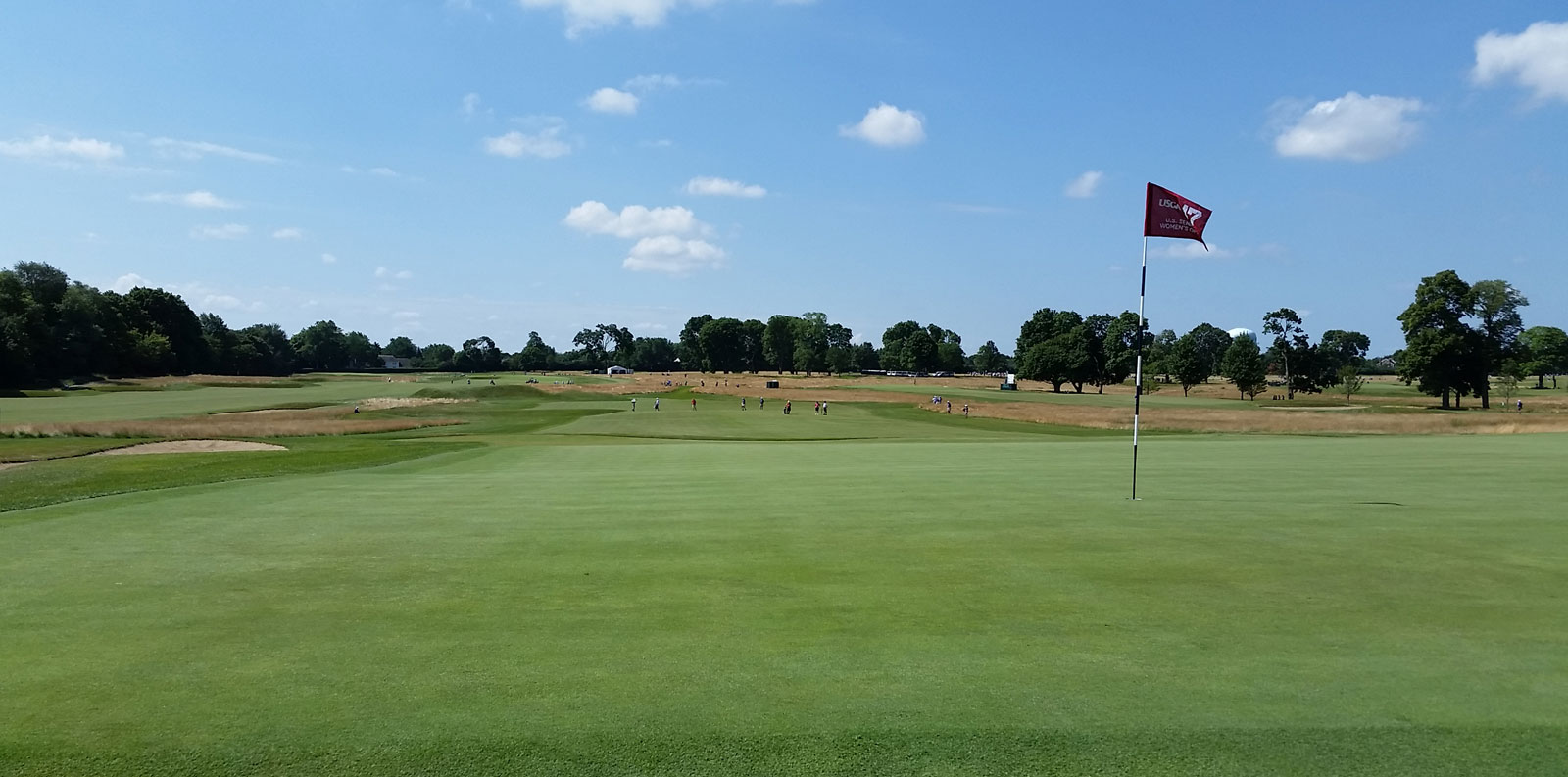 Charles Blair Macdonald was a renowned course designer, 1895 U.S. Amateur Champion and World Golf Hall of Fame who was born in Canada in 1856 and grew up in Chicago. He has become known by many as both the Father of Chicago Golf and the Father of American Golf Architecture. His life-long love affair with the game is a major reason why Chicago stands at the forefront of golf in North America.
Born in Niagara Falls, Ontario, Canada on November 14, 1855 and raised in Chicago by a Scottish father and Canadian mother, young Charles was sent to the town of St. Andrews in Scotland to live with his grandfather and attend school from 1872-1874. While in Scotland, CB was taught the game on the Old Course at St. Andrews by legendary Scottish golfers Old and Young Tom Morris. Macdonald fell in love with game and became quite proficient at it.
Macdonald returned to Chicago in 1874 and became a successful stockbroker. However his love of golf continued, despite not having any local courses on which to play.
The city that Macdonald returned to was still recovering from the Chicago fire of 1871 and had little, if any interest in the leisurely pastime known as golf. According to Macdonald in his book "Scotland's Gift Golf", "The great fire of 1871 had devastated the city, and close upon that had come the greatest financial reverse in the history of the United States, the panic of 1873. So it was work from seven in the morning to seven at night. I believe if anybody had been seen playing an outdoor game he would have been thought half witted. So it was surely the Dark Ages for me."
During the so-called "Dark Ages" period, Macdonald had experimented with creating his own Chicago golf course with a seven-hole layout in Lake Forest. This rudimentary course wasn't nearly up to the standards of the Old Course, but it provided an outlet for CB's golfing quest and would subsequently turn into the Onwentsia Country Club.
It took the Worlds' Fair of 1893 and the subsequent flood of European dignitaries and golf fanatics to finally help Macdonald and his vision to bring to golf to Chicago. Among the visitors who came to Chicago in 1893 were Englishmen such as Sir Henry Trueman Wood, who was the British Commissioner General to the Colombian Exposition.
The interest in golf from such high profile celebrities such as Wood was enough to help Macdonald convince his friends and associates to build Chicago's first nine-hole golf course in west suburban Belmont, which is now Downers Grove. Golf historians debate whether the first Chicago Golf Club officially opened in 1892 or 1893, but Chicago's first golf course was a major accomplishment for Macdonald and the game of golf.
In 1894, Macdonald and his fellow members of the Chicago Golf Club purchased 200 acres of land near Wheaton with the idea of building a bigger and better golf course. An 18-hole golf course opened for play on the Wheaton property on May 1, 1895 and the Chicago Golf Club officially moved from Downers Grove to its current location on Warrenville Road. The original Chicago Golf Course is now Downers Grove Golf Club, which is managed by the Downers Grove Park District.
The new course was designed by Macdonald, who had immersed himself in studying the great golf courses of Europe. CB patterned his design for the Chicago Golf Club after the course where he learned how to play the game – The Old Course at St. Andrews in Scotland. Macdonald took great pains to make sure even the yardages of the holes were somewhat similar to the test at St. Andrews.
In addition to his efforts to help grow the game and build the courses that it was played on, Macdonald also enjoyed a successful career as a competitive golfer. CB won the first United States Amateur Championship event conducted by the United States Golf Association in 1895 at Newport Country Club in Rhode Island.
He's also credited with helping form the United States Golf Association (USGA). With his influence on the organization, Macdonald helped bring the US Amateur and the US Open to the Chicago Golf Club in 1897. This would be the first of four US Amateurs and three US Open tournaments to be contested at Chicago Golf Club.
Along with Chicago Golf Club, other notable courses designed by CB Macdonald include National Golf Links of America in Southampton, NY; Piping Rock in Locust Valley, NY and the Mid-Ocean Club in Bermuda.
In 2007, Charles Blair Macdonald was inducted into the World Golf Hall of Fame for his long and esteemed career. He was a visionary, championship golfer, revolutionary golf course architect and most of all, a Chicagoan.