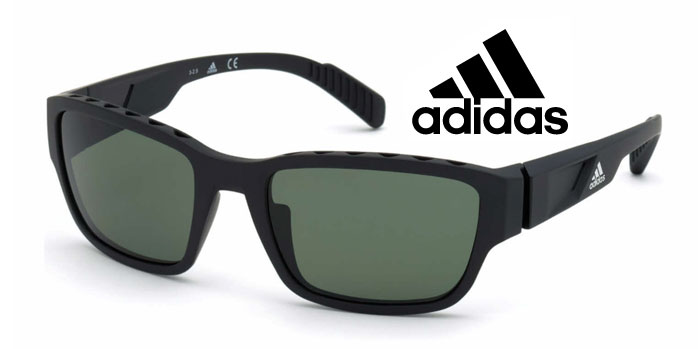 No matter what sport you play, having your sunglasses fog up during competition can be anywhere from highly disappointing to downright dangerous. In a sport like golf that is often played in bright sunlight under hot, humid conditions, sunglasses that provide a clear vision despite these factors can dramatically improve your performance.
Using the latest technology, the new Adidas Injected Sport Sunglasses offer tremendous performance in all weather conditions. They're especially helpful during a muggy afternoon on the golf course when most sunglasses would have a tendency to collect annoying moisture on the frames and lenses.
To avoid this common occurrence, Adidas Injected Sport Sunglasses have a 12-hole anti-fog ventilation system in the top of the frame along the forehead that helps prevent moisture buildup on the lenses. It's a simple, yet highly effective design element that can make all the difference in the world when the sweat starts to build.
The frames and lenses are also very light weight, with nose pads that help them sit comfortably and snug on your nose. I've run in 90 degree heat wearing the Adidas SP0007 Shiny Black Injected Sport Sunglasses and they offered a snug fit and lightweight feel that was not impacted at all by humidity and perspiration.
The polycarbonate lenses are super light and exceptionally clear, helping to provide high visual definition in all weather conditions, while protecting the eye from external elements and avoiding fatigue. On the golf course, these lenses work well in all situations and conditions, including when reading greens.
The sunglasses that we tested came with polarized lenses that have a filter within the lens that blocks the wavelengths of light that cause glare. This greatly enhances contrast and allows for better depth of vision on any golf course.
We also tested the Adidas SP0013 Shiny Black Injected Sport Sunglasses that came with a mirror coating that provides enhanced protection from intense light, reflecting back light and reducing the amount of light passing through the lens. These sunglasses were exceptionally comfortable for the eyes in very sunny conditions.
Both versions of these Adidas sunglasses are a great choice for the golf course because they're solidly built, yet still light enough to be comfortable after walking 18 holes. The frames are built to stay put and avoid fogging the lenses that are clear, sharp and glare-reducing.
The sunglasses also come in a cushioned, draw-string bag that comes with a lens-cleaning towel that safely removes dust and debris. The new Adidas Injected Sport Sunglasses are a really well designed tool that could help provide you with clear vision and even better performance on the golf course.