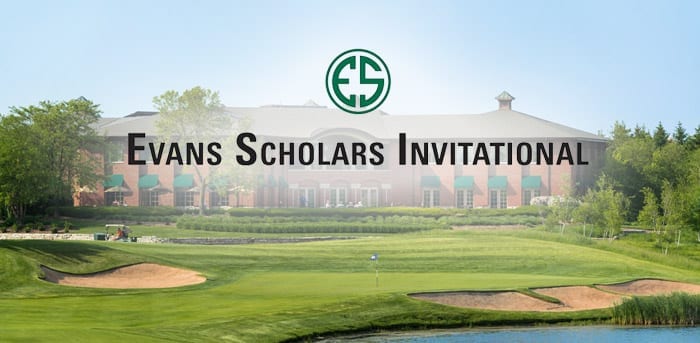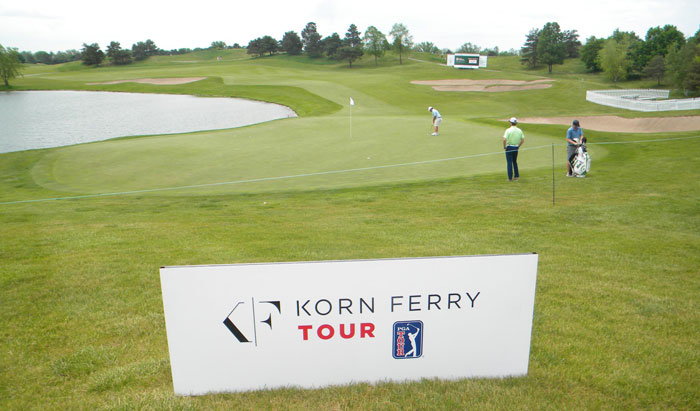 Live, in-person professional golf competition has finally returned to Chicago — and it's tournament week for the Korn-Ferry Tour's Evans Scholars Invitational. Chicago Golf Report presents a list of tournament facts, spectator tips, and a photo gallery of pics to prepare fans for Chicago's top professional tournament of 2021.
Event: Evans Scholars Invitational — 11th of 23 tournaments on the 2021 Korn-Ferry Tour
Site: The Glen Club, Glenview, Illinois
Dates: May 27 – 30, 2021
Times: Gates open each day at 6:30am
Thursday Tee Times: 7 a.m.-9 a.m. 1st and 10th tees; 12:15p.m. – 2:15p.m. 1st and 10th tees
Friday Tee Times: 7 a.m.-9 a.m. 1st and 10th tees; 12:15p.m. – 2:15p.m. 1st and 10th tees
Saturday Tee Times: 7 a.m.- 1 p.m. 1st tee
Sunday Tee Times: 7 a.m.- 1 p.m. 1st tee
Yardage: 7,170 yards (Gold Tees)
Par: 71
Purse: $600,000
Winner's share: $108,000
Field Size: 156
Presenting Sponsor: First Midwest Bank
Beneficiary: Evans Scholars Foundation
Is admission free for spectators?
Yes, general admission is complimentary thanks to ESI partnership with SERVPRO of Glenview. In addition, upgraded hospitality options are available for purchase.
Is parking free for spectators (onsite / or / shuttles)?
There will be free parking at the Glen Town Center, within walking distance of The Glen Club.
General admission spectators will park in C-Lot, which is the Glen Town Center's South Parking deck. Access to the C-Lot can be found at the intersection of Aviator Ln. and Tower Dr.
Will the number of spectators be limited?
There are no limits to grounds access, but access to hospitality areas has been reduced to facilitate social distancing and maintain a safe environment.
Are spectator tickets available in advance?
Fans who want to take advantage of complimentary admission prior to the tournament need to register for their tickets in advance. They can do that at the Evans Scholars Invitational website.
Will walk up spectators be allowed in?
They will be allowed in, but ESI officials prefer they register for tickets in advance.
Are COVID-19 'passports' / proof of vaccination required for spectators?
No. Health validation, as such, is not required; fans will be asked to self-check their temperature prior to arrival and stay home if they feel or display any symptoms of COVID-19.
Must spectators wear facial coverings at all times?
The ESI tournament will be following the standards set by the PGA TOUR's guide to fan safety. Illinois Governor J.B. Pritzker has indicated that the state has entered the bridge phase regarding COVID-19 restrictions, however, local health regulations may differ. Presently while at the tournament, masks are required at all times, both indoors and outdoors, with limited exceptions for medical conditions or while actively eating or drinking.
Are cameras permitted at the Tournament?
Cameras will not be permitted on tournament days Thursday-Sunday.
Are cell phones permitted at the Tournament?
Yes. We do ask that all spectators follow the PGA TOUR's Mobile Device Policy when on site.
Is there Will Call at the tournament?
There is no will call at the tournament. Patrons are encouraged to transfer their tickets electronically to assist with any last-minute ticketing needs.
Can I smoke at the tournament?
Smoking is permitted at the Tournament. We ask that spectators stay 20 feet away from any permanent or temporary structures while smoking.
Are there any prohibited items I should not bring to the Tournament?
Computers or laptops, video cameras, weapons of any nature, outside food or beverage, certain sizes of carry bags will not be allowed on the property during the tournament.
Who are the notable players to watch?
Stephan Jaeger, Taylor Pendrith, David Lipsky, Brandon Wu, Davis Riley, Greyson Sigg, Lee Hodges, and Paul Barjon are currently in the top 10 on the Korn-Ferry Tour's money list and are entered here this week. Curtis Luck, Tommy Gainey, Mark Hensby, Kevin Stadler, Aaron Baddeley, Ollie Schniederjans, and Sam Saunders are familiar names from PGA Tour.
Brad Hopfinger, Andy Pope, Patrick Flavin, Joe Zawaski (Monday qualifier), and Vince India are local favorites; and Nick Hardy is a young professional with solid PGA Tour experience from close-by Northbrook. Another outstanding, or perhaps 'out-standing', player to watch is Jordan Hahn; Jordan is the tallest pro golfer on American tours, whose height is 6-feet 8-inches .
While many other of the names and faces in the ESI field may not be familiar, fans may choose to follow a golfer from their alma mater or favorite college. Dozens of these young pros have their college logos embroidered on their bag. A favorite of many young golf fans is Chandler Phillips, the friendly up-and-comer who carries his Texas A&M logo on his bag.
Chicago Golf Report checked out the Korn-Ferry stars during their casual practice round, and presents them in the following photo gallery.